West Hertfordshire Trust hospital are telling people not to attend the hospital's emergency department even "in an emergency," until "further notice."
The Hertfordshire Trust holds Watford General, Hemel Hempstead and St Albans City Hospitals.
Watford General hospital are telling people to go to their nearest hospital with an "emergency department" and "anyone with non-urgent issues must contact 111."
In a tweet West Hertfordshire Hospitals said, "Please DO NOT attend Watford General's emergency department until further notice, even in an emergency.
"Go to your next nearest hospital with an emergency department. Anyone with non-urgent issues should seek advice via https://111.nhs.uk"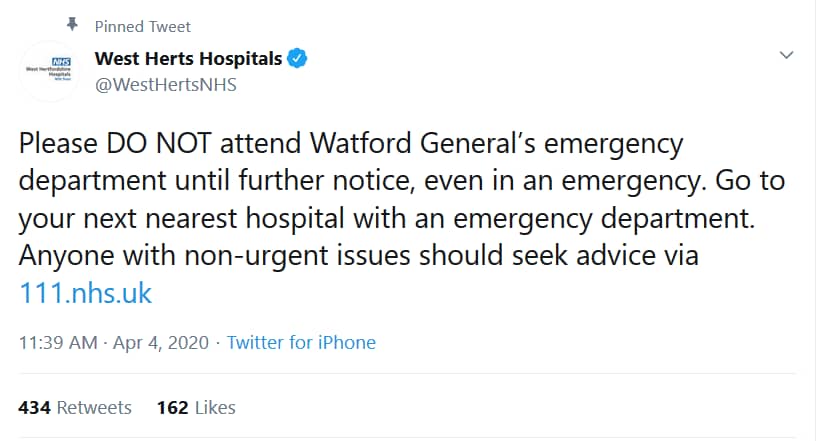 The trust has not explained why the hospital in lockdown and have provided a list of other hospitals to attend.
Northwick Park Hospital, Harrow, Barnet Hospital, Chipping Barnet, Hillingdon Hospital, Uxbridge, Ealing Hospital, Southall, Luton & Dunstable Hospital, Luton, Stoke Mandeville Hospital, Aylesbury, Lister Hospital, Stevenage
On Friday the hospital said there had been 29 confirmed coronavirus-related deaths at West Herts NHS Trust.
There are several wards at Watford General which solely dedicated to coronavirus patients.
In late March the hospital put in place extreme measures and banned all visitors, in order to keep all patients as safe as possible.
Hospitals acorss the UK have introduced these extreme restrictions and measures to ease pressure on the NHS.
The Department for Health have announced on Saturday another 708 people have died from coronavirus taking the total to 4,313.
The department said, "A total of 183,190 people have been tested of which 41,903 tested positive."
Public Health England (PHE) said of the 637 English deaths in hospitals, patients were aged between five and 104-years old.
An NHS doctor who is on the frontline has warned that her ward is full of young people and is urging people to strictly follow the lockdown laws.
Dr Ami Jones who works at the Royal Gwent Hospital as an intensive care consultant said the hospital is "very, very busy."
"It's not just the vulnerable and elderly that are getting poorly – my unit is full of 20, 30 and 40-year-olds."
NHS doctors face "grave decisions" over who lives and who dies according to new guidance issued over life saving treatment for coronavirus patients.
Should hospitals become overwhelmed with infected patients then doctors will have to make those decisions, the latest guidance from the British Medical Association (BMA) states.
The BMA guidance warns of decisions in rationing scarce resources of ventilators which means a large proportion of patients may not receive the lifesaving treatment.
The BMA reports says, NHS staff will face "grave decisions which means some patients may be denied intensive forms of treatment that they would have received outside a pandemic.
According to scientists the UK could already have 1.8m people who are already infected with coronavirus, with one in every 37 who already have the virus.