The latest Ipsos Political Monitor, taken 22 to 29 June shows the Conservatives face significant challenges for their party image in public opinion.
Voting intention
Labour is on 41 per cent, up two points since May, the Conservatives 30 per cent, down three points, and the Liberal Democrats up three to 15 per cent.  This is similar to the position the parties were in in January this year.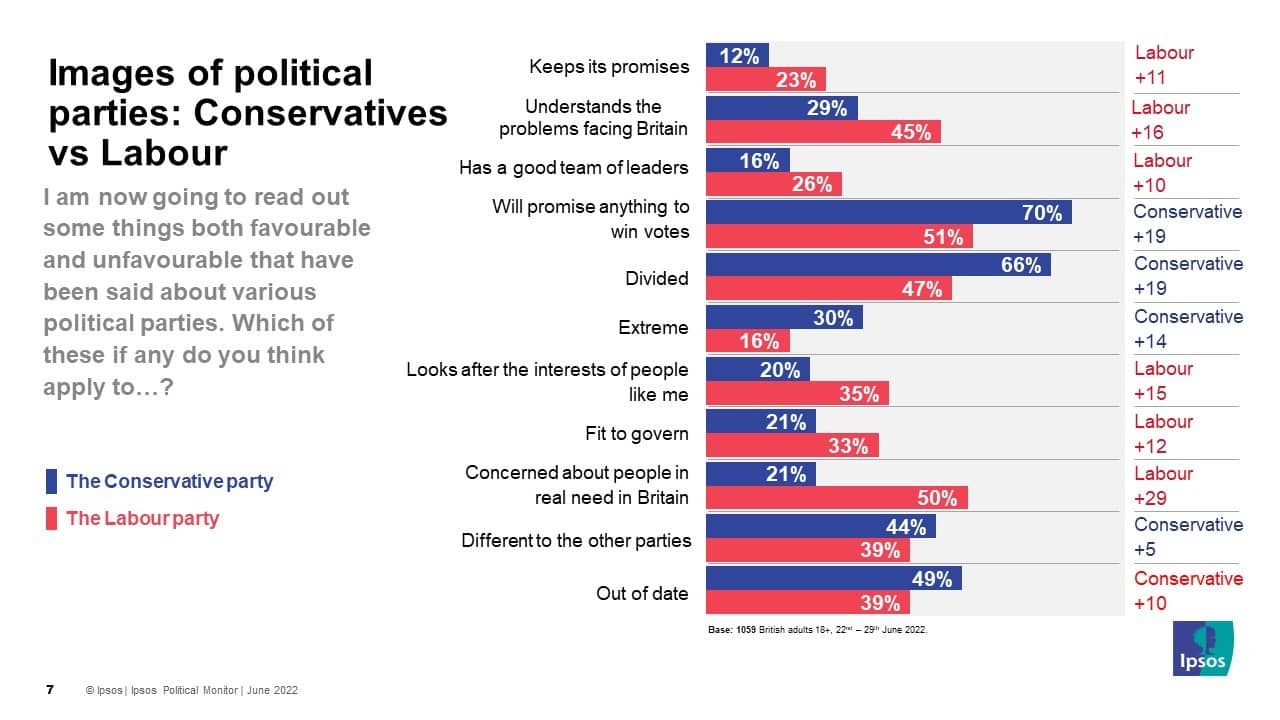 Party image
Just 21% of Britons consider the Conservatives 'fit to govern' (-13 points from September 2021). This is the lowest number for either the Conservatives or Labour since Ipsos started tracking this metric in 2011.
Labour leads the Conservatives here by 12 points – only the second time Labour have led on this measure since 2011. However, whilst Labour's score has increased 6 points from September last year to 33%, it has registered higher scores for this measure in the past. For example, 38% under Jeremy Corbyn in November 2017 and around 40% under Ed Miliband in 2012-2015. This suggests that Labour's current lead on this measure (and some others) owes as much to Conservative low scores as any significant progress by Labour.
Elsewhere, 66% now see the Conservatives as divided, up from 44% in September and their highest number since November 2017 when then Prime Minister Theresa May was struggling to get her Brexit deal through parliament. Half (47%) think Labour are divided, which is Labour's lowest score since 2015.
Just 12% think the Conservatives are a party that 'keeps its promises', similar to September and their lowest score since 2011. 23% believe this applies to Labour.
The Conservatives also see a fall on having "a good team of leaders", applied to them by 16% of Britons, down from 24% last September and again their lowest score since 2011.
Yet, Labour has room for improvement. For example, while 26% think the party has a good team of leaders, 6 points up on September 2021 and a 10 point lead over the Conservatives, this is no better than their best scores over the last decade: 30% under Starmer in October 2020, 31% under Corbyn in November 2017 and 34% under Ed Miliband in September 2011.
On other measures, the public are more likely to think that Labour understands the problems facing Britain (by 45% to 29%), looks after the interests of people like them (by 35% to 20%), and is concerned about people in real need in Britain (by 50% to 21%).  The Conservatives are slightly more likely to be seen as different to the other parties (by 44% to 39%), but they are also more associated with negative image traits such as promising anything to win votes (by 70% to 51%), being extreme (by 30% to 16%), and being out of date (by 49% to 39%).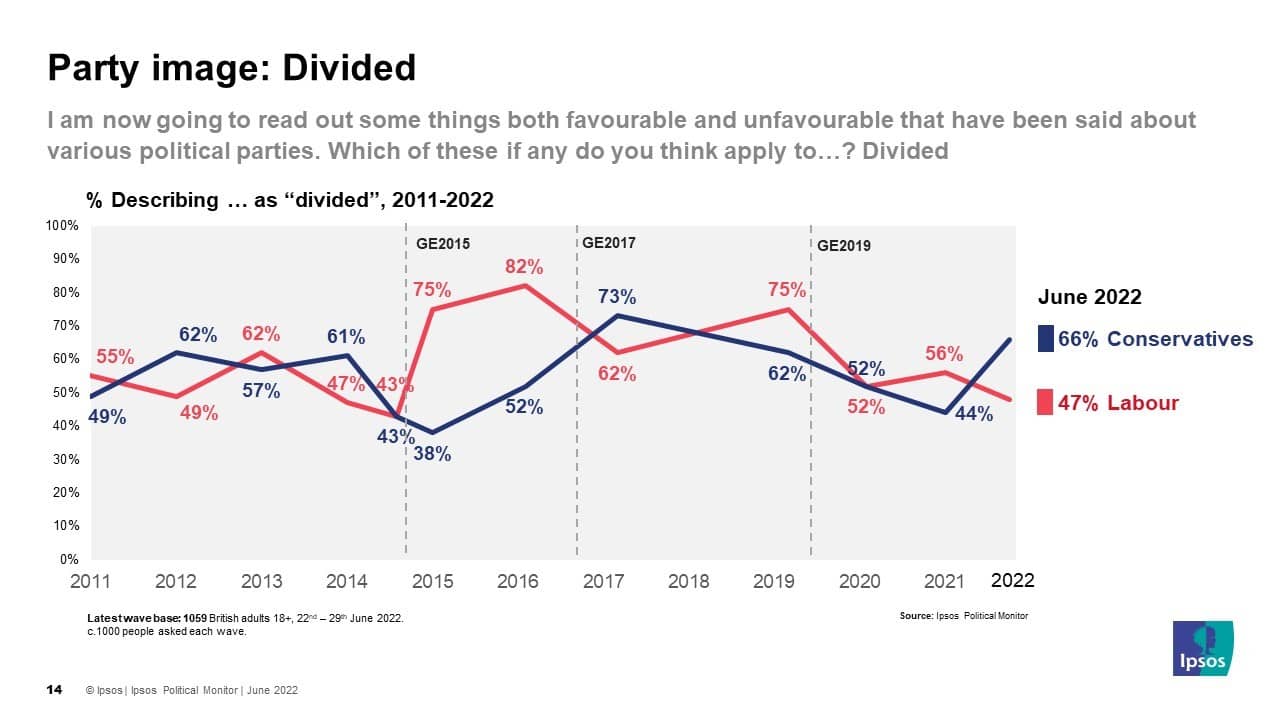 Gideon Skinner, Head of Political Research at Ipsos said, "While it remains to be seen whether the Conservatives' dip in voting intention figures is down to post-by election blues, a more worrying question for them is if more serious damage is being done to their party brand in the eyes of the public.
"It's not unusual to see Labour ahead on metrics such as being concerned about people in real need or looking after the interests of people like you, but it's much rarer to see the Conservatives behind on being fit to govern or having a good team of leaders.
"However, this mainly reflects the Conservatives' ten-year lows on some of these scores, as well as growing perceptions of division in their ranks – Labour themselves still have more to do to convince the public that they are ready for government."