More apocalyptic scenes from the troubled railway station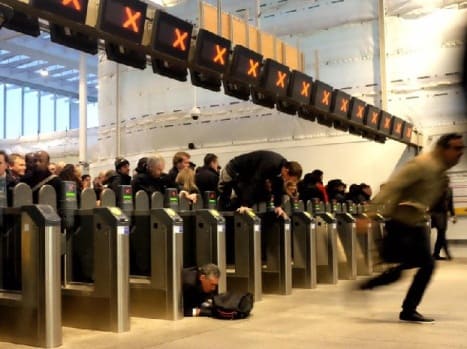 There were frightening scenes at London Bridge station last night after ticket gates were shut in order to control crowds.
In scenes that could have been taken from a zombie horror film, desperate commuters resorted to escaping the crush by leaping barriers, and in some cases diving under them, in order to reach safety.  
Police were called to help manage the crowds as numbers swelled at rush hour.
The incident is the latest in a wave of overcrowding problems London Bridge has seen in recent weeks.
The operator, Network Rail, is carrying out extensive upgrade works on the station, and problems were compounded after a death on the line at around 5pm yesterday near Streatham.
According to the Evening Standard, a spokesman for Southern Rail UK said: "Unfortunately, a series of incidents including a person being struck by a train have affected evening peak services from London.
"Delays of up to 60 minutes, cancellations and short notice alterations to services have been experienced by our passengers for which we apologise."
This is what commuters are forced to do at London Bridge to get to platforms on time. Disgusting #londonbridgepic.twitter.com/RQ3IRHEATb

— The Blower's Son (@BlowersSon) March 3, 2015
If you kettle 1000's of commuters through 2 small doors and lock down every single gate, this happens #londonbridgepic.twitter.com/Ouqrs15nVM

— The Blower's Son (@BlowersSon) March 3, 2015
London Bridge has reached peak chaos. pic.twitter.com/QEGPhPKX7L

— Gabriella Griffith (@GabbyGriffith) March 3, 2015
You may also like: