Here's what happened
Four suspects have appeared court, over the deadly terrorist attack that rocked Barcelona killing 15 and injuring more than 120 people, last week.
Mohammed Aalla, Mohamed Houli Chemlal, Sahal al-Karib and Driss Oukabir all appeared at Tuesday's hearing under heavy security in Madrid.
The alleged member of the the Barcelona terror cell, Mohamed Houli Chemlal, reportedly confessed to police and a judge under questioning in Madrid that there was a larger attack planned.
Source: @Photoshot
The head of the Catalonian police, Josep Lluis Trapero, said that 120 gas canisters, along with traces of TATP components were found at the makeshift bomb factory that blew up.
Eight other alleged members of the terror cell were all killed by Catalan police except two who were killed making bombs when their house blew up.
Imatges #bomberscatEfectes de l'explosió d'Alcanar pic.twitter.com/aGeygGsgF9

— Bombers (@bomberscat) August 17, 2017
The hearing started today and the judge will decide on whether or not to remand the suspects into custody.
Monday, the fugitive Younes Abouyaaqoub who was a 22-year old Moroccan, who is suspected to have driven the van, was shot dead by police in a vineyard in a northern suberb of Barcelona, wearing a fake bomb vest after shouting "Allha Akbar" (God is Greatest), he was armed with knives.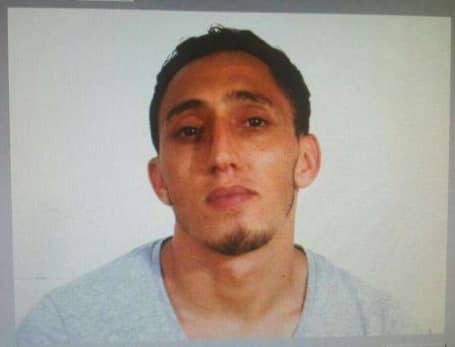 Source: Twitter
Driss Oukabir, [above] did hand himself into the autorities after seeing his name and picture all over social media and the press immediatley.
He has denied any involvment and has claimed that his brother had stolen his passport that was found in the van along with other documentation.
However, Oukabir did say that he rented that van that was used in the attack, as he believed the van was being used by his brother to move home.
Oukabir's brother, Mousa was killed during a police shootout in Cambrils along with four other terror suspects, Friday morning.