Are you away for the holidays this year? Why not cover the cost of the Christmas presents you're buying by Airbnb-ing your home? During the holiday season, rental rates for Airbnb are at a premium with thousands of tourists and people visiting friends and family.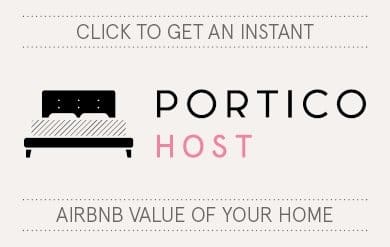 If you own a property in London, you could earn especially high rates. According to data from AirDNA, the average daily rate for an entire house in the capital on Airbnb is £140. With these kinds of numbers, you could make an average of £700 just by spending a cosy five nights with your parents or in-laws.
Find out how much your home could make in just a couple of clicks with Portico's Airbnb calculator.
December – a prime holiday month on Airbnb
December boasts the most expensive daily rates out of the winter months and even has the most comparable rates to the prime summer holiday months. In December 2018, the average cost to rent a whole property in London on Airbnb came to £146. Only four other months saw a higher average in the past two years, including July 2018 and June, July, and August 2019.
Throughout the week of Christmas, the median Airbnb rates for London properties on Airbnb range from £160 to £180, while New Year's Eve increases to £200. The most in demand days in December are the 27th to 31st. And it's a similar story across the rest of the UK, too.
The 101 on Airbnb-ing – self-manage or pass it to the experts
To list your property on Airbnb, you register with the website by providing an email address and password. Then, you create a profile for the home or room you wish to let out. Take photos, decide on your letting policies, and provide details of the property and location. If you choose to not use an Airbnb management service, you ideally would need to be nearby while you rent your home to let guests in, check them out, and be available if a situation arises.

Most people opt for Airbnb management services, for both peace of mind and convenience.
Portico Host Airbnb Management
Portico Host is a premium Airbnb management service, supported by Airbnb as part of their professional co-host programme.
Portico Host covers London, Liverpool and Manchester, with three packages from let-only to a premium managed package. The team provides professional cleaning and linen services, property management and full account management of your listing; they take professional photos, find suitable guests, prepare the property for their arrival, greet the guests, and clean up after they leave. Essentially – they take care of everything so all you need to do is hand over the keys!. Their service
Mortgages, taxes, and insurance for Airbnbs
Before becoming an Airbnb host, it's important to look at what you'll be taxed on and what to do about your mortgage and insurance. Mortgage lenders have traditionally opposed Airbnb mortgages, but they are starting to adapt. And a number of special holiday-let mortgages have been introduced recently.
For tax purposes, if you rent out just a room within the house you reside in, you could opt in for the rent-a-room scheme. This allows homeowners to earn up to £7,500 from a lodger without having to pay tax on it, but you will be taxed on the income above this through self-assessment. If you're letting out an entire property or you don't opt in for the rent-a-room scheme, you'll need to pay tax on your entire income, deducting expenses, through self-assessment.
The majority of home insurance policies don't normally cover renting out your house, but some may agree depending on a few factors: if you're renting out a room instead of the entire property, how frequently you plan to rent it out, and the number of guests staying.