Our editor Sophie Hobson examines the deal that everyone's talking about
Follow me on Twitter @sophiehobson and @londonlovesbiz
So Google has just made its biggest-ever purchase after Motorola ($12.5bn) with its $3.2bn (£2bn) acquisition of Nest.
And Nest is less than four years old.
Nest makes "smart" thermostats and smoke alarms – the appliances connect directly to the internet, can be controlled via your smartphone, and use complex tech to crunch data on your behaviour to become more efficient over time.
For example, the Nest thermostat learns your behaviour to adjust temperature throughout the day and become highly energy efficient.
The Nest smoke alarm's technology is sophisticated enough that it can determine the difference between a real fire and burnt toast.
Pretty cool – but $3.2bn? Really? That's just under double what it paid for YouTube in 2006, after all.
Why has Google shelled out so much for such a young company, which currently only has two products on the market?
1. The internet of things and smart homes are set to change the way we live
"The internet of things" is the next generation in the technology we use in our day-to-day lives. It consist of "smart" devices – those which are connected to one another and directly to the internet.
That means they're able to crunch data about consumer habits, report back automatically, and self-adjust to make your energy and resource consumption much more efficient, help you monitor usage, and adjust themselves to best suit your lifestyle.
The move towards "smart homes" – homes that adopt these technologies in a big way – is a huge growth area set to transform our day-to-day lives over the next couple of years.
Nest will no doubt have plenty of plans in place for expanding its range across different household devices, giving Google the perfect vehicle to try to dominate the smart homes market – and, of course, expand its presence in our day-to-day lives yet again.
It's little wonder Google's stock price grew by 0.53% after it announced the acquisition – everyone in the tech world knows that smart homes and the internet of things are super-hot growth markets set to change the way we live.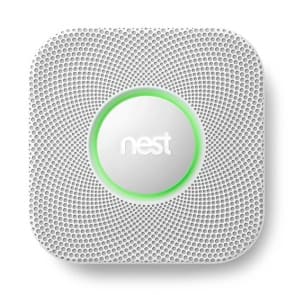 2. Nest's staggering growth
Nest launched less than four years ago, but has already grown to more than 200 employees.
It has raised $230m in funding.
It was reportedly shipping up to 50,000 thermostats a month in 2013.
With growth like that, it's little wonder Google wants a slice of the action – although the $3.2bn Google has paid is thought to be a high price. Two weeks ago Re/Code broke the news that Nest was thought to be raising a further $150m, with a valuation of $2bn.
Google's high acquisition price indicates just how valuable it deems the smart device market to be – and how keen it is to get ahead of rivals.
Which brings us to…
3. Incredible talent – poached from Apple
Both Nest co-founders are former Apple superstars.
Tony Fadell is the person who designed the iPod. He left Apple in 2010 to start Nest, admitting that leaving the company "was honestly probably the hardest decision of my life".
Matt Rogers designed the software that ran the iPod, and was one of the first engineers to work on the first version of the iPhone. He also worked on the first iPad.
Rogers left Apple in 2008 and co-founded Nest with Fadell two years later, in a garage in San Francisco.
Fadell has announced that Nest will retain its current leadership. That means Google gains two Apple gurus with deep insight into the machinations of Apple's most iconic products and inner workings.
Yet again, we're seeing Google willing to pay the (high) price to gain competitive edge over Apple.
4. Uber-precious intellectual property
Nest co-founder Fadell holds around 300 patents for consumer technology. That means buying into Nest puts Google in a very strong position to own a good chunk of developments in this market, and ensure that no other company can encroach on the intellectual property it will own through Nest.
Google is moving early to grab market share in a market set to explode over the next couple of years.
5. Making its investment pay
Nest had raised $230m in funding before the announcement of this deal, and Google Ventures has been one of its biggest backers. It makes sense for Google to buy up the company it has had its eye on for some time – before Apple or another rival gets in there first.
6. Google's move towards becoming an energy provider
Now, this is one well worth keeping an eye on. We all know Google wants to, well, take over the world – or at least provide so many services and technologies that we use day-to-day that it might as well have taken over the world.
And we also know the energy is becoming one of the most precious resources on the planet – if not the most precious resource.
If Google is looking to establish itself as the dominant player in the smart appliances market – which its high-priced acquisition of Nest suggests – we might conclude that Google is contemplating a move into energy.
Think that sounds far-fetched? It's already happening.
Google is big on green energy. It has a whole section on its site dedicated to it. It says: "We see renewable energy as a business opportunity and continue to invest in accelerating its development."
It has already invested significantly in energy: in 2006 it partnered with EI Solutions to build the biggest-ever corporate solar-power project; in 2007 it launched RE<C, an initiative to invest in green energy technologies (making major investments in solar power developers such as eSolar and BrightSource); in 2010 it applied for, and was granted permission from, the US government to sell electricity as a utility… the list goes on.
Nest is likely to expand its product range across a variety of smart home appliances able to monitor resource consumption and consumer behaviour in the home.
Google could start supplying the energy needed to power those appliances. And it could likely do so on a very efficient, very cheap basis compared to older rivals, because it would have much more detailed data about user habits thanks to the wide-reaching data gathered from the smarthome appliances within its fold.
Watch this space.
Follow me on Twitter @sophiehobson and @londonlovesbiz