Huawei, alongside British Olympian, Greg Rutherford MBE, has unveiled its next generation smartwatch, the HUAWEI WATCH GT 2 with the world's first 'Dive-Thru' pop-up. Situated in the Royal Victoria Dock, London, on Saturday 19 October, the semi-submersible structure, complete with kiosk attendant, will house thousands of pounds worth of Huawei's latest tech.  To mark the launch of these next generation smartwatches, a limited number of eager fans can get their hands on one for free, provided they are prepared to take a dip.
MasterChef winner and Olympic gold medallist, Greg Rutherford, swapped the long jump and his chef hat for a spot of open water swimming at the Royal Victoria Dock to officially launch the Huawei 'Dive Thru'. Fresh from his Sink or Swim Channel challenge, Greg was on hand to be the first person to don a wetsuit and jump into the freezing cold water before members of the public get to put their swimming skills to the test on Saturday 19 Oct.
Measuring at 2.6m tall and 2m wide, half of the innovative 'Dive Thru' kiosk is submerged underwater and can dispense your chosen smartwatch into a collection point situated 1m under water. Just like a fast-food chain drive-thru, customers come to the kiosk, make their order, go through and collect. The Huawei Watch GT 2 Dive-Thru will see the traditional car park replaced with open water and 'driving through' replaced with 'diving through'. Willing customers will be challenged to dive into the water, swim up to the 'Dive-Thru' to place their order, then collect their brand-new Huawei Watch GT 2 from a specially created under water hatch.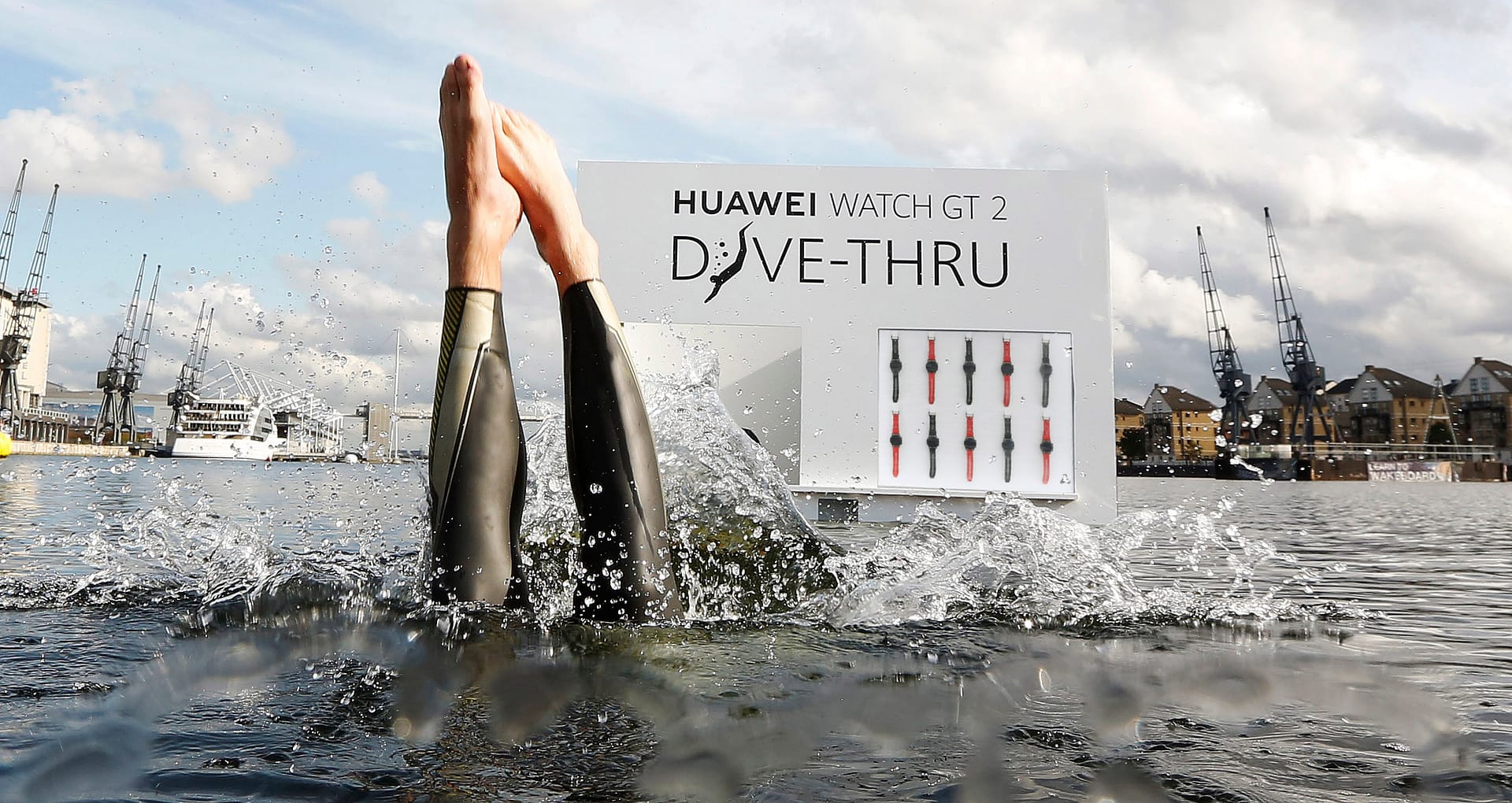 This Saturday, 19 October between 12pm and 4pm customers will get the chance to get their hands on the new Huawei Watch GT 2 by doing just that. But only a limited number of watches are available so get down early to avoid disappointment. Terms and conditions also apply.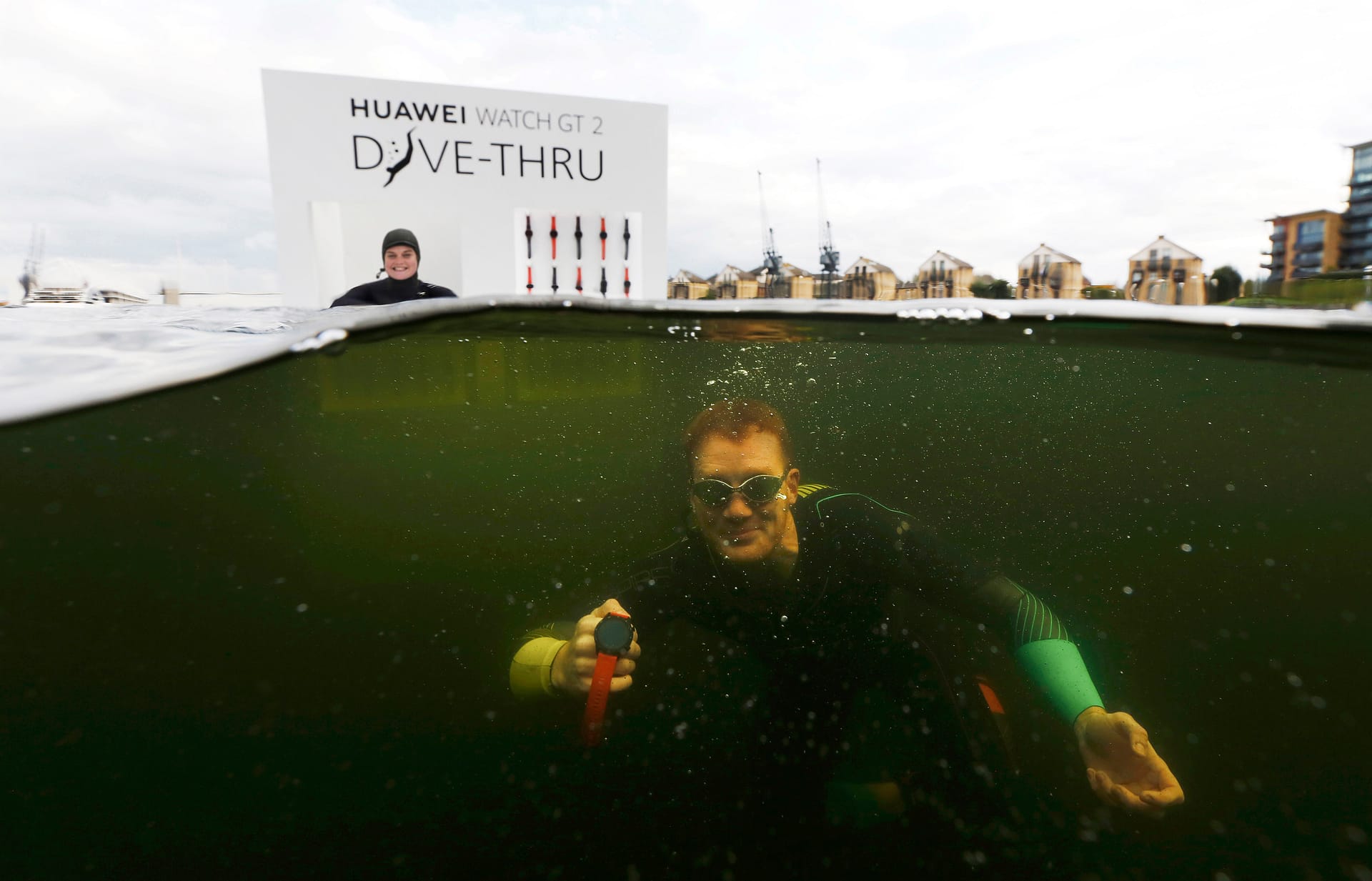 Greg Rutherford MBE said,  "I'm used to high intensity sports and keeping fit and healthy is something I'm not averse to, however jumping in the freezing cold water of the Royal Victoria Dock isn't something I tend to do on a regular basis.
"The new Huawei Watch GT 2 is the perfect accompaniment to working out and keeping on top of exercising and staying fit, so I didn't mind getting in the water to get my hands on one!  Plus it has a dedicated Open Swim mode, so can keep track of my stroke in the water.  What's more, everyone else can give it a go too, if they're one of the first people here on Saturday at midday."
Justin Costello, Director of Marketing, Huawei UK and Ireland said, "We've created a great smart watch in the Huawei Watch GT 2, with its underwater credentials on top of all of the other sports data and technology it provides, what better way to launch it than right in the middle of the Royal Victoria Dock. It's great to be able to show first hand just how good the watch is."
The Huawei Watch GT 2 is completely water-proof and packed full of a plethora of sports data monitoring features making it the perfect accompaniment to sports enthusiast and open water swimmers alike. In the sports mode, the HUAWEI WATCH GT 2 is compatible with 15 sports, including eight outdoor sports (running, walking, climbing, hiking, trail running, cycling, open water swimming, triathlon) and seven indoor sports (walking, running, cycling, swimming, free training, elliptical machine, rowing machine). For these 15 sports modes, the watch provides full-scale monitoring of approximately 190 types of data – meaning you can be your own personal trainer.  Plus, with a battery that lasts two weeks, the Huawei Watch GT 2 will keep up with you, however active you are*.
HUAWEI WATCH GT 2 is available in a range of colours, priced from £199 and is available now from stockists including Argos, Amazon, John Lewis & Partners, Shop Direct and Carphone Warehouse