The US President Donald Trump has ordered the US Navy to "shoot down and destroy any and all Iranian gunboats if they harass our ships at sea."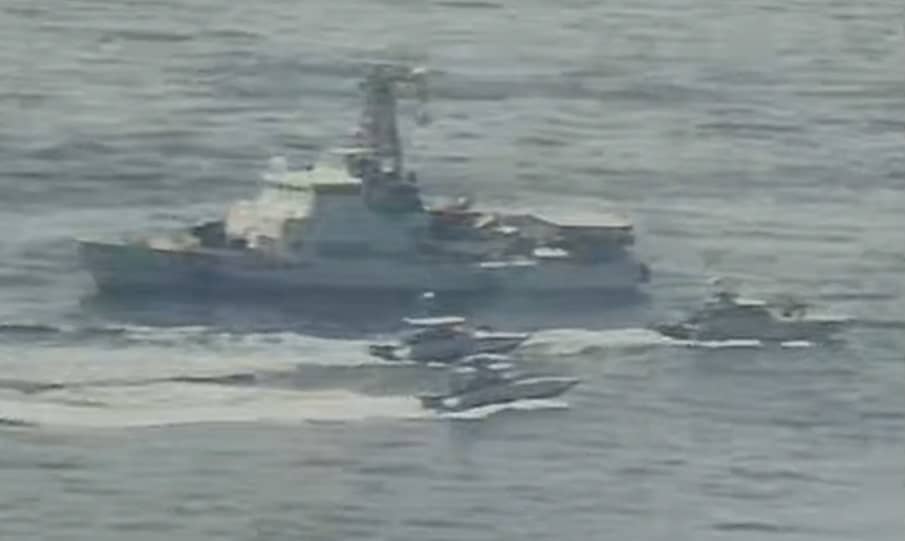 Last week the US Navy released a video showing small armed Iranian fast boats harassing American warships whilst they were in the Persian Gulf, near Kuwait.
BREAKING: 11 Iranian #IRGCN vessels repeatedly conducted dangerous & harassing approaches against U.S. naval ships operating in international waters of North Arabian Gulf. U.S. crews took actions deemed appropriate to avoid collision.

Details: https://t.co/ZVKPKv738o pic.twitter.com/lKJgDz0l2N

— U.S. Navy (@USNavy) April 15, 2020
Iran's Revolutionary Guard acknowledged it had a tense encounter with US warships on Sunday, in the Persian Gulf, but failed to offer any evidence that US forces sparked the incident.
#ICYMI: Iranian #IRGCN vessels with weapons manned harassed #USSLewisBPuller (ESB 3) while operating in international waters in the North Arabian Gulf. U.S. crews took actions deemed appropriate to avoid a collision.

Learn more about the #USNavy's ESB: https://t.co/nhstyAIAOW pic.twitter.com/NBv13TRCSG

— U.S. Navy (@USNavy) April 16, 2020
On Wednesday Trump said in a tweet, "I have instructed the United States Navy to shoot down and destroy any and all Iranian gunboats if they harass our ships at sea."
I have instructed the United States Navy to shoot down and destroy any and all Iranian gunboats if they harass our ships at sea.

— Donald J. Trump (@realDonaldTrump) April 22, 2020