Ringover contacted the top five most-complained-about parcel delivery companies, according to the Citizens Advice, to discover how long on average it takes to successfully talk to a human.
This also uncovered the quickest ways to bypass systems to avoid the dreaded hold music.
Longest time taken to successfully speak to a human at parcel delivery firms
With parcel reference numbers in hand we called each company three times throughout the day at 9 a.m., 1 p.m., and 5 p.m. to calculate the average time it took to speak to a human rather than a bot. Calls were not made on Fridays and weekends to ensure peak times didn't unfairly influence the data.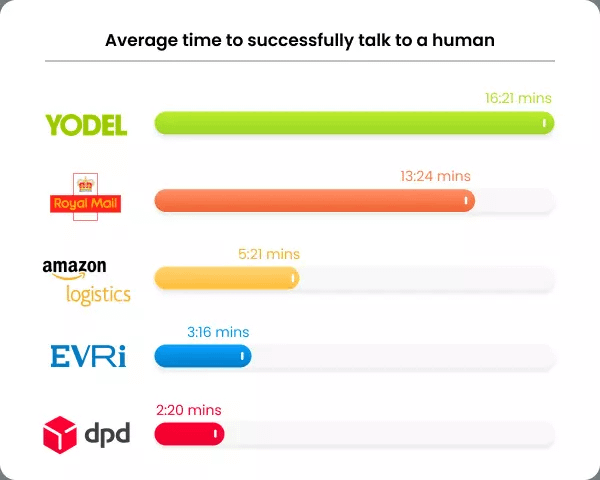 The results show that Yodel has the highest average time to successfully talk to a human at 16:21 minutes, whereas DPD has the shortest time to wait to talk to a human at 2:20 minutes.
Time taken to successfully talk to a human at top parcel delivery firms
We called each individual parcel delivery company three times on the same day to ensure we took peak times into account to give an average wait time.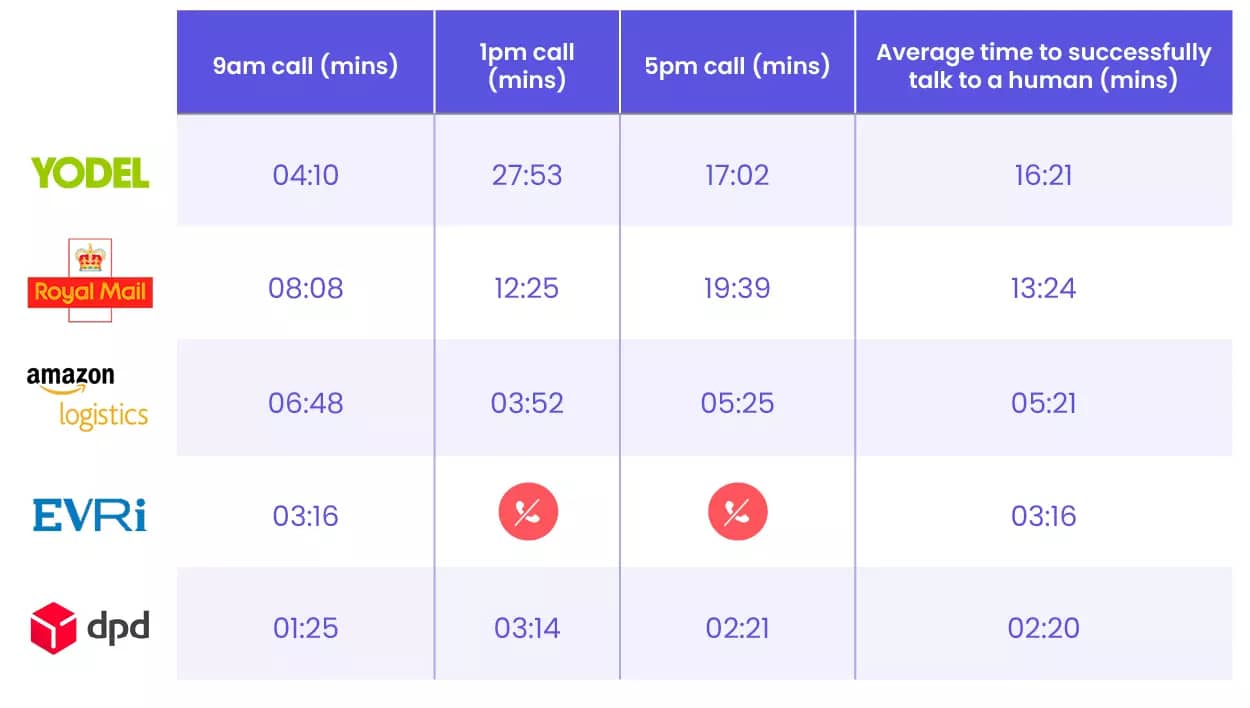 Yodel was shown to have the longest average wait time of all the companies analysed at over 15 minutes, 16:21 minutes to be exact.
Royal Mail took second place with an average time of 13:24 minutes. Amazon Logistics followed in third place at 5:21 minutes.
Evri only let us speak to a human once after 3:16 minutes. After hanging up the company called back and registered a case number for the enquiry and reference number. This meant that on the second and third calls, we were unable to speak to a person as per their policy.
No stranger to controversy in relation to their customer service, it's no surprise that we had issues talking to someone about our parcel. In one instance a customer said that the courier set her property on fire in order to get a call back from customer service, before admitting the fire was a lie.
Despite having the shortest time to successfully talk to a human at 2:20 minutes, DPD failed to deliver the package that was sent.
How to talk to parcel delivery companies quicker
Ringover put in the time and effort to discover the fastest ways to get to talk to a person at Yodel, Royal Mail, Amazon Logistics, Evri and DPD.
Ringover quote
Discussing the study, Ross Slogrove, UK & Ireland Country Manager at Ringover, said, "Our findings show the importance of good customer service software, ensuring that people have access to a human to talk to so that queries and problems can be solved in a timely manner.
"Poor customer service not only impacts the customer experience, but your business overall with data from ICSS showing that poor customer service is costing UK businesses £11.4bn a month in lost productivity."