Video:
Helicopter crashes in Vauxhall, central London
A helicopter burst into flames this morning after hitting a crane in Vauxhall at around 8am, with two people confirmed dead and at least nine injured.
More than 60 firefighters and eight fire engines were on the scene to tackle the blaze.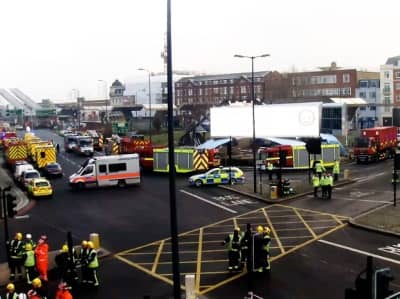 Eyewitness Sherna Noah told The Guardian that she saw a large plume of dark grey smoke" as she crossed Battersea Bridge at around 8am.
"I was coming across the bridge and basically I could see a few cyclists on the bridge looking towards the water," she said.
"I looked over to see what they were looking at and could see a pall of grey smoke coming from the south side. You could see a large plume of dark grey smoke."
So, was awake in bed and heard a helicopter. Was aware of some funny sounds and then a loud engine noise. Then a huge bang.

— Nic Walker (@nic0) January 16, 2013
A Scotland Yard spokesman told LondonlovesBusiness.com: "Police were alerted at approximately 08.00hrs to an incident in Wandsworth Road SW8.
"At this stage it appears a commercial helicopter on a scheduled flight was in collision with a crane on top of a building under construction in Nine Elms Lane SW8.
"The helicopter came down on the land adjacent to the building.
"London Ambulance Service, London Fire Brigade and units from the Metropolitan Police Service were all quickly in attendance. All fires are now extinguished.
"There were two fatalities, including the helicopter pilot. It is believed the helicopter was carrying no passengers.
"LAS has advised that it treated six patients – five for minor injuries and one for a broken leg. Four of the patients were taken to St Thomas' Hospital and two – a man and a woman – were taken to King's College Hospital.
"Seven patients were treated on scene.
"Road closures are in place locally. Vauxhall Tube and Vauxhall bus station are also closed and there are some closures on rail lines into London on the rail network.
"We are working with our partners from LFB and LAS, and the Air Accident Investigation Branch and Civil Aviation Authority.
Pic of crashed helicopter on Wandsworth road twitter.com/vctrjmnz/statu…>my normal route to work. Happy to have taken train today. Hope all ok.

— Richard Bagnall (@richardbagnall) January 16, 2013
 The London Fire Brigade said:
"Eight fire engines and four fire rescue units and around 60 firefighters plus officers are attending a helicopter crash near Wandsworth Road in South Lambeth. Firefighters have brought the fire under control. 
"The police have confirmed that two people have died at the scene. Firefighters have rescued a man from a burning car. Two people have been taken to hospital by London Ambulance Service crews.
Eyewitness: helicopter sliced through crane, dropped on to a car, which exploded and then the #helicopter exploded #vauxhall

— William Green (@politicseditor) January 16, 2013
 Meanwhile, the London Ambulance Service said:
"At 8am today, we received a number of calls to reports of a helicopter crash on Wandsworth Road.
"We have sent a motorcycle responder, seven ambulance crews, our hazardous area response team, the air ambulance's medical team in a car and four officers to the scene, with the first crew arriving in under four minutes.
"Sadly two people have been confirmed dead at the scene. We have treated two patients for minor injuries and they were taken to St Thomas' Hospital."