Here's what you need to know
Western section of Oxford Street could be transformed to create the world's best outdoor shopping experience and an unrivalled place to live and visit
Subject to public response, plans for traffic-free area between Orchard Street and Oxford Circus will be delivered by December 2018 to coincide with launch of Elizabeth line services and increased visitor numbers
Bold plans for the wider area could include new high-quality public spaces, new cycle routes, 25 improved pedestrian crossings, wider pavements, and additional taxi ranks. 
Oxford Street which is Europe's busiest shopping street has ambitious plans for the start of the transformation of the Oxford Street area. The plans are for a traffic free area between Orchard Street and Oxford Circus will be delivered by December 2018 to coincide with launch of Elizabeth line services and increased visitor numbers
If approved, the plans, which are being publicly consulted on until 17 December 2017, would turn the Oxford Street district into the world's best outdoor shopping experience and create new traffic-free public spaces in the heart of London to rival other world cities such as Paris and New York.
Throughout the consultation, people can have their say on plans to create a truly pedestrian-friendly environment. The proposals would see all east-west traffic restricted from entering Oxford Street between Orchard Street and Oxford Circus, whilst maintaining north-south routes through that section.
The carriageway would be raised to be level with the existing pavements between Orchard Street and Oxford Circus during this first stage, making the area more accessible for everyone.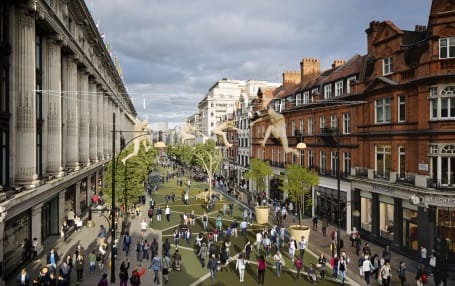 New seating would be placed along the street to give people a chance to rest and spend time enjoying the area. A new 800m-long work of public art could also be commissioned for the length of the former carriageway, acting as a centrepiece for the transformed street. Subject to public response, the delivery of this first stage scheme will aim to coincide with launch of Elizabeth line services through Central London in December 2018.
The plans have been designed to fit with the wider extensive improvements being made across the West End, including the transformation of Bond Street and Tottenham Court Road stations in advance of the Elizabeth line, the Baker Street two-way project, and changes to the Tottenham Court Road / Gower Street area. The scheme will also see a range of measures implemented to help protect the wider area from traffic and air quality impacts.
TfL has been working since summer 2016 to reduce the number of buses operating along Oxford Street by 40 per cent to reflect a change in customer travel and better match demand across the West End. With the opening of the Elizabeth line, this number would be reduced further – with just two routes (route 139 and route 390), rerouted to operate along Wigmore Street, Henrietta Place, and Cavendish Square, providing connections for visitors and local residents across the West End.
New and extended taxi ranks would be created close to Oxford Street to allow Black Cabs to continue to pick up and drop off. When combined with other taxi ranks being built and extended across the wider area, this would see the total number of rank spaces increase by 20 per cent by 2020. Taxis would also still be able to cross Oxford Street at Duke Street, Stratford Place, Vere Street and Harewood Place.
While cyclists would need to dismount when travelling along this section of Oxford Street, TfL and Westminster City Council are committed to providing cycling improvements in the surrounding area. In Summer 2018, we will consult on new high-quality cycle routes along quieter roads to the north and south of Oxford Street.
Sadiq Khan, Mayor of London, said: "This is a hugely exciting moment for the capital. Oxford Street is world famous with millions of visitors every year, and in just over a year the iconic part of the street west of Oxford Circus could be transformed into a traffic-free pedestrian boulevard. 
"Whether you're a local resident, a business, or shop in some of the area's famous stores, our plans will make the area substantially cleaner and safer for everyone, creating one of the finest public spaces in the world.       
"Alongside the arrival of the Elizabeth Line, the Oxford Street area will be truly transformed over the coming years. We will continue to work closely with residents, businesses and Westminster Council to ensure the plans are the very best they can be, including investing in wider pavements, pedestrian crossings, more taxi ranks and further high-quality cycling infrastructure to support everyone living and working in the wider area."
Cllr Robert Davis MBE DL, Deputy Leader of Westminster City Council, said: "With the opening of the Elizabeth line next year and expected increase in visitor numbers, we have a once in a lifetime opportunity to transform the Oxford Street district into the world's best outdoor shopping experience and an unrivalled place to live, work and visit.
"There is a huge amount of public and private investment happening across the West End which is so important in generating opportunities and prosperity for Londoners. We want Oxford Street and the surrounding neighbourhoods to be the jewel in the crown.
"We listened to what people said as part of the first consultation and we now want to hear from as many people as possible about what they think about the detailed plans before we take any final decisions.
"Protecting and improving the quality of life for residents in the surrounding area will be a key consideration, it's crucial that everyone knows that we are listening and that they can help shape our plans."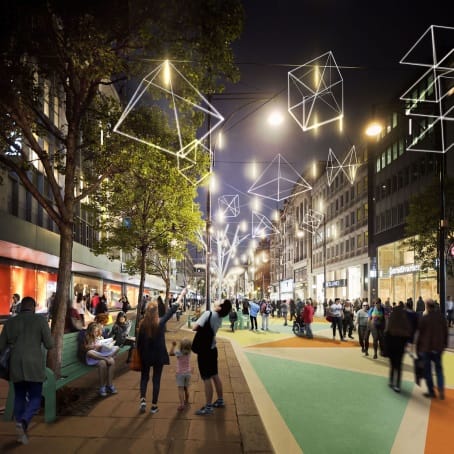 As well as Oxford Street, Westminster City Council and TfL also plan to deliver a range of pedestrian and cycling improvements to the local area as part of a package of measures to support the transformation of the whole Oxford Street district. More than two kilometres of pavements would be widened and improved to provide more space for local residents and visitors.
Six new pedestrian crossings would be installed along Wigmore Street to provide better crossing options. Cavendish Square would also be improved with new and enhanced crossings to better connect Holles Street and Harley Street to the open space as well as plans to create new entrances to Cavendish Square Gardens aligned with the new crossings in the future.
In all, at least 25 new pedestrian crossings would be installed across the area, all of which will use energy-efficient LED lighting and have Pedestrian Countdown technology. Traffic signals across the West End would also be altered and improved to manage any traffic impacts.
Mike Brown MVO, London's Transport Commissioner, said: "The next 12 months are going to be one of the most important in the history of the West End. The opening of the Elizabeth line will see rail capacity in Central London increase by 10 per cent and provides a once in a generation opportunity to tackle the challenges of poor air quality and congestion across the West End.
"Everyone involved in this project has worked tirelessly to design a scheme which would make Oxford Street and the wider area an even better place to live, work and visit. I'm hugely proud of the proposals that are being consulted on and urge everyone to comment on these truly transformative plans for London."
Simon Gillespie, Chief Executive at the British Heart Foundation, said: "This is an important step towards tackling air pollution on one of the busiest streets in the UK. Initiatives like this encourage people to walk and be active, w
hich not only cuts emissions but also helps people lower their risk of heart disease and stroke."
Jace Tyrrell, Chief Executive of New West End Company, said:"After years of campaigning, it's excellent news finally to see commitment from our politicians to a game-changing transformation of Oxford Street.
"Removing the wall of red buses from Oxford Street will reduce congestion and improve air quality – improvements which must also be capitalised on across Regent Street, Bond Street and the wider West End.
"In just over a year, the opening of the Elizabeth Line will bring profound change to the West End as an additional 120,000 visitors arrive every day.
"With an expected £1bn increase in turnover in the West End by 2020 the economic impact will benefit all Londoners as well as the wider UK economy at a time when we face the uncertainty of a post-Brexit Britain."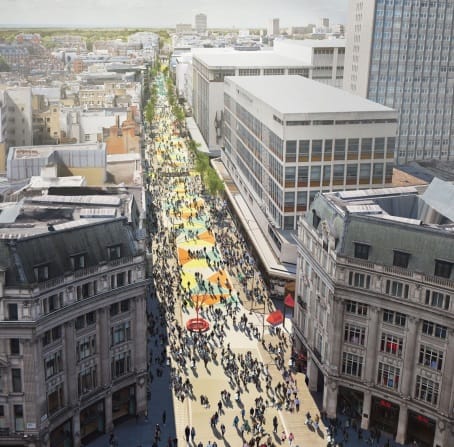 Source: Artist impression
Xavier Brice, Chief Executive of walking and cycling charity, Sustrans, said: "The transformation of Oxford Street will give Londoners room to breathe in the heart of the city.
"This is a crucial step forward in freeing up space for people, instead of metal boxes. Making this iconic destination free of traffic, free of exhaust fumes and open for all to enjoy is vital at a time when London is facing an air pollution crisis. 
"Through this project Transport for London and Westminster City Council are starting to create streets that are safer, cleaner and fairer places to be, which we very much support." 
Earlier this year, close to 12,000 people responded to the first public consultation on the transformation of the Oxford Street district. 
Analysis of these responses showed support for progressing with the overall transformation of Oxford Street – with 62 per cent of the responses who completed an online questionnaire supporting the principles behind the transformation of Oxford Street.
The consultation also made it clear that the plans must address a range of access and congestion concerns raised by locals and others.
Since the first consultation closed, Westminster City Council and TfL have been working hard to address the concerns head on.
TfL and Westminster staff have attended more than 50 meetings with local residents, businesses, local stakeholders and organisations supporting bus users, taxis and cyclists.
These meetings have helped develop the designs and ensure that they reflect the needs of residents, visitors and local retailers. Extensive modelling of traffic impacts and independent air quality assessments have been carried out in preparation for the scheme.
This ongoing round of consultation and engagement helped to shape the detailed plan which has been unveiled today
Depending on the results of the second consultation, work to deliver these improvements could begin in early 2018 to allow the scheme to be in place by the time Elizabeth line services begin in December 2018.