In 2017, 79.02 million new cars sold globally – and sales are set to climb. In 2018, an increase of 3.6% is expected, with 81.5 million new cars predicted to be sold by the end of the year.
New analysis by motor trade insurers Staveley Head have identified which brands generate the highest revenue per minute and which manufacturer turns over the biggest profit.
Japanese manufacturer Toyota, which sold the most units worldwide in the past year, brings in around £5,951 in revenue every second – equating to £430.10 in profit.
In terms of revenue, Toyota is followed by Ford and Mercedes, which generate £3,475.17 and £2,619.70 every second, respectively.
However, Mercedes pockets more of a profit than American rival Ford – the German brand earns £254.71 in profit every second, compared to Ford's £173.19.
When measuring this against the average UK annual salary, it takes Mercedes just 1.8 minutes to generate £27,600 in profit – it would take the average hardworking Brit a year to earn the same amount!
In terms of luxury brands, Porsche leads the way in making the most revenue every minute, generating £38,992 every 60 seconds. Porsche is followed by Ferrari (£5,672) and Bentley (£3,059) as the high-end brands generating the most revenue per minute.
The below table reveals how many units each car brand sells each minute, and how much they make in revenue and profit: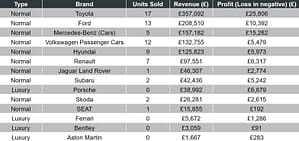 On average, it takes an hour for luxury brands Bentley, Ferrari, and Aston Martin to sell a car worldwide.
Toyota sells a huge 1,024 units worldwide every hour, generating £21.4 million in revenue and £1.5 million in profit.
In just 24 hours, Toyota sells 24,577 cars worldwide, Ford sells 18,101, Porsche sells 675, and Ferrari sells 23 (on average). As each brand closes up for the day, some have made a huge £37 million+ in profit.
Ashley Peters, Managing Director of Staveley Head says:
"Next year will see further industry disruption with increased investment in electric car technology and the infrastructure to support them. There'll also be additional government initiatives supporting the drives to create a low carbon economy and the banning sales of new petrol and diesel cars and vans by 2040.
We may therefore see a shift in leadership, with brands like Renault, Nissan and Tesla having been early adopters in electric car technology development, along with Jaguar Landrover and BMW, which have significantly increased their R&D in this area."