Is the clock ticking?
North Korean leader kim Jong-Un ordered the first test-fire an intercontinental ballistic missile (ICBM), which was successful.
It was announced on state television by a female presenter, who proudly said it was a Hwasong-14 missile, it reached an altitude of 1,731 miles and reached 933km before hitting its target in the Sea of Japan.
Source: @Photoshot
This contradicts South Korea and the US whose officials said it was just an intermediate-range missile, as this new ICBM is able to reach Alaska.
President Trump took to Twitter to make his thoughts known saying, "North Korea has just launched another missile. Does this guy have anything better to do with his life? Hard to believe that South Korea….."
In another tweet Trump said, "….and Japan will put up with this much longer. Perhaps China will put a heavy move on North Korea and end this nonsense once and for all!"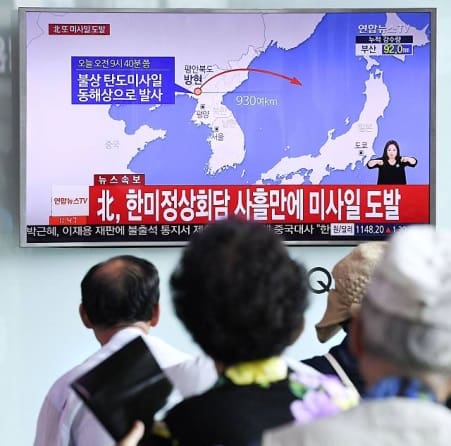 Source: @Photoshot
Trump's tweet seems to intimate that it is now down to China to "end this nonsense once and for all!"
However, in January Trump said, "it won't happen," that North Korea will be able to test launch an ICBM as Kim Jong-Un had boasted at the time they were preparing their first ICBM.
President Moon Jae-in of South Korea said: "We assume it a medium long-range ballistic missile. But we still plan to devise necessary measures assuming it may have been an ICBM.
"If it is ICBM, we will need to come up with the corresponding measures."
He added that Seoul will continue in their approach to, "resolutely deal with North Korean provocations in close co-operation with the international community while maintaining a strong defence with the (South) Korea-US joint forces, based on the strong Korea-US alliance."
David Wright, a physicist with the Union of Concerned Scientists, wrote in his blog: "If the reports are correct, that same missile could reach a maximum range of roughly 6,700 km (4,160 miles) on a standard trajectory.
This means "That range would not be enough to reach the lower 48 states or the large islands of Hawaii, but would allow it to reach all of Alaska."