Bennie G Thompson who is a US congressman has launched an investigation after Nigel Farage flew to the States as he allegedly attended President Donald Trump's rally during the pandemic.
Thompson who is also the chairman of the House of Representatives' committee on homeland security said his visit to the US has raised "numerous troubling questions" as there are travel restrictions from the UK.
Currently the UK are barred from entering the US except US citizens and family member who meet the "specified exceptions."
Farage posted a photograph of himself on Saturday, saying, "In the USA, only twenty-four hours from Tulsa," where Trumps rally took place.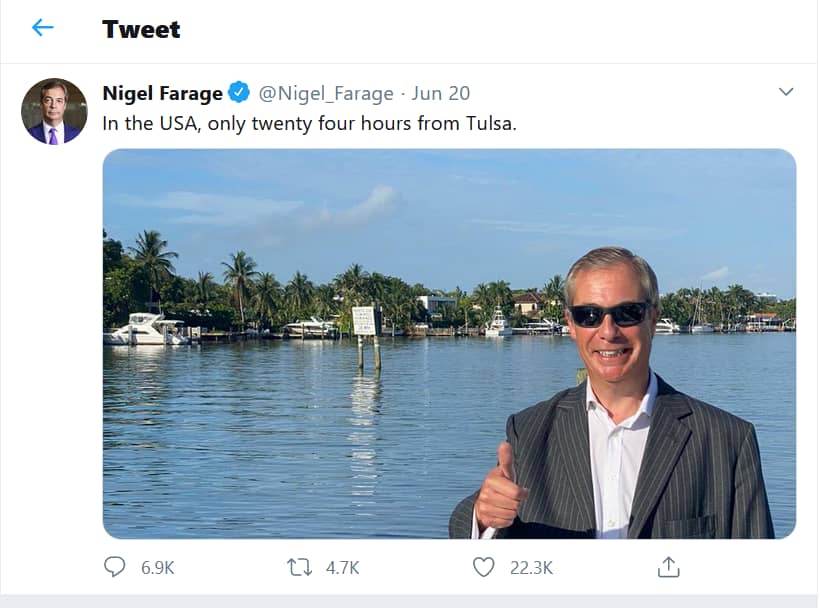 A letter was sent to Chad Wolf acting Secretary of Homeland Security has asked for all "relevant document" over the decision to lift the "travel ban for Farage."
Thompson said, "The decision of the Trump administration to admit Mr Farage to the United States to enable him to attend a campaign rally at a time when most travel from the United Kingdom to the US has been suspended raises numerous troubling questions, as does the claim that such travel was in the national interest."
America's Customs and Border Protection (CBP) also confirmed that Farage was refused to board the aircraft when attempting to fly from the UK to the US.
CBP said the Department of Homeland Security reviewed  Farage's travel and said it is "permissible" for his entry to the US "would be in the national interest, " he then boarded the flight.
Thompson has requested from Wolf documentation on the "the individual who ultimately approved travel to the US by Mr Farage."
He also requested, "the determination and justification" that the trip to the US "was a matter of national interest."
Farage who is friends with President Trump last appeared at a rally in 2016 when he was then campaigning for the Presidency.