At a time when high street brands are crumbling, how is Nails Inc. expecting a £22m turnover?
Follow me: @shrutitripathi6 and @LondonLovesBiz
You would have heard of the 'lipstick effect' that takes place during times of a weak economy. But now the 'nail-bar-ometer' – women having their nails done professionally instead of buying expensive handbags – is the latest trend to emerge out of the recession. 
The popularity of nail bars in the current economic climate is such that retail analysts have hailed them as "one of the fastest-growing businesses on the high street". Nail bars accounted for 16.5% of new outlets opened in the past three years and sales of nail varnishes rose by 14% in the past year. 
One such example of nail bar bullishness is Nails Inc., the UK's largest nail bar chain. Founded by Thea Green in 1999, the business has been in the pink of financial health, come recession and high street depression. It's just been nominated as one of the finalists of the 2012 Santander National Business Award.
Take a look at the numbers of the business:
The company posted a turnover of £14.6m last year and is expecting £22m this year.
Pre-tax profit for last year was £1.5m.
The nail bar has two standalone stores and 56 concessions in Selfridges, House of Fraser, Debenhams and Harvey Nichols among others. The brand has also opened stores in Ireland, Australia, Hong Kong and North America.
For her business prowess, 35-year-old Green has received an MBE and the Ernst and Year Entrepreneur of the Year Award 2011. But just how has she nailed the art of making nail bars recession-proof? I caught up with Green to find out:
Q. How did you come up with the idea of launching Nails Inc.?
I was working as a fashion editor for Tatler magazine, making frequent trips to New York. While in Manhattan I noticed that women everywhere were getting their nails done professionally, on a regular basis in their lunch hour or after work, before heading out for the evening. There was nothing similar available in the UK and I just knew it would work. I'd always known I wanted to run my own business but didn't know what that business would be. Once I saw the opportunity I just went for it.
I started with a £200,000 investment in order to open the first store, set up an office and invest in creating enough products of the right quality to get the business up and running.
Q. You opened your first store on the South Molton Street, a prime location already teeming with luxuries brands.  Wasn't that a risk?
It didn't feel like a risk at all as by that time we'd done the market research, gained the necessary investment and created a fantastic product with a great brand. I knew the appetite from customers was there – in fact the only worry in those early days was that we wouldn't be able to physically grow the business quickly enough to meet demand.
Q. So then how did you scale the business?
The business was always intended to be a chain of stores with a fully branded product offering but we grew the retail presence through department store concessions. Having a presence in the ground floor beauty halls from the very beginning has been really important for brand awareness. And the stores like us because shoppers spend more time in store considering their purchases.
More recently, we have been expanding our product offering internationally. Last year we embarked on a partnership with French beauty brand Sephora, and now you can buy Nails Inc. products across the US, Canada and Europe, as well as in the UK.
Q. Why does beauty do well even in a recession?
The lipstick effect and now the nail varnish index is a real response to more difficult economic times. With less disposable income available to everyone, people need to make cutbacks but aren't willing to give up looking good. A manicure or a new shade of nail polish is an affordable luxury. It provides an instant bit of glamour that is noticeable and can bring your whole look up to date with the latest fashion trends.
Q. The company recently invested £450,000 to upgrade its website and the flagship store. How do online sales compare to store sales?
Nails Inc.com is our number one performing store. The website has had a complete overhaul to improve the e-tailing [internet retail] capabilities, to allow customers to book appointments online, watch video content about new products and services, and chat and swap ideas through various different social media channels.
The South Molton Street store was given a new fit out and the Harvey Nichols Champagne nail bar also got a makeover.
Q. I'm sure you have VCs banging at your door, have you ever considered taking on their investment?
We still have nearly all of our original investors in the business and have managed to grow Nails Inc. in line with our ambitions without having further external support so far. It's worked for us very well to date, although who knows what the future holds. We are ambitious with lots of plans for new product development and further expansion overseas.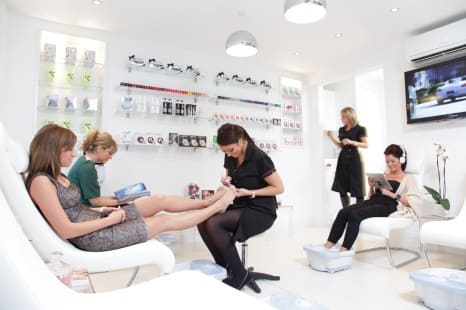 Q. Which other markets around the world are you looking to crack?
We've been really pleased with the response to the brand in the overseas markets we went into last year. Through our existing partnership with Sephora we are exploring other opportunities in South Africa, Asia and Australia.
Q. What's your USP?
There isn't really another company that offers the same combination of branded products and services that Nails Inc. does. You have the independent one off nail bars on the high street and the global cosmetic brands who make nail polish but there really is no one else who offers what we offer to our customers. We have 450 employees who are ambassadors for the brand and know exactly what our customers want.
Q. How difficult is it to set up a business in London?
Setting up a business anywhere at any time is a difficult thing to do but it is also one of the most satisfying, exciting and rewarding things to do. I think the main advantage that London has over other areas are the networks.
There are lots of places to go to ask for advice or meet people who have had similar experiences to share ideas. I think that's a real bonus that perhaps entrepreneurs in other cities and especially in rural communities might not have the same access to. Although I would say that there are also fantastic online resources available to people who are thinking of setting up their own business or evening looking to grow what they have built up so far.
Q. What can be done to rescue the high-street? What are your views on Mary Portas' pilot scheme?
Consumers today have more choice than ever before about what to buy and where and how to buy it. To convince shoppers that the best place to spend their money is on the high street, retailers need to offer experiences and customer service that you just can't get elsewhere.
I think retailers like Selfridges, Harvey Nichols, Burberry and Apple do that very well: it's about drawing customers out of their home
s and into the stores to experience the brand first hand and receiving a service that you just can't replicate online. That's not to say that online isn't going to continue to become an even more important sales channel for retailers, but the real winners will be those who can master both.
Q. As a mother of three, what advice do you have for mums aspiring to be entrepreneurs? How difficult is it for you to juggle work and home?
Have faith in your own idea, do your research, get your business plan written and go for it. Don't be under any illusions that it will be anything other than hard work, long hours and steep learning curves, but if you have the determination and the right idea you will succeed.
I've always juggled work and home so I don't know any different, but since having kids I don't sweat the small stuff as much as I used to and make sure that I'm always there for the events that are most important to my children.
Q. Some of your nail polishes are named after London street names, how did you come up with that idea?
Our first store was on South Molton Street and we're a British beauty brand through and through with a strong London influence so it seemed like a very natural fit and with lots of avenues – and streets – to explore for new product development!
Q. Finally, how was it receiving an MBE? Would you count that as your biggest achievement?
Amazing. It was one of the proudest days of my life and definitely a career highlight. It was so wonderful to have the recognition for Nails Inc. as a business and I really do share it with the whole team.