Our Media Mister review will guide you through all of the essential aspects you need to know about this social media marketing provider.
Social media has become an essential part of our lives in the modern era. Now, it isn't a tool that we only use to connect with our relatives, friends, and new people, but it's also a powerful marketing resource that we can use to make a business grow considerably.
Although making your business grow on social media on your own can be rewarding, the truth is that if you want more immediate results, you may have to recur to growth services.
Media Mister is one of the many organic growth service providers for social media available. This company has been around for more than a decade, helping people achieve their business goals and expanding their business in the long run.
For today's post, we'll describe what you need to know regarding Media Mister, its services, and how this company can help you obtain tens of thousands of followers in little time.
About Media Mister
Media Mister is a social media management platform that has been around for several years. It focuses on providing people engagement strategies, allowing them to attract potential customers to their business at little price.
The company allows you to choose different packages based on your budget and what you would like to achieve. Hence, it's a service that is available for everyone, allowing you to get benefits according to your availability.
Services you can buy from Media Mister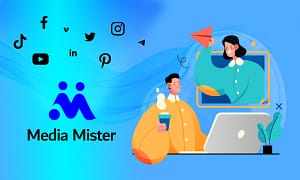 Media mister has available different services that can help you boost your social media presence. It works in all of the traditional social media platforms, allowing you to get Instagram followers, views on TikTok, retweets, or perhaps likes on Facebook.
You can use the services provided by this company to make your business grow and become known among your target audience.
Below you can find a general description of the majority of the services that Media Mister provides to the public. The pricing varies depending on several factors, but overall, all packages are affordable for most people.
Instagram services
Media Mister has diverse Instagram growth tools that you can use to make your business more popular in the long run. This company allows you to get followers, likes, comments (and replies), among many other statistics, to boost your reach and keep your audience engaged with your content.
Of course, the pricing depends on what you intend to do. However, Instagram services are among the most affordable that you can get from this company.
TikTok services
When it comes to TikTok, things are a bit simpler but equally affordable. You will be able to request more followers, views, comments, or any engagement indicator that you need. It may also include shares and likes.
TikTok is a social media site with a unique algorithm. It allows people to become popular overnight, based on certain factors. Of course, your reach could improve if you had more people engaged with the content you produce.
The pricing of the TikTok services available at Media Mister is some of the most affordable we could find after going through the website.
Facebook services
Although tons of social media sites have started to become more popular in recent years, the truth is that Facebook is still popular among adults (and the younger generations in certain countries). Therefore, this platform can be an excellent way of giving more visibility to your business.
Like Instagram, all of the Facebook engagement indicators are available at Media Mister. You will be able to request followers, likes, views, and even Media Mister reviews (if applicable to your business). You can also obtain group members, comments (and replies). Poll votes are also available as an option.
YouTube services
YouTube is another social media where you can grow relatively fast if you're persistent and have a good content strategy. It has become the standard platform for videos, as it's easy to find almost every form of entertainment and problem-solving video that help us in our everyday life.
If you want to request Media Mister's YouTube services, you'll be able to request Youtube views, subscribers, and comments, three of the basic indicators. However, you will also be able to request likes and dislikes, favorites, and even watch time hours. Shares are also available as an option!
Twitter services
Twitter is still one of the most active social platforms for multiple reasons. It is a content hub where you can find a bit of everything, from art to people sharing their opinions or debating with one another. Either way, it's an excellent platform where you can make your business known to the public.
If that's what you want, then you'll be glad to know that Media Mister has within its social media growth services several Twitter indicators, such as retweets, followers, and likes. You will also be able to get other types of engagement indicators, such as poll votes and views, based on your preferences.
Other services
There are tons of other services for different platforms available at Media Mister. You will be able to request packages for other social media sites, like Discord or LinkedIn, and even streaming platforms like Spotify and request new social media engagement services like Podcast downloads, Rumble views.
It's worth noting that all of the services available at Media Mister come from real users. All of the growth you'll experience will come from real people, contributing to the legitimacy of your company or social media profile.
My experience with Media Mister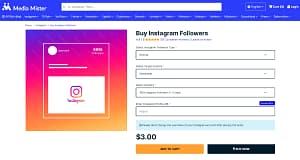 For this review, I requested a small package of 100 Instagram followers at Media Mister. Here's what I experienced.
The first thing I'd like to note is that Media Mister has an extremely easy-to-follow and intuitive interface. Plus, all the instructions for the process are posted on the site, allowing you to get right to business as soon as you enter the website.
All you have to do is choose the platform, the service, and the quantity of a particular engagement indicator you would like to acquire, and the website will show the pricing for what you've chosen. It's a fast process that will only take a few minutes from your day.
Here are the rest of the important factors you should know.
Payment process
The payment process is quick and safe. You can choose between "Stripe" (which would be paid via a credit or debit card) or pay using cryptocurrency. At the moment, you can only pay using BTC and ETH. If you have a coupon, you'll be able to get a special discount.
Additionally, paying with cryptocurrency will grant you a 5% discount.
You will only be able to see the pricing of the package you've chosen after you play around with the options. In my case, I requested 100 Instagram followers, which was a total of $3.00. Please note that all the prices are shown in US Dollars.
Once you've selected your preferred method of pricing, you need to click on "place order," and the website will show you the steps you must follow to continue with the process.
Turn around time
Perhaps the best feature I've found on this website is the ability to select the turn-around time of your order. It is directly tied to the number of followers, likes, or any other indicator you would like to get.
Since I chose to get 100 followers, that means I was only able to get them after 1-2 days. All you need to do is select the indicators shown on the screen, enter the URL of your Instagram profile, and you're all set. What you've requested will be delivered to you within the stipulated time.
Quality of followers
I carefully went through most of my new followers' profiles. All of them looked like real users, so I discarded the possibility of being followed by fake accounts. Therefore, you can be sure that all people that will start following your social media account will look 100% real.
Retention rate
After one week, I found that I had only lost four followers. Hence, I can certainly say that the retention rate of the services provided by Media Mister is relatively high. You will certainly be able to keep most, if not all, of your followers after you've requested the service.
Positives of Media Mister
Now that we know how Media Mister works, let's see the positive aspects of the platform and what you should be aware of while you're using it.
Real engagements
As we've mentioned in the above sections, all the accounts that will follow, comment, or like your account will look 100% real. Therefore, you will be able to keep your social media profiles intact, preventing them from being flagged as spam.
Real engagements are crucial in social media, as they can make your profile look "real" or "fake" in the eyes of your target audience.
Secure website
The website is user-friendly and secure. You can take a look at the privacy policy and terms and conditions to get to know more about how the website works. However, Media Mister is extremely transparent and honest with its clientele, which takes us to the next point.
Transparency
This platform is 100% transparent with its audience. You will be able to see every step of the process through their website and get to know all the details you need. This website is so confident in its services that it has a unique moneyback guarantee policy.
If Media Mister fails to deliver the client's request within the stipulated time, then the user is on the right to request a full refund of the service.
Retention guarantee
The retention warranty is extremely high. According to the information provided by the platform, Media Mister offers a 60-day retention warranty. It's one of the highest rates if you compare it to similar services around the web.
Still, keep in mind that, sometimes, it might be possible for some of your real followers to unfollow you. That's how social media works – it's a fast-paced environment where everyone is constantly moving from one thing to the other!
Good customer support
Customer support is available most of the time at Media Mister. You will be able to get in touch with them via live chat through their website or via email if you prefer.
I tested the live chat option, and it was wonderful. A customer support representative gladly answered all my questions quickly. The team has a positive and friendly approach to the clientele. You will certainly have a good experience while chatting with them.
Natural delivery time
The delivery time of the services depends on the amount of a particular indicator. For instance, you will obtain 100 followers within 1-2 days. Either way, it'll be a gradual process.
Getting too many followers within a short period might trigger Instagram's spam algorithm. Media Mister understands this issue, and that's why each request takes a few days to complete. This way, your account will be unharmed by the end of the process.
The whole process will be natural, and all the users you get will be real. Hence, you can be sure that you will be able to keep your social media profiles as sharp as always.
Multiple payment methods
At the moment, Media Mister only supports credit or debit cards and cryptocurrency. The company is working on expanding its payment methods so every person has access to the service, regardless of where they are at the moment.
FAQs
The website has tons of information and a whole FAQ section dedicated to the website. Hence, you will be able to get to know the company from the inside, allowing you to learn every step of the process and other essential data you may want to know regarding Media Mister and its services.
Real reviews
This website has tons of real reviews on platforms like Trust Pilot. It's easy to tell when a particular review is fake or not, but most of the reviews that users leave on the profiles of Media Mister around the web are quite elaborate and extremely detailed. Hence, you can assume they're real.
Media Mister also has an excellent reputation on Sitejabber. Therefore, you can be sure that this is a trustworthy company that cares about its clientele.
Country-Targeted engagements
Media Mister has available "country-targeted" engagements. So, let's say that you want to get followers from the US, but only females. That is possible – the website has this option available, and the same ones can be chosen if you prefer followers from different countries.
Privacy
This website is 100% secure. You will not be required to submit any sensitive information that could compromise your privacy. The payment methods are also processed through a secure server, so none of your data will get "leaked" or be used for malicious purposes.
You can read more in the privacy policy and terms and conditions to learn more about how Media Mister manages the information they obtain from you.
Negatives of Media Mister
Perhaps the only "negative" aspect of Media Mister we could find was the lack of free trial. This way, you can figure out whether the service is up to your expectations or not. Besides this factor, Media Mister is an excellent company that fulfills all of its promises and keeps its clientele happy.
Is Media Mister safe to use?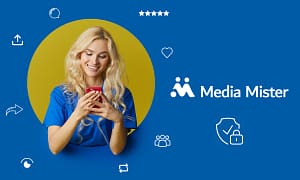 After writing this review, I can certainly say that Media Mister is a 100% safe platform where you can obtain tons of social media engagement indicators at affordable prices.
Safety is an essential factor to take into account if you're trying to buy social media growth services. It's important not to choose a company that will fill your social media profiles with spam or fake follow.
Media Mister is transparent and will not request any sensitive information from you. You will never be asked to give the website access to your profile. All you need to do is provide the URL of the target account, place your order, and wait for the results to come. You can expect high-quality results.
Media Mister says that all of their services come from real people and completely disregard the use of bots. All of these factors, along with the user-friendly platform and secure payment processor, lead us to believe that Media Mister is a safe platform.
Is Media Mister legit?
Yes. Media Mister is a legit platform where you can request a comprehensive range of services that can help you grow on social media. Your order will be gradually delivered within the stipulated time, making it seem like "organic" growth.
You can find a few discontent customers now and then, but generally speaking, most people are satisfied with the services of Media Mister. This platform has a good reputation around the web due to its ethical practices, transparent approach to the audience, and efficient service.
Media Mister review: My verdict
After making order at Media Mister, I've found out that this platform is secure, safe, and efficient. Media Mister is transparent, user-friendly, affordable, and very intuitive to use.
You will be able to buy social media indicators (likes, followers, and views, for instance). Although this service will always have a few disadvantages now and then, it's a platform where everything is managed securely and quickly.
Hence, I can only recommend Media Mister to any person that would like to make their social media accounts grow without risking their information or filling their profile with spam.