Facebook boss Mark Zuckerberg and his wife Priscilla Chan have donated a generous $25m (£15.7m) to prevent the outbreak of ebola.
The couple made the donation to the Centers for Disease Control and Prevention (CDC) who are working to combat ebola in West Africa.
In a statement, Zuckerberg said: "The ebola epidemic is at a critical turning point.
"We need to get ebola under control in the near term so that it doesn't spread further and become a long-term global health crisis that we end up fighting for decades at large scale, like HIV or polio.
"We believe our grant is the quickest way to empower the CDC and the experts in this field to prevent this outcome.
"Grants like this directly help the frontline responders in their heroic work."
How rich is Mark Zuckerberg?
According to Forbes, Zuckerberg is now worth a whopping $34bn – 23 times what he was worth in 2008 ($1.5bn). He's beaten Bill Gates to become "the biggest gainer" of 2014and has added $15bn to its fortune in the last year.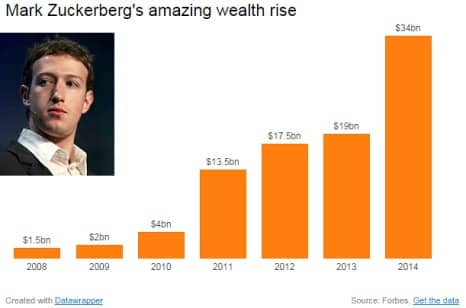 The news comes as the World Health Organisation (WHO) assistant director general Bruce Aylward predicted that we could see 10,000 new ebola cases per week in two months.
So far, 4,500 people died of ebola and over 9,000 confirmed cases have been recorded.
Here are the most charitable tech CEOs in the world:
Now read:
What's the Ebola virus and how much danger is the UK in?
UK border officials admit they are "not ready" for Ebola as Sierra Leone declares state of emergency