Zuckerberg's yearly salary? $1
Mark Zuckerberg and his wife, Priscilla Chan, are donating 99% of their Facebook shares, currently worth a staggering $45bn.
They revealed the creation of a charity organisation called the Chan Zuckerberg Intiative as they announced the birth of their baby girl Max.
The couple launched a charity which is on a "mission of advancing human potential and promoting equality".
In a letter to his daughter, Zuckerberg wrote:
"As you begin the next generation of the Chan Zuckerberg family, we also begin the Chan Zuckerberg Initiative to join people across the world to advance human potential and promote equality for all children in the next generation. Our initial areas of focus will be personalized learning, curing disease, connecting people and building strong communities.
"We will give 99% of our Facebook shares — currently about $45bn — during our lives to advance this mission. We know this is a small contribution compared to all the resources and talents of those already working on these issues. But we want to do what we can, working alongside many others."
Now take a look at just how rich is Mark Zuckerberg
Wealth: $46.8bn
Forbes ranks #1 on the list of America's Richest Entrepreneurs Under 40. He ranks #16 in the list of Billionaires and #7 on the Forbes 400.
He voluntarily reduced his salary to $1 last year from $503,205 in 2012.
Hawaiian Islands
Last year, Zuckerberg reportedly forked out more than $100m for a swathe of land in Kauai, the fourth largest of the Hawaiian islands.
He now owns 700 acres on the north shore which includes a white sand beach, a former sugarcane plantation, and an organic farm.
Palo Alto Home
In 2011, Zuckerberg bought a $7m, 5,000 sq ft home in Palo Alto, California. He then spent $30m buying up four homes adjoining homes.
Take a look at this graph that charts Zuckerberg;s wealth rise from 2008 to 2014: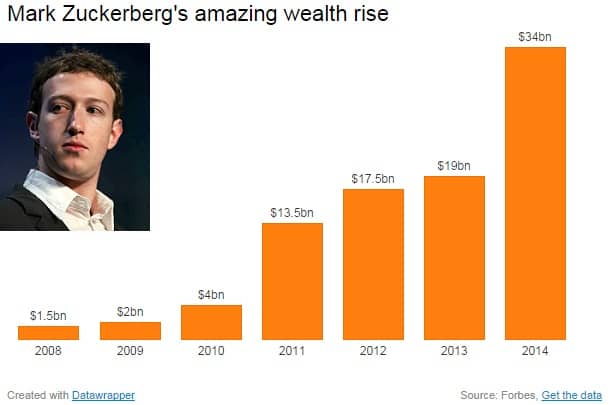 Now read: