The latest…
London Fire Brigade's (LFB) specialist canine units were bought in Friday along with the Metropolitan's Police urban search and rescue dogs, to search for the missing victims of the horrific inferno which, tragically has claimed thus far, 30 lives.
The canine units are fitted with specialist boots along with high-vis harnesses, the dogs will cover each flat of each floor where firefighters are unable to gain access as they are lighter and are able to cover more ground, more quickly.
Dogs have an acute and accurate smell and are able to sniff through concrete and other solid objects 10 times more than us humans can.
It is believed that more than 70 people are still missing and the search has now become a recovery mission.
It has been mentioned that a faulty fridge may have started the inferno, although at this stage there is no evidence to support this claim.
LFB said in a statement: "Twenty firefighters and four fire engines, plus other specialist resources, have remained at the scene of the Grenfell Tower fire in North Kensington throughout the night.
"Crews have remained at the scene to monitor the stability of the building's structure, managing the inner cordon and damping down any remaining pockets of fire.
"Throughout Friday, six fire engines and 35 firefighters and officers were at the scene working with the Metropolitan Police and other agencies.
"In addition, three Urban Search and Rescue (USAR) modules and 30 specialist USAR firefighters are working to make the block safe so our firefighters can continue to progress throughout the building, making a detailed search.
"This search will be a slow and painstaking process which will require a large amount of shoring up work, especially on the upper floors which will be the most challenging for us to access and search.
"USAR officers will be working alongside the Metropolitan Police Disaster Victim Identification (DVI) team and London Ambulance Service Hazardous Area Response Team (HART) to assist with recovering people from the building."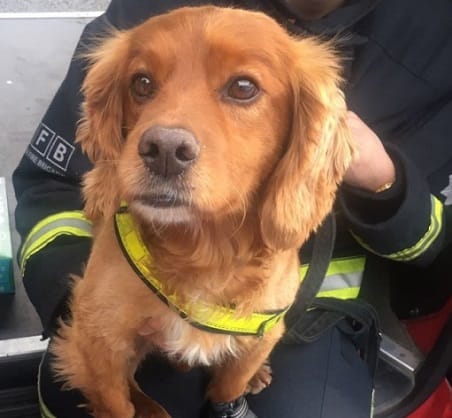 Source: @LondonFire
Dany Cotton, the commissioner for LFB said: "This is a large building, there will be a large amount of building work required internally.
"Before we do that, we are going to utilise some specialist dog training teams that we have, that will go through the building and the surrounding area looking for any identification of people."