From multinationals to microbreweries, businesses are supporting LGBT rights as Sochi begins
The Sochi Winter Olympics begins today amid huge controversy over Russia's anti-LGBT (lesbian, gay, bisexual and transgender) legislation, introduced by Vladimir Putin in June. The law bans "propaganda of non-traditional sexual relations".
There have been protests across the world, and calls for governments to boycott the Sochi Games from human rights and LGBT rights groups, the public and a host of celebrities.
Businesses are taking a stand too, and we believe they should be celebrated for it.
Here are some of best-known brands taking a stand against Russia's anti-LGBT law:
AT&T
US telco giant AT&T is not a sponsor of the Sochi Olympics – none of the sponsors has condemned the law – but AT&T is a corporate supporter of Team USA, and has been since 1984.
On Tuesday, it came out against the law in a blog on its website called "A Time For Pride and Equality":  
"The Olympic Games in Sochi also allow us to shine a light on a subject that's important to all Americans: equality. […] We support LGBT equality globally and we condemn violence, discrimination and harassment targeted against LGBT individuals everywhere. Russia's law is harmful to LGBT individuals and families, and it's harmful to a diverse society."
Brewdog
British brewer Brewdog has created a deliciously ironic beer called "Hello, My Name Is Valdimir" to protest against the law, which describes itself as "a beer for uber hetero men who ride horses while topless and carrying knives".
An impressive 50% of profits from sales of the beer will go to "charitable organisations that support like minded individuals wishing to express themselves freely without prejudice".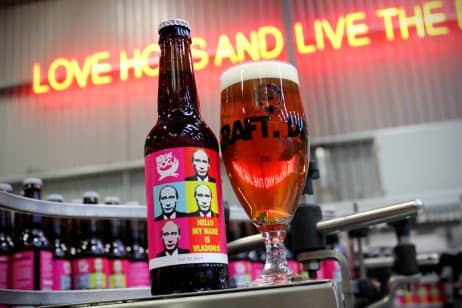 Brewdog explains on its website: "The sick, twisted legislation brought about in Russia that prevents people from living their true lives is something we didn't want to just sit back and not have an opinion on. Our core beliefs are freedom of expression, freedom of speech and a dogged (no pun intended) passion for doing what we love. […]
"This beer is a double IPA brewed with Limonnik berries. We heard they're great for improving sexual performance, so we've sent a case to the Kremlin as we suspect there is someone there who would appreciate a little helping hand."
Brewdog's promotion for the beer comes complete with rather wonderful pictures of a Vladimir stand-in, who explains: "Hello, my name is Vladimir. I am a beer to mark the 2014 Winter Olympics. But I am not for gays. Love wrestling burly men on the Judo mat or fishing in your Speedos? Then this is the beer for you!"
Google
As we reported earlier today, Google has redesigned its logo today to transform the Sochi Olympics logo into the rainbow colours that are a symbol of sexual equality and LGBT rights.
Underneath the logo, it's copied a section from the Olympic charter, which you can see in the image below: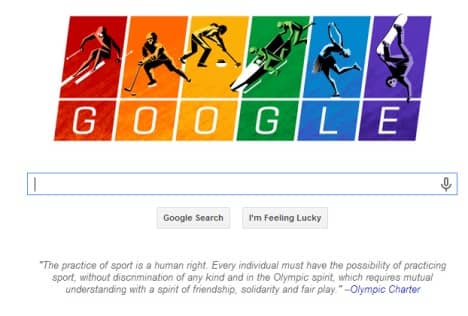 Lush
British cosmetics maker Lush has made a defiant stand against Putin's law by launching a campaign called "Sign Of Love". It's encouraging people to share on social media pictures of themselves with a pink triangle painted somewhere on them, to show their support for LGBTQ rights.
Lush will then compile these into photo "petition books" and send them to embassies worldwide on Valentine's Day.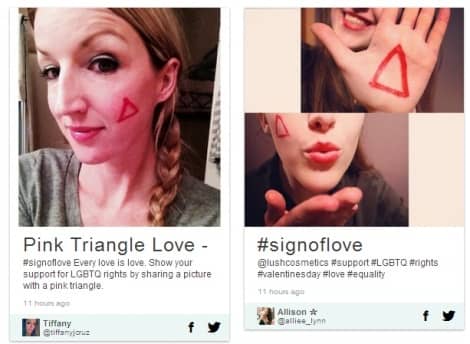 It says on its website: "We believe in love for everyone, between everyone. […] This law is archaic, unjust and only serves to reinforce prejudices against gay people, creating a culture of hostility against LGBTQ communities in Russia. It is a violation of basic human rights and people found to be 'propagating' homosexuality are subjected to fines, imprisonment and possible deportation."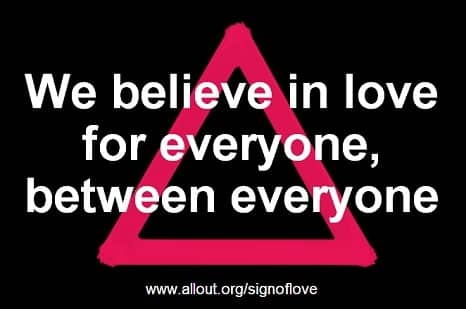 Mother London
In December, ad agency Mother London announced on its website that it was going to "stick two fingers up at homophobia in Russia".
It created seven sets of Russian nesting dolls featuring "artist's renders of five gay British icons: Elton John, George Michael, Stephen Fry, Graham Norton and Tom Daley".
It delivered one set to the Kremlin, one to the Russian Embassy in London, and auctioned the rest in aid of the Kaleidoscope Trust for the work it does with gay communities in Russia.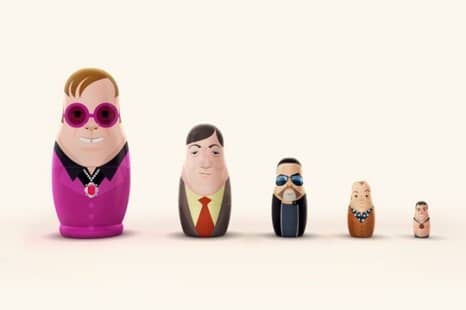 We're sure there are many more example of brands taking a stand against Russia's anti-LGBT law, and we want to give them a shout-out too. So please comment below or tweet @sophiehobson or @londonlovesbiz to let us know, and we'll update this piece.