UK plc revenues rise by 12.6 per cent to £126.6bn, a new record 
UK-listed companies reporting annual results between October and December saw sales and profits hit record highs, according to the latest Profit Watch UK from The Share Centre.
A stronger world economy and a weaker pound drove up revenues by 12.6 per cent to £116.6bn. This is the highest sales for this group of companies on record.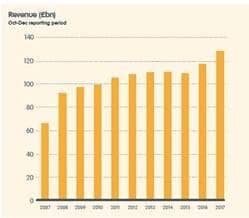 Growth was broadly based, with ten sectors growing revenues, compared to just one in which sales fell. Multinationals reported the strongest performance. Contract caterer Compass, the largest company to report, saw revenues climb by 15.1 per cent, benefitting from exchange-rate gains, and improving demand in overseas markets. These two factors were also behind positive results from globally exposed companies such as Ferguson (formerly Wolseley), TUI, and Associated British Foods. Domestically focused companies such as JD Wetherspoon, Mitchells & Butlers and WH Smith achieved decent, albeit slower, sales growth. The property sector, however, was a particular bright spot, following government support for the housing market, while strong stock markets lifted the results of general financials.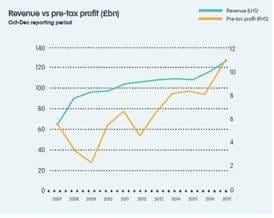 Collective pre-tax profits rocketed 44.8 per cent on a like-for-like basis to a record £11.2bn. In line with revenues, 10 sectors raised pre-tax profits, and only one saw them decline, and even then, only marginally. Overall, nine-tenths of the companies reporting raised their pre-tax profits.
Easyjet, was the clear outlier, despite higher passenger numbers and higher revenues, with pre-tax profits falling sharply year-on-year. Higher fuel costs and the pound's weakness were major factors. Greencore, the convenience food manufacturer, also saw profits fall, owing to exceptional costs on its acquisition of Peacocks, a transaction which boosted the group's revenues considerably.