Fluro has surveyed over 2,000 Brits with a bank account to find out their priorities when choosing who to bank with, as well as creating a ranking of the best banks around the world for customer satisfaction, analysing online reviews to reveal which are providing the best service overall.
Managing our finances has never been more important, and it's crucial that banks are making their online services as easy to access as possible as technology continues to evolve. But what are customers' main priorities when choosing who to bank with, and which banks rank the highest overall for customer satisfaction?
From additional perks to overdraft fees, there are a number of reasons we choose who to bank with. Our survey reveals that digital services are most important with 27% admitting that easy to use online banking features have the most influence over their decision.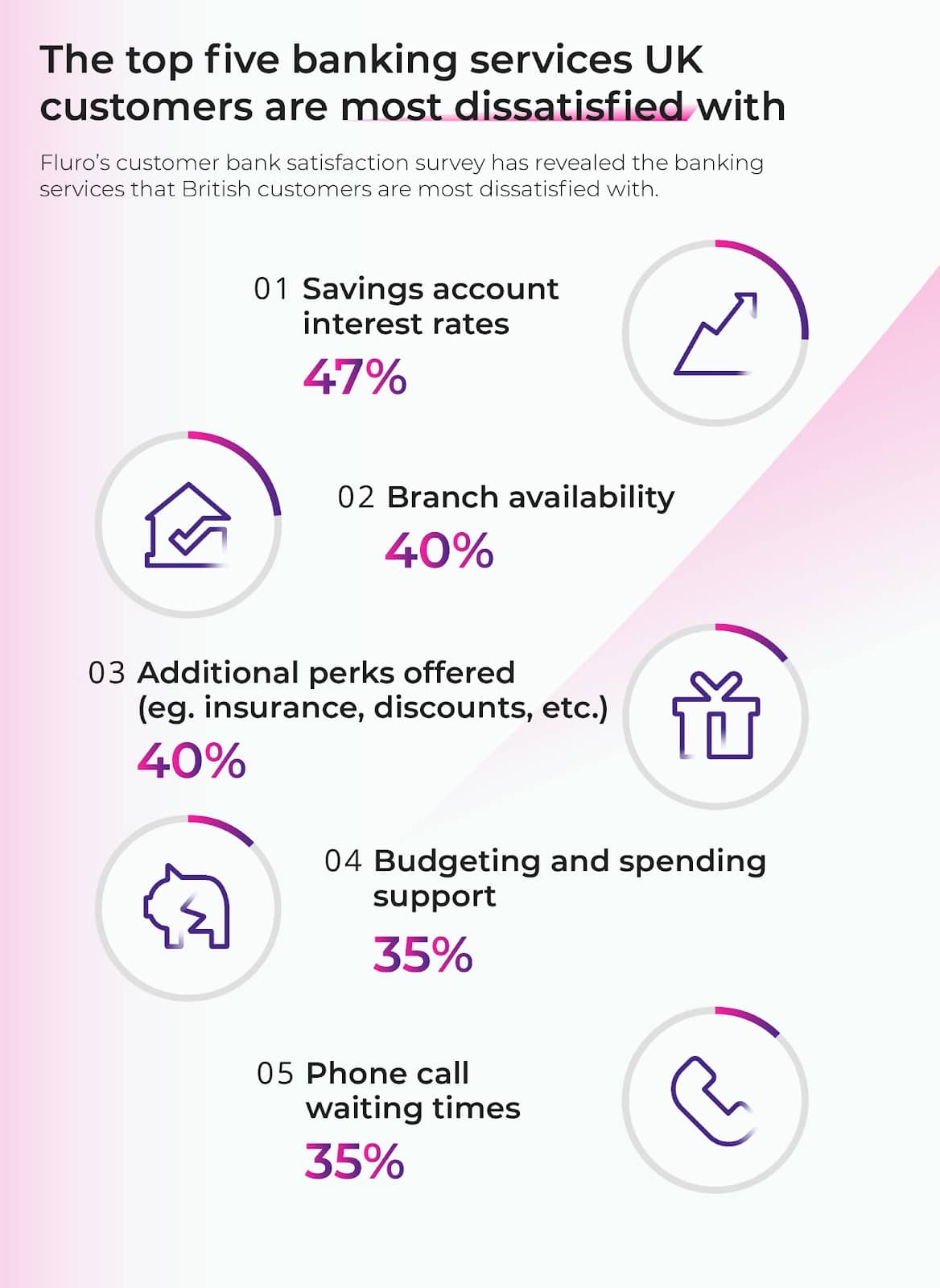 Branch availability does continue to be a key factor coming in second with 25% of respondents valuing this as a contributing factor to their decision of who to bank with, followed by easy to use mobile banking services, which comes in third with 23%.
With easy to use online services coming in as the number one aspect Brit's consider when choosing a bank, it's promising to see that overall, customers are satisfied with a number of digital services their bank provides.
Over two thirds of UK bank customers are happy with the online service features offered by their bank (70%), followed by its mobile app features (68%). Over half (58%) are also satisfied with their bank's mobile app customer service, which is slightly higher than the percentage who are satisfied with their bank's in-person customer service communication (57%) and phone call communication (50%).
However, when it comes to what people aren't satisfied with, online customer service wait times (50%) and communication (49%) come in at the top, making these the areas that banks may need to target for improvement.
The study also looks at Trustpilot reviews data of the world's biggest traditional and digital banks to see how they compare.
Digital providers dominate the top 10 best banks according to customer reviews, with an average of 68% of excellent or great reviews on Trustpilot, compared to traditional banks who had an average of just 16%.
UK-based Atom Bank ranks as the number one service, with an impressive 94% of all reviews rating it as 'great' or 'excellent'. Fellow UK digital banks Monzo and Starling come in second, with 86% and 85% positive reviews respectively.
Meanwhile, all of the worst ranking banks for customer satisfaction are traditional, further emphasising the importance of banks improving their digital offerings to continue to meet their customers' needs.
Nick Harding, CEO of Fluro said, "Online-only banks are rapidly growing in both number and popularity, and the high demand for quality digital banking services will likely only continue to rise in the coming years.
"Operating in a purely digital space presents new challenges for customer service and satisfaction, but it's clear many online banks are working to prioritise this area in order to keep their customers happy.
With purely traditional banks ranking so low for customer satisfaction, this confirms the need for banks to continue to keep up with modern technology and expand their digital services if they wish to attract and retain customers. It may also see the rise of customers turning to fintech companies for services previously provided by their bank."