Controversial trader who told the BBC "Goldman Sachs rules the world" gives his predictions for the year
Our columnist Alessio Rastani is the self-proclaimed trader who shocked the world by declaring live on BBC News that he goes to bed "every night dreaming of the next recession" and that "Goldman Sachs, not the governments, rule the world". He's a controversial figure, not least because he's a self-taught non-institutional trader with no FSA license. But he certainly isn't shy about sharing his views. Do you agree with his words? (His words are his own, and in no way endorsed by LondonlovesBusiness.com.)
My original plan for this column was to write my New Year market predictions for 2013.
However, something happened during my flight back from Washington to London a few days back that made me change my mind.
So I shall focus NOT on 2013… but instead the year 2044.
Before you accuse me of having lost my mind, let me explain.
During my 7-hour flight back from Washington, I decided to make use of the airplane's in-flight "entertainment system" and watch a movie…
I flicked through the choices of films and finally selected the new Bruce Willis sci-fi action film, Looper.  (The other films were just dead boring – and I am a big fan of Bruce Willis.)
The movie is set in a bleak and apocalyptic future of 2044, where the gap between the rich and the poor has dramatically widened. It's a dog-eat-dog world.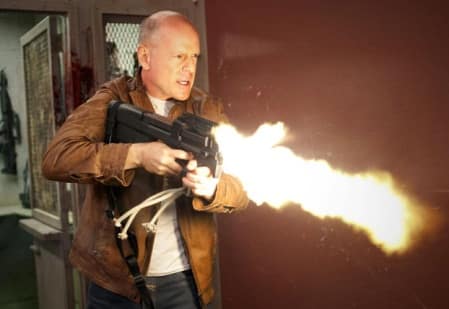 However, what fascinated me in this movie was not the actors or the action, but two things:
Firstly, the characters in the movie are not using or trading paper currency like the US dollar.  That currency, like the Euro and the Pound, has turned into garbage.
The currency used in the year 2044 is gold and silver bars.
Secondly, the hero of the movie is not storing his gold and silver in some fancy storage facility in Switzerland or New York… but hiding them inside a private safe at his home…
Both of these points are important as I will explain below.
But first – I know what some people might be thinking…"Surely that is the stuff of Hollywood fiction, not scientific reality?"
However, this Hollywood fiction is not far from the truth. In fact, it is inevitable.
Obviously it is impossible to predict what the world will be like 30 years from now.  But we can have a pretty good guess.
The world's banks and governments have decided that the only way to get themselves out of the financial mess they've created is more and more "money printing".
This process – also known as "quantitative easing" (QE) – essentially is "printing" money to buy assets or bonds in an effort to stimulate the economy.
The direct result of this action is that it weakens the US dollar and helps boost the price of certain assets such as gold and silver.
Now you might ask at this point: "If that is the case, why have gold and silver prices been going down recently instead of up?"
Well, it seems that some gold investors cannot take a joke. 
Recently the Federal Reserve indicated (in their December meeting) that they may slow down or stop their monetary easing.
Hmmm.  Let's get real folks, the Fed has no reverse gear!
Once a nation becomes addicted to printing debt… upon debt… upon more debt… there is no turning back.
And all of this means the price of gold and silver will continue to rise – dancing in the graves of worthless paper currencies.
But here is something even more important…
As I mentioned, the hero in the movie Looper was hiding his gold and silver inside a safe beneath the floor of his home.
Many viewers of this movie might have missed an important lesson here.
In a future world where paper flat currency is worth NOTHING, where the dollar buys you NOTHING, and nobody – not even the government – is using it…
You have no choice but to protect and hide what you have.
Because in such a world the government will come for you and forcefully take a share of your gold and silver. 
Therefore I believe it is our duty as a moral citizen to safeguard our metal assets to safeguard our future.
Coming to whether gold deserves your investment, take a look at this chart of gold:
As you can see, even though the yellow metal has taken a beating, we have strong support at 1600 and 1550. 
Since the trend in gold is still upwards, I am treating any moves to those levels as a godsend buying opportunity.
[Note:  Investing in physical gold and silver is not the only way to have exposure to precious metal prices.  For me, I personally also like to trade gold and silver CFDs and spread betting.  This allows for cheaper transaction costs, leverage and minimising downside risk.]
Alessio Rastani is a trader at www.leadingtrader.com
For further information about trading the markets visit my website www.LeadingTrader.com.
Alessio Rastani gained fame and caused controversy last year by stating live on BBC news that he "dreams of another recession" and that "Goldman Sachs, not governments, rule the world". The YouTube clip has since been watched over two million times, and Alessio has subsequently been interviewed by figures such as Sir David Frost. His website is LeadingTrader.com.