The price of Bitcoin is trading steadily near the $29,217 level, while other Cryptocurrencies are experiencing a decline during Tuesday's trading.
Amid market anticipation for key inflation data to be released from the United States later this week, which will provide traders with insights into future Federal Reserve monetary policy trends.
Furthermore, Bitcoin's price has failed to surpass the $30,000 level so far. The global market value of Cryptocurrencies started the day at approximately $1.16 trillion, marking a 0.23% loss over the past 24 hours. However, total trading volumes have increased by about 50% to reach $32.37 billion.
Presently, Bitcoin's price has crossed the $29,000 mark in the past few hours, supported by the launch of the stablecoin "PYUSD" by PayPal. This digital asset is linked to the US dollar. The significant increase in Bitcoin's price can also be attributed to investors awaiting the release of the US Consumer Price Index report for July, to determine future inflation trends.
Tightening Federal Reserve monetary policy usually leads to heightened market expectations of interest rate reductions or stabilization, resulting in sharp fluctuations in Bitcoin's price. Meanwhile, the Ethereum trading range remains stable, oscillating between $1,800 and $1,850.
Some economists and analysts in the digital markets believe that Bitcoin's price may trend towards $30,000, driven by positive sentiment related to PayPal's announcement of entering the cryptocurrency field through the launch of its stablecoin "PayPal USD" (PYUSD). This stablecoin is built on the Ethereum network, marking a historic move as it's the first time a major financial institution has launched its stablecoin.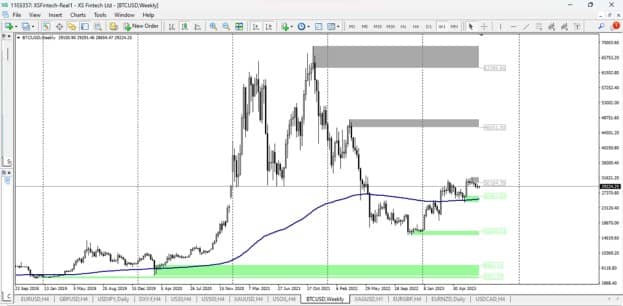 Source: The long-term price chart for Bitcoin on the MetaTrader 4 platform from XS.com
From my perspective, I see that the current price of Bitcoin is confined within the range of $30,000 to $29,000. This is because technical indicators like the Relative Strength Index (RSI) and Moving Average Convergence Divergence (MACD) are currently giving neutral trading signals. The price chart above demonstrates a consistent downward trend that could reach the level of $28,700, where some support might be found.
However, a breach of the support at $28,700 and a sustained hold below it could lead to further decline, possibly reaching the level of $28,200. From my point of view, the market remains uncertain, and investors should closely monitor Bitcoin's price movements for potential reversal signals or further downward movement.
In general, Bitcoin is currently experiencing a decrease in trading volumes, which is causing volatility to return to its lowest levels. On a positive note, it seems that the whales in the crypto market are refraining from selling compared to previous bearish markets. This suggests their confidence in a long-term and even longer-term increase in Bitcoin's price.