Hollywood actor Will Smith has been looking around Brixton with Labour Business Secretary Chuka Umunna and Dame Tessa Jowell.
Crowds have gathered due to the presence of the actor and speculation has been rife as to the purpose of Smith's visit, who is better known for his starring roles in Men in Black, Bad Boyz and I am Legend.
A member of Chuka Umunna's office told LondonlovesBusiness.com that Smith's visit is not to coincide with any official announcement or event by the Labour Party.
Meanwhile, a member of Tessa Jowell's office told LondonlovesBusiness.com that Smith was being shown around Brixton while he was in town to support his son, Jaden Smith, who is supporting Canadian pop star Justin Bieber at the O2.
Smith later visited St Martin's School in Tulse Hill, where he took questions from students.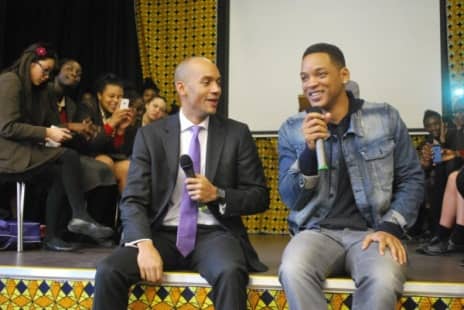 Source: Chuka Umunna
Chuka Umunna and Tessa Jowell have been showing Smith around as they represented two nearby neighbouring constituencies of Streatham and West Dulwich respectively. They
"Will Smith was in London because his son is supporting Justin Bieber and he wanted to visit Brixton," he said.
The group went to Brixton Market and Brixton Village and then the Black Cultural Archives.
BCA director Paul Reid told LondonlovesBusiness.com that he was highly impressed after spending more than an hour with the Hollywood actor.
"He's very intelligent and very aware of some of the issues. We spoke about thigns like identity development of young people and big issues around young people's self-esteem
"He was completely engaged throughout and asking quite detailed questions about our plans."
Reid talked with Smith about the BCA's plans including renovation works of a new centre with it set to open in 2014. However, Reid didn't get time to ask Smith to the opening.
"We didn't get that far! We just wanted to bring it to his awareness," said Reid.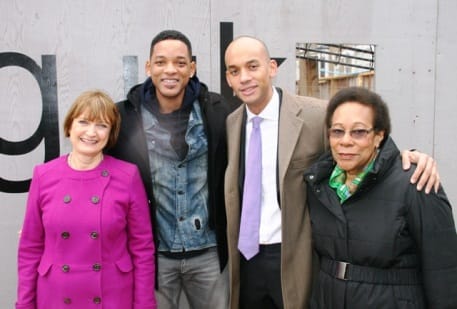 Source: BCA
The purpose of the visit, according to Dame Jowell's assistant, was "just for Smith to see the area".
Smith's visit has provoked surprise and bemusement from residents and Londoners alike.
Hoping this whole 'Will Smith in Brixton' thing leads to some tourist action in the area and pushes up the price of my flat.

— Olly Richards (@olly_richards) March 7, 2013
Will smith is in Brixton village and I have to go to a meeting at work. So close yet so far my lover!

— Saima Arshad (@sai_arshad) March 7, 2013
Future PM and future President hit the streets of Brixtonlondonlovesbusiness.com/business-news/…

— Ben Caspersz (@BenCaspersz) March 7, 2013