Despite increasing awareness of the need for equality and diversity in the workplace, many organisations across the UK continue to struggle with discrimination. According to a 2020 report by HR and payroll firm ADP, 25% of UK workers experienced some kind of discrimination in 2020. Meanwhile, another report found that   need to do more to support diversity.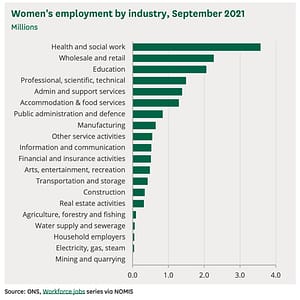 Source: Women and the UK economy
These issues are particularly prevalent in the UK construction industry, which has long been a white male-dominated sector. According to the government's Women and the UK economy report published in March 2022, women only make up 15% of workers in the industry.
Meanwhile, a 2020 Building diversity survey found that 77% of Asian or Asian British and 76% of Black or Black British workers in construction felt that their chances for career progression in the industry had been limited by their sexual orientation, ethnicity, gender, disability or mental health condition.
To understand the cause of workplace discrimination in construction, it's important first to know what discrimination means and how it typically happens.
What is workplace discrimination?
Workplace discrimination happens when a worker is treated unfavourably based on their protected characteristics. According to the Equality Act 2010, these characteristics are:
Age
Disability
Gender reassignment
Marriage and civil partnership
Pregnancy and maternity
Race
Religion or belief
Sex
Sexual orientation.
At its worst, workplace discrimination can range from bullying workers because of their gender or ethnicity or excluding groups of people with similar physical attributes. However, workplace discrimination can sometimes be less blatant and not necessarily malicious in nature. For example, an organisation may have the habit of promoting white men to management positions or have a pattern of hiring men only for new roles, fortunately, the construction industry is taking action.
To tackle the pervasive problem of workplace discrimination, the Supply Chain Sustainability School, in partnership with CITB and CECA and under the endorsement of the Construction Leadership Council, have developed the Fairness, Inclusion and Respect (FIR) programme.
What is the FIR programme?
Designed in collaboration with major construction firms like Balfour Beatty and BAM, the FIR programme is an industry-wide initiative that seeks to help construction companies improve the workplace and be inclusive for everyone under the following parameters.
Fairness: Removing bias from the workplace and treating everyone fairly.
Inclusion: Making everyone feel included and appreciated and being more aware of assumptions that could impact workers.
Respect: Valuing different people and the different skills and perspectives they bring to the workplace.
The programme provides construction companies with industry-approved training, resources and guidance to help address workplace culture challenges and create a more inclusive working environment. The idea is that by improving their organisation's level of equality and diversity, construction companies can establish their FIR guidelines and:
Attract, hire and retain a fuller, more diverse and more talented workforce
Take action to overcome the skills shortage affecting the construction industry
Reap the rewards of workforce diversity, which includes enhanced productivity, better innovation and collaboration
Enhance their company reputation and promote a more inclusive employer value proposition
For a faster path to FIR — Choose the FIR growth assessment
Employers in the construction industry that need a faster and more structured way to embed FIR into their hiring and management processes can use the FIR Growth Assessment through providers like CHAS. The assessment allows employers to get expert assistance to understand their maturity level on FIR issues and benchmark themselves against other companies in the construction industry.
More importantly, completing the assessment allows companies to show clients and stakeholders that FIR is part of their corporate ethos.