BoJo's best sporting moments
Source: Tom Cheal/Twitter
It was thumbs up for our very own BoJo yesterday as he rode a high horse at the Olympic Park. Led by Olympic gold medallist Nick Skelton, he was launching the equestrian event Longines Global Champions Tour at the International Quarter next to the Queen Elizabeth Olympic Park, running June 6 to June 9.
If you liked seeing the mop-haired mayor on a mare, then you'll love these other pics and vids of the mayor showing off his sporting prowess…
BoJo's famous slam dunk
Last month, while promoting the Euroleague Final Four tournament outside City Hall, Botis took a shot BACKWARDS and put the ball in the hoop in one go. He said he could have done it 'any time'.
Boris Johnson, the whiff waff king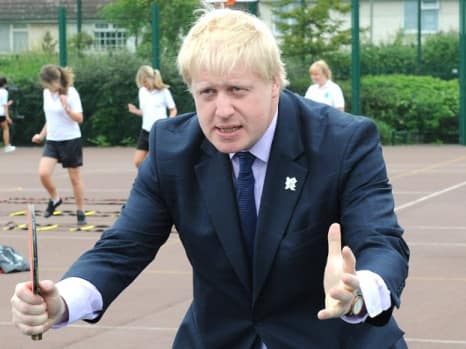 Last month, BoJo accepted a challenge of a ping-pong game with Pippa Middleton, sister of the Duchess of Cambridge.
He admitted that he was very nervous.
"I feel very nervous cle.arly because she seems to be very good. Well, she claims to be very good," said the Mayor at Ealing Studios.
Boris tackling a German footballer
Back in 2006, Johnson pinned Germany's Maurizio Gaudino to the ground in a rugby-style tackle.
The sight got the crowd roaring but BoJo maintained there was "no malice".
"There was no malice in my actions. I was going for the ball with my head, which I understand is a legitimate move.
"I felt an enormous sense of achievement every time I actually touched the ball," he said at the time.
BoJo beats DCam at Tennis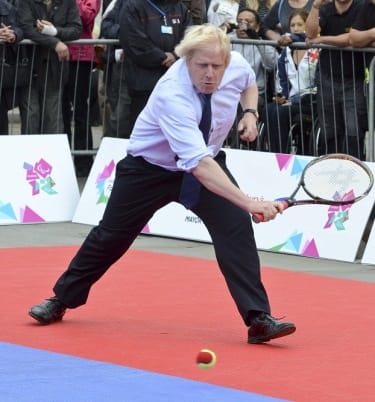 The epic 2011 moment when BoJo went "Yeahhhh" after beating David Cameron in a tennis match.
BoJo, the batsman
BoJo might have been mistaken for Boris Becker on his trip to India last year, but he was actually playing cricket with local Mumbai school boys on Juhu Beach.
More for you, from us:
The London Business Summit: Thriving in London, Tuesday 25 June 2013
Discover opportunity, explore innovation, drive long-term profits 
Speakers include Martha Lane Fox, Alastair Lukies, Julie Meyer, Mike Butcher, Jo Valentine and many more.
The LondonlovesExcellence Awards Gala Dinner: Tuesday 25 June 2013, from 7pm
London's most important business gala
Network with London's greatest businesses. Judges include Karren Brady, Willie Walsh, Michelle Mone, Luke Johnson and 15 others.
READ ONLINE NOW: Securing Britain's Future
How London's business leaders would safeguard our economic future
Boris Johnson, Martha Lane Fox, Doug Richard, Xavier Rolet and more than 25 other CEOs and entrepreneurs share their insights.
Register for our free newsletter
For up-to-the-minute insights, news and gossip for London professionals and business leaders