The UK is the 14th least corrupt nation in the world, according to a study by the NGO, Transparency International.
The study, now in its 20th year, measures the corruption in 175 nations, ranking countries on corruption from 1-100, where 100 indicates less bribery.
The UK scored 78 points for corruption this year, up from 76 in 2013 and 74 in 2012.
While Denmark was named the least corrupt country with 92 points, North Korea and Somalia scored eight points making them the most corrupt country in the world.
"The 2014 Corruption Perceptions Index shows that economic growth is undermined and efforts to stop corruption fade when leaders and high level officials abuse power to appropriate public funds for personal gain," said José Ugaz, the chair of Transparency International.
"Corrupt officials smuggle ill-gotten assets into safe havens through offshore companies with absolute impunity," Ugaz added. "Countries at the bottom need to adopt radical anti-corruption measures in favour of their people. Countries at the top of the index should make sure they don't export corr
upt practices to underdeveloped countries."
Most corrupt countries in the world:
North Korea and Somalia
Sudan
Afghanistan
South Sudan
Least corrupt countries in the world:
Denmark
New Zealand
Finland
Sweden
Norway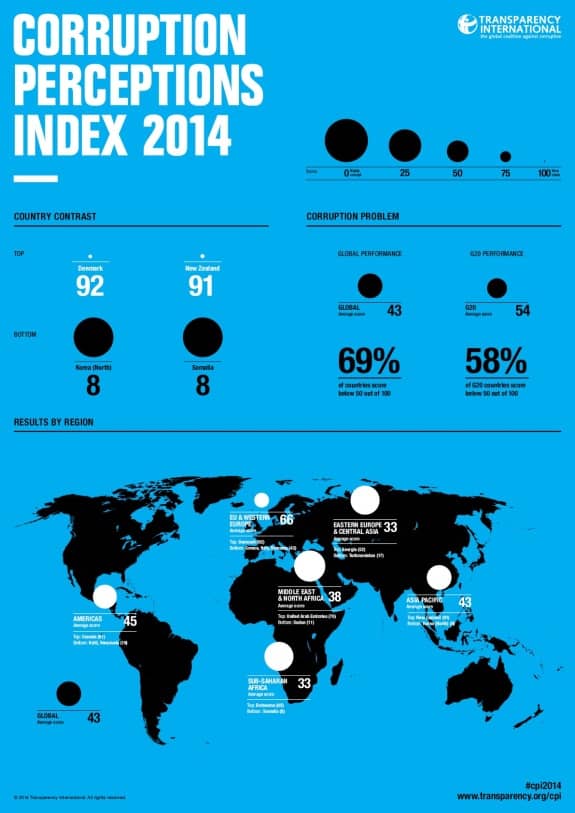 Now read: