London's population is set to grow by two million people by the early 2030s, to 10 million.
We already face a desperate housing shortage and overburdened transport infrastructure.
The aim of Crossrail is to take some of those pressures off London, by encouraging more commuters to live further outside the city centre and accelerating the outward spread of the city.
But Transport for London and Mayor of London Boris Johnson want it to go further.
Last year, they ran a consultation for a second Crossrail – the aptly named Crossrail 2.
Plans have evolved, and the proposed Crossrail 2 is now expected to cost £20bn, running from north-east to south-west London.
Crossrail 2 would transport up to 45,000 people an hour.
Boris believes it could support the construction of 200,000 new homes thanks to improved transport infrastructure.
If the government approves the plan, construction could start by 2017, with the first trains running in 2030.
The Crossrail 2 proposal is obviously still just a proposal, but Boris claims the Treasury is prepared to meet half the costs of the project.
So where would Crossrail 2 run?
Below is a map produced by the mayor and TfL showing their preferred route: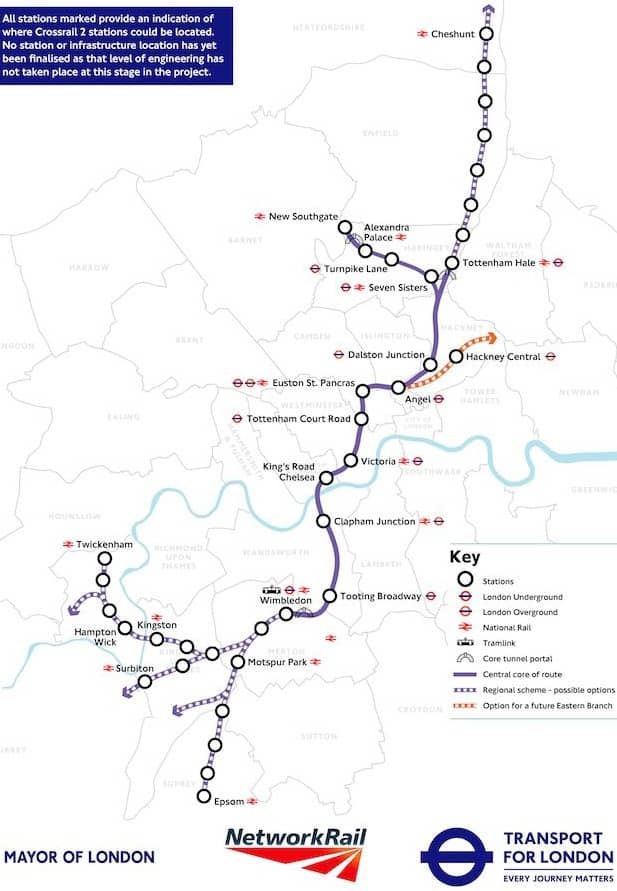 Like this? Try…