Transaction volumes across UK supply chains grew at a lower than expected rate for the fifth consecutive quarter amid a challenging macroeconomic environment.
Tradeshift's latest Index of Global Trade Health shows UK trade activity grew at 5 points below the baseline in Q2, far slower than either the Eurozone or the US.
"UK order volumes picked up slightly in Q2, but it's concerning that they appear to be settling at a much lower rhythm than we'd expect," said Christian Lanng, CEO and Co-founder, Tradeshift.
"To avoid a recession, the UK needs to find another gear. We've yet to see any clear signs of that happening soon."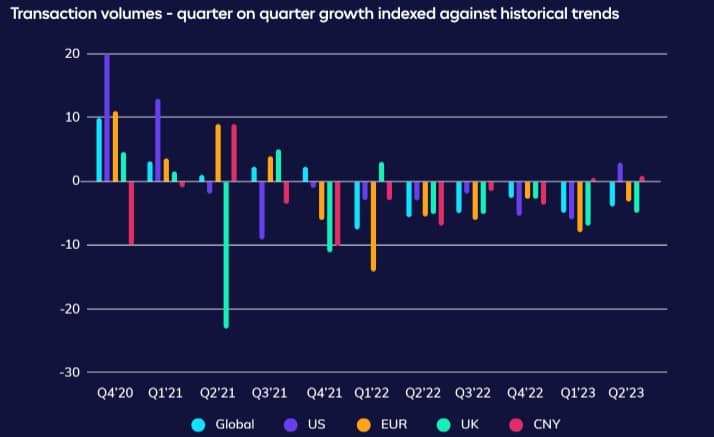 Globally, transaction volumes across the Tradeshift platform grew at 4 points below the expected range, a modest improvement on the 5-point deficit in Q1, but nonetheless evidence of a trading environment that remains sluggish. Global order volumes stayed flat at 2 points below the expected range in Q2 and appear to be levelling out at that level.
"For suppliers, a slowdown in orders is manageable so long as it's predictable," said Lanng.
"The restriction in access to financing that often accompanies economic uncertainty is far more damaging. Helping small businesses unlock trapped liquidity is among our topmost priorities."
The Eurozone followed the global trend, with trade activity across the region tracking 3 points below expectations in Q2 compared to a score of -8 in the previous quarter.
Data from the US was more positive. Transaction volumes across US supply chains grew at their fastest pace in more than two years as domestic trade activity showed renewed signs of resilience following a recent slump. Trade activity grew at 3 points above its expected range in Q2, recovering from a level 6 points below the baseline in the previous two quarters.
The decline in global demand has impacted the pace of China's recovery following its lifting of COVID restrictions at the beginning of the year. Transaction volumes between Chinese buyers and suppliers rose at 1 point above the expected range, indicating progress that is more steady than spectacular.