New data shows that the UK continues to be the leading hub for the Chinese RMB currency outside of Greater China.
The latest edition of the London RMB Business Quarterly reveals nearly 3trn RMB was cleared by the designated UK RMB Clearing Bank (China Construction Bank London Branch) between September and November 2019, up 22.7% year-on-year.
Daily foreign exchange RMB trading volumes also saw a rise, averaging more than £82bn in quarter three (July to September 2019), up 4.29% year-on-year.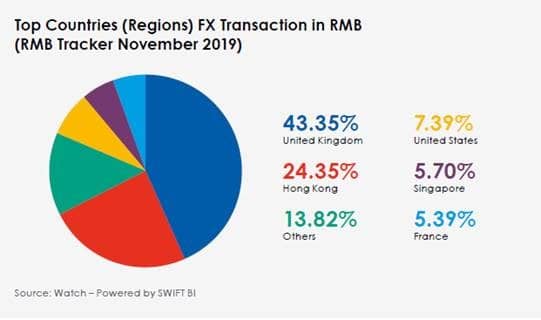 Meanwhile, total RMB cross-border settlement between China and the UK for the first 11 months of last year also hit historic levels, rocketing 66% year-on-year to around 590 billion RMB.
Between January and November 2019, there were 41 Dim Sum bonds newly listed on the London Stock Exchange worth nearly 15 billion RMB, an increase of 15.5% on the same period in 2018. Issuers include China, the UK, Middle East, Australia, and Japan.
The report also discusses opportunities for international investors in China's equity and bond markets, exploring onshore hedging tools and products available.
The London RMB Business Quarterly was launched by the City of London Corporation and People's Bank of China Representative Office for Europe in September 2018. Backed by HM Treasury, publication marked a continuation of the City Corporation's influential Renminbi business initiative, a campaign which ran from 2012 to 2015 that helped London become the leading offshore RMB trading hub outside of Asia.
Catherine McGuinness, Policy Chair at the City of London Corporation said, "I'm pleased that we continue to attract record levels of RMB trading, clearing and settlement.
"The UK leads the world when it comes to foreign exchange and we will continue to do so for the foreseeable future.
"I look forward continuing to celebrate the UK's role as leading offshore RMB trading hub outside of Greater China for many years to come."
The City of London Corporation has had a dedicated programme of engagement with China for many years, with representative offices in Beijing and Shanghai since 2008. There are more than 30 Chinese institutions in the City and more are in the process of opening a representative office.