The Caribbean is one of those places around the world that is known for its amazing places around but also for the wide range of delicacies that it provides. The unique taste and texture, as well as the vibrant colours of the dishes around, are something that you just can't miss out on. If you are planning on a luxurious Caribbean vacation, it goes without saying that you would be a fool to miss out on the amazing dishes that the place is known around for. If you are here wondering what dishes you must try out, we have got that covered for you.
Patties
The very first on the list is Patties which is nothing but a savory pastry which flakes around in your mouth. It does have quite a good stuffing of several kinds like that of beef, chicken or even saltfish. The combination of the filling and the flaky pastry is often what leaves a lingering taste on your palate that you just can't rule out. Majority of the people tend to love having the homemade patties, so if you can get your hands on one, make sure to taste this delicacy.
Jerk Chicken
Jerk chicken is yet another one of the delicacies that you just can't skip out on. The amazing combination of the fiery spices along with the mix of various spices is definitely something that you just can't miss out on. The spicy seasoning is rubbed onto the chicken, marinated and then barbequed for extracting the best of the flavours that you just can't get with anything else. The variations of this dish are quite abundant but the soft and succulent chicken is often something that you just can't get with anything else.
Plantains
Yet another delicacy around in the Caribbean is plantains. Fried, boiled or even stewed, this is something that makes up for the part and parcel of the amazing Caribbean cuisine. Plantains are mostly an accompaniment to the dishes that you consume in Jamaica. It is much like that of raw banana but the starchy texture of this vegetable is definitely something that does make up for a must-have addition to the list of dishes you try out while in the Caribbean. The best and the most popular combination of this is when it is served alongside chicken and rice.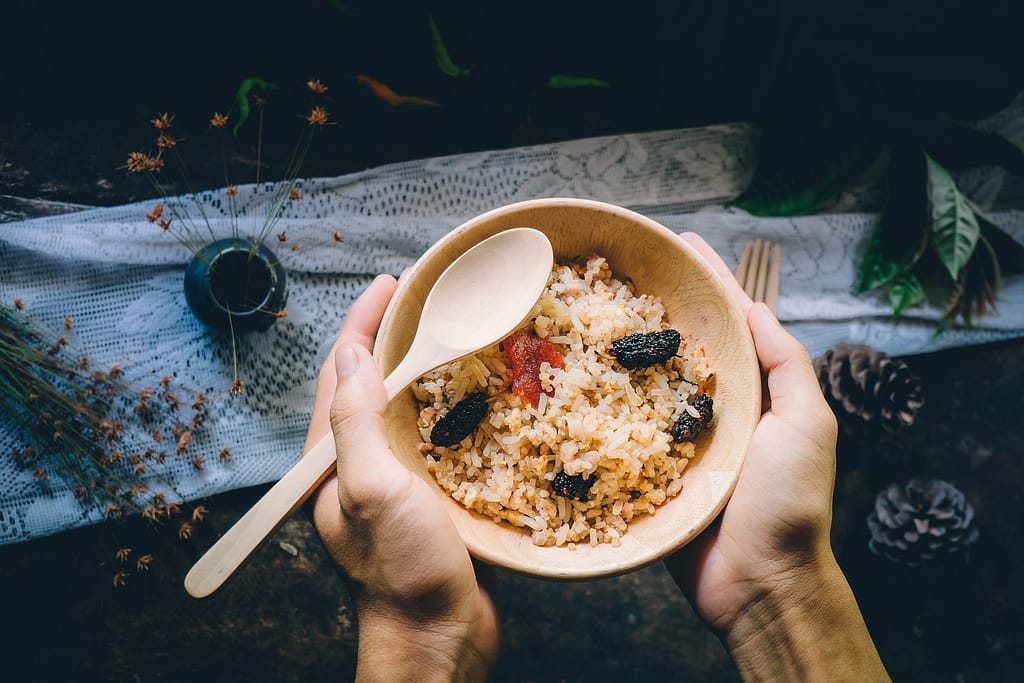 Rice and peas
Rice and peas is a staple around in the Caribbean. The combination of the fluffy rice cooked to perfection with coconut milk along with some amazing and protein-rich red beans is definitely something you won't necessarily get with everything else. The sides for this main dish often varies from home to home or even from restaurants around but the most common dish that it is served with is chicken or even pork dishes and stews.
Curry Goat
Predominantly found in the south Asian countries, Curry Goat is also a very popular staple around in the Caribbean countries as well. It is actually a delicacy, mainly because of the kind of spice and seasonings that do go into it. This specific dish is best eaten with rice or even flatbreads if you get any there. Peas and potatoes to make up for an amazing accompaniment for this that you just can't miss out on. It is predominantly a very popular dish in Jamaica and definitely something that you must try altogether.
Sweet Potatoes
You must be here thinking that what ever is there in sweet potatoes, right? This is quite popular in the Caribbean province, mainly because of the amazing taste and texture of it. The slightly sweet taste of this vegetable is what makes it an amazing side dish for some of the most popular dishes around. You can either have them roasted, boiled or even added to some of the main dishes comprising of chicken and pork.
Saltfish fritters
Savoury fishcakes are yet another amazing dish that you must try out while in any of the Caribbean states. The small morsels or even the small fishcakes do make up for one of the popular snack dishes there. It is predominantly a popular dish in the western part but does make for a very delectable and crunchy fritter that you just can't miss out on. The addition of herbs and spices do take it to the very next level, making it a delicacy you can't skip out on.
Coconut drops
One of the most popular Jamaican sweet dishes, coconut drops are actually one of the must-have dishes that you need to absolutely try. These are nothing but the small chunks of the white portion of the coconut which is cooked with sugar and ginger and then left to cool. The same does have a very spicy yet caramel-like flavour that you won't get anywhere else.
Callaloo
This green vegetable dish is a favourite with the locals and the tourists alike. It can be added to a wide range of dishes and the best part of this is the fact that it does taste amazing. It is primarily native to Africa but is actually quite a popular Caribbean dish. It is often used in the filling for patties as well.
Caribbean dishes are filling, tasty and delectable as well. If you are visiting any of the Caribbean islands, it goes without saying that it is a must that you try the dishes out there without a speck of doubt.