Five-year-old Uber is undoubtedly one of the hottest tech companies around at the moment, with its $18bn valuation, its investment growth rate of 6,000% in five years, its 60-country market, and its high-profile spats with rivals.
Everyone has been ogling its back-end tech, musing about the incredible potential it could have for infrastructure and urban services.
So it's latest big move is exciting.
Uber has just launched CORNER STORE, a home-delivery service for low-priced groceries.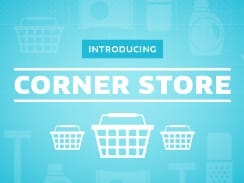 At the moment, CORNER STORE is running as a small trial, offering a little more than 100 items and only in Washington DC for a few weeks – for now. There is, incredibly, no delivery fee.
But, Uber says on its website, "the more you love it, the more likely it will last."
In some ways, it makes sense for Uber to move into deliveries – it has all the technology to improve on retailers' delivery times, and it already has the right workforce in place through its network of self-employed drivers.
Then again, a 50-mile taxi journey is priced significantly higher than a 50-mile drop of groceries from Sainsbury's nearest warehouse to your house.
Uber is listing goods at low prices, so it's not clear where it would be making any margin on this model, as it obviously isn't creating the products itself.
It could obviously make a small margin in the difference between wholesale and retail values of goods, but unless it was doing sizeable grocery drops using big lorries to clusters of people living in the same area, you'd imagine that its own delivery costs would eat into those margins too much to make this sustainable. (After all, it's not charging a delivery fee.)
This move, if scaled up, would also put Uber in direct competition with the likes of Amazon – which deliveries groceries in the US through AmazonFresh as well as all of its other delivery omnipotence – and, of course, also put it in competition with supermarkets and other retailers.
Unlike any of those potential rivals, Uber doesn't manufacture and produce anything… yet.
And it's a big "yet".
Because as I said at the start of this piece, Uber is one of the hottest tech companies around.
It's growing incredibly fast, and it's incredibly innovative.
We can safely assume that founder Travis Kalanick has got plans to push his business far beyond the taxi category (and beyond ice cream).
As he's said himself, "As an entrepreneur, I try to push the limits. Pedal to the metal."
It'll be very interesting to see if CORNER STORE is rolled out – and whether Uber plunges further into the retail space.
Do you think Uber's CORNER STORE will take off? Let me know @sophiehobson
DeVono Property's Adam Landau on London's next tech hotspots