Apprentice winner gives half a day's paid leave ahead of Premier League kick off
A company boss has introduced a novel staff perk – he is giving his employees the afternoon off to pick their fantasy football teams.
Mark Wright, who won The Apprentice in 2014 and owns Digital Marketing firm Climb Online, has introduced the novel benefit ahead of Fantasy Football Day, on Tuesday 8thAugust, named as the most popular day of the year for the UK's eight million fantasy football players to select their teams.
Wright had the idea for the initiative after noticing how passionate staff were about fantasy football and how competitive they were becoming – and found himself getting sucked in also. The scheme entitles staff to four hours of paid leave in order to analyse players, research points and decide on strategy before the firm's draft on Tuesday, when all the teams in the staff league will be set for the season.
Office banter: Apprentice winner Mark Wright (top right) and Climb Online employees enjoy time off on Fantasy Football Day (8 August) to pick their teams for the season.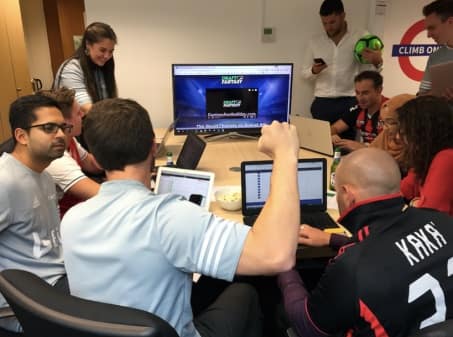 Source: Holly Hill
Although over half of the firm's 43 staff do play together on the Draft Fantasy game, non-football fans won't be missing out as they are also entitled to a half day off for other social and personal interests as part of the initiative.
Data from Draft Fantasy indicates that 1.2 million managers will select their team this coming Tuesday alone, with the corresponding day in 2016 (August 4th) having accounted for 12% of all selections. In total, the week before the start of the season will see over a fifth 21% of all players select their team. 
The day has even been marked with a dedicated website – FantasyFootballDay.com – which includes hints and tips for managers, exclusive videos from football influencers and everything budding Guardiolas need to know ahead of them making their final selections.
Mark Wright, MD of Climb Online said, "Fantasy football takes over the office this time of year and all I hear are chats about drafts, picks and who wants to get who. I think it's a really healthy thing for our staff to be engaged with and I want to encourage it, so why not?"
"I am even going to take a little time out myself to work out my draft strategy. I'm keeping my cards close to my chest, but let's just say I Kanté wait!"
Check out fantastyfootballday.com for more information.