When we hear the word unicorn we think of the mythical creature depicted in fairytales but there is another meaning to the word. 
Surprisingly the term unicorn is also a well-known term within the business world when referring to a very specific kind of startup company. 
A startup classified as a unicorn has been valued at more than $1 billion, but crucially, it has not been listed on the stock market. To get an idea of how rare this is, only 1,191 unicorns exist globally across 48 countries, with the majority operating in just two.
The experts at Easy Offices have decided to help make sense of this term and find the most recent global unicorns, telling you all you need to know.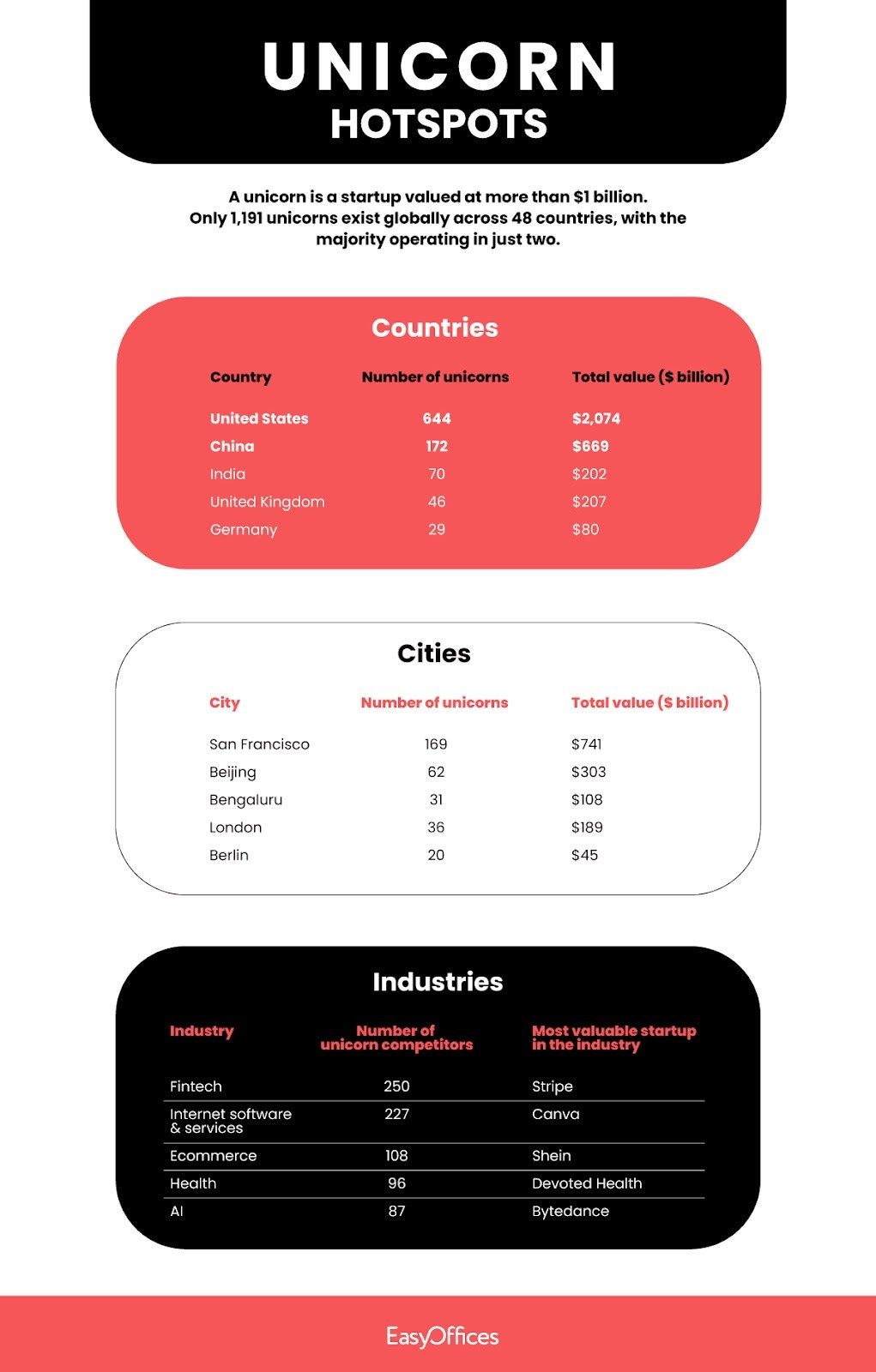 Where did the term unicorn come from in this context?  The term was created by Aileen Lee back in 2013. When the term was created there were just 43 startups valued at $1 billion or more. 
How many Unicorns are there?
According to the latest figures, the number is 27 times higher, with at least 1,191 unicorns across the globe. Their collective value exceeds $3,853 billion, spanning many industries including fintech, AI, e-commerce and travel.
Many may wonder how many companies they know of are unicorns, surprisingly you may be aware of more companies than you think! 
With a value of $140 billion, TikTok parent company Bytedance is by far the world's most impressive unicorn. Other well-known unicorns include ride service Bolt and popular resale platform Vinted. 
The United States has the worlds most privately owned billion dollar companies
With some of the world's top spots for business across all industries, it's unsurprising that the USA took the top spot with 644 unicorns within the country.
It is also unsurprising that the top city in the world is also in the USA, San Francisco. The city of San Francisco is home to 169 of the world's unicorn companies with the total value of these companies coming to $741 billion!
The United Kingdom comes third for the total value of its Unicorn companies
Skipping ahead to fourth place we find the UK, whilst a tiny Island in comparison to the top three spots the UK holds its own when it comes to the number of unicorn companies based within the country.
The UK is home to 46 unicorn companies with a total value of $207 billion, a value worth more than the country in third place for the total number of companies, India. London also comes fourth when looking at the world's top cities. The British capital is home to 36 unicorn companies, with a total value of $189 billion!