Stockstotrade (STT) offers a platform that helps traders generate a much-needed edge in today's volatile market. I got to sample the platform for a few hours and found it delivers what it promises at a fair price. In this Stockstotrade review i'll walk you through everything you need to know. Let's get started, shall we?
STT's main selling points
STT customers have access to a platform that offers proprietary algorithms and scanners. Other features include advanced charting, access to real-time data and news, and more.
As the name implies, STT helps traders identify stocks to trade based on their desired criteria. What's great about STT is it is built for traders by traders around the premise that no two strategies are alike.
I was impressed with the flexibility of STT's platform as it caters to both a newcomer's basic strategy and a professional trader's advanced strategy that took years to perfect.
STT won't make you a better trader but this can be said for every paid subscription service. But I do believe it will make you a more informed trader and help with executing your strategy. But ultimately it is up to you to stay disciplined to a strategy by taking advantage of profitable trades before they turn into losses, as is often the case
Features and pricing
The main features of STT's platform include:
A powerful scanner that caters to penny stock traders, mega-cap stocks, and everything in between.
Thousands of complex search variables made easy to use.
Ability to pull up financial reports, SEC filings and more from the main dashboard.
Follow Twitter conversations without leaving the STT platform.
Modern charting with drawing tools and a plethora of indicators.
Ability to trade within the STT platform with a compatible broker.
Paper-trading capabilities to dry-run your trading strategy.
Level 1 data.
These features are standard for clients on a monthly or annual subscription plan. The monthly subscription costs $179.95 while the annual subscription is billed upfront and costs $1,899.50. Customers can switch their membership package at any point. STT offers a no-obligation 14-day trial for just $7.
STT accepts customers across the world with a valid credit card.
Value-added features (more on these later) at an extra cost includes:
Level 2 quotes for $29 a month or $345 annually.
TipRanks Trading Sentiment for $8.95 a month or $89.50 annually.
Breaking News and Chat for $49 a month or $490 annually.
Oracle daily Direction Alerts newsletter for $97 a month or $970 annually.
Small Cap Rockets newsletter for $50 a month or $500 annually.
Learning the software
I probably could have taught myself how to use all the features in the STT platform in a few days but why bother when STT offers classes that make it so much easier.
There was a fair amount of skipping as I already know how to read level 2 quotes and I am familiar with pretty much every technical analysis tool. But I do appreciate the fact that STT takes the time and effort to teach everything from scratch.
New traders that don't know what a scanner is or how charts can have different timeframes will feel comfortable with the learning process. Some new traders may struggle more than others, but it is certainly doable for motivated individuals that are able to set goals for themselves and power through any setbacks.
Tim Bohen, STT's lead trainer, will appear in most of the videos. He speaks clearly and coherently and at a reasonable pace. On a few rare occasions, I had to pause a video and rewind 30 seconds to better understand a topic.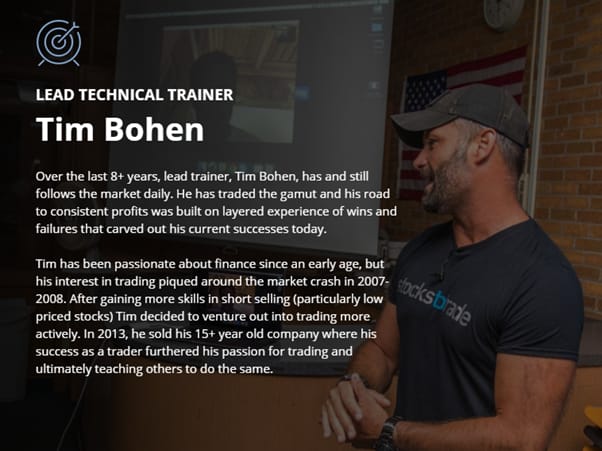 The educational or "university" section consists of five different categories.
Learning Center
Bonus Content
Tutorial Center
Resources
Daily Briefing.
The first three include the bulk of information that a trader needs to go through before going live on the platform. We will focus on these sections.
Learning center
The Learning Center includes many lessons that guide traders on how to set up the platform from scratch and familiarise them with all the bells and whistles.
Lesson one gives traders an overview of what to expect the first time they open the STT platform. A seven-minute video is accompanied by additional text and screenshots followed by a quiz assignment.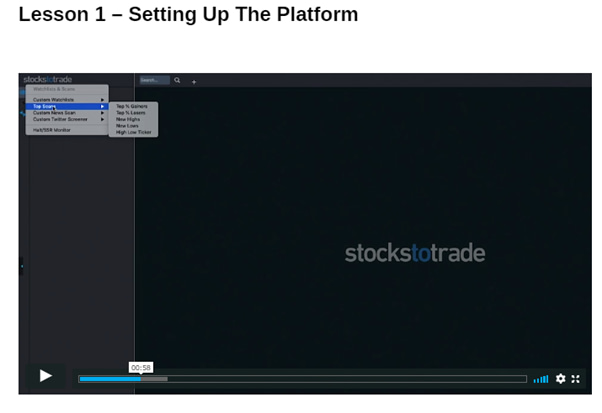 Traders at the very least should pay attention to this lesson.
Other important lessons that shouldn't be skipped over include:
Lesson six – Trade Plans: This lesson explains how to leverage the STT platform to set entry and exit points.
Lesson 10 – Hidden Gems: As the title suggests, this lesson goes over some of the less known features of the platform.
Lesson 13 – After Hours and Weekend Scanning: Weekends are for relaxing and recharging. STT's platform believes the same as it scans in the background for stocks to watch in the coming week. STT also publishes its own watchlist.
Bonus content
The Bonus Content section includes 10 webinars hosted by Bohen. The most recent video was recorded in February 2020 and the oldest video is February 2019. The COVID-19 pandemic has certainly changed the stock market universe so many of the topics may be outdated for the current highly volatile environment.
To be honest, I listened to 5 random minutes from three videos and the content is good. But it is a "bonus" material that complements the Learning Center, not replaces it.
These videos would be ideal for me to listen to while running on the treadmill over the coming weeks. Far from an obligation, but not something to ignore.
Tutorial Center
The Tutorial Center is comprehensive and in-depth and intimidated me at first as there are 20 lessons. Fortunately, the videos are straight to the point and most videos are under two minutes.
The objective of the Tutorial Center is to ensure traders make the most out of the powerful trading tool.
Lesson six is probably the most detailed with seven objectives, including adding drawing and indicators to charts, how to change and customise time frames, among others. The accompanying video is more than five minutes long.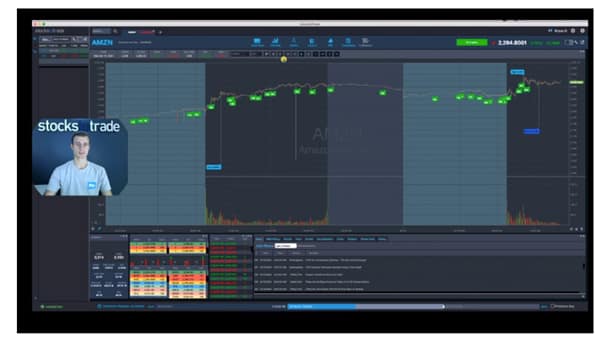 I spent more than 45 minutes on this section because charts are very important to my trading style. Newer traders may want to compliment some of the topics in this video with YouTube videos.
The lesson on News Scan was completely new to me. I always listened to a Squawk service while trading but never paid attention to individual company news or thought about how to profit on unusual movers.
The platform
Now is the time for what everyone likely came here to see: the platform in action.
First up is setting up a scanner. The default options are plentiful and can be further customised to include or exclude stocks based on their dollar value, market capitalisation, and other factors.
Below is a screenshot of the available scans and how it can be further customised.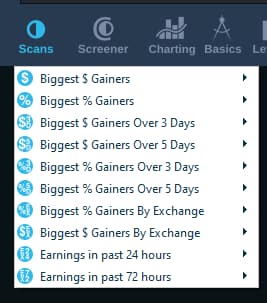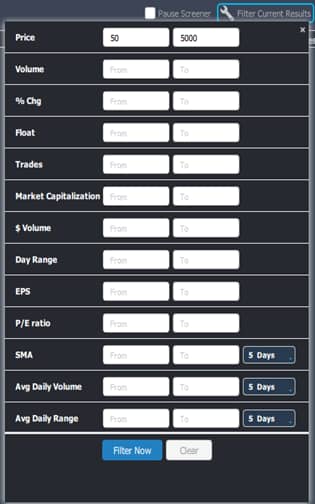 Here is an interesting scanner I never thought of before: companies that reported earnings within the past 72 hours and traded at new daily highs. The results were further filtered to show stocks trading above $3 per share.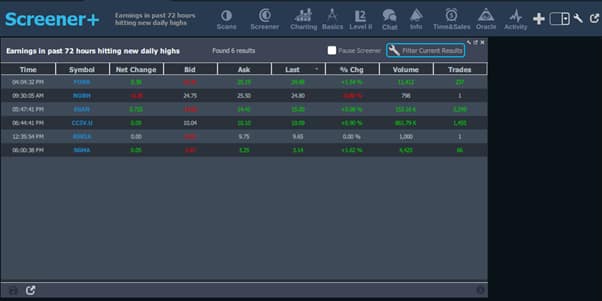 Now let's move to screeners. The screeners' box is professionally set up and easy to use. First, I need to select a parameter to search for a stock. The available criteria consist of: price data, liquidity, technical overlays, and fundamentals.
Then, I need to select a parameter of less than, less than or equal to, equal to, greater than, or greater than or equal to.
Let's keep the first example simple. Momentum traders that want to find fast-moving stocks would appreciate how easy it is. In this case, I want to find each and every stock that is up at least 15% on the day.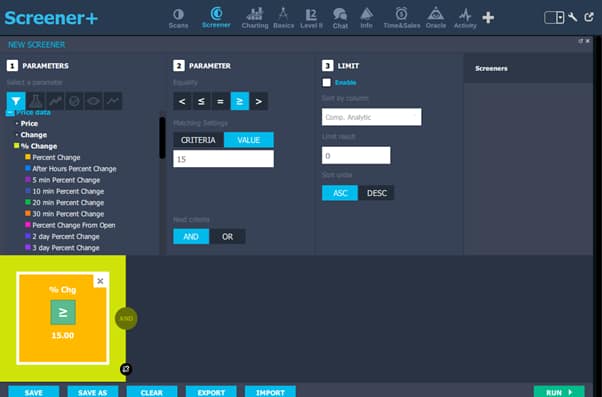 As we can see, multiple parameters can be set up so let's get a bit more creative to demonstrate the power of the platform.
How about this: let's find all stocks that traded at least 5 million shares today, are up at least 10% on the day, trades above $8 per share, and trades within 5% of its 52-week high. Sounds complicated, but there is some logic behind this: we want to identify certain stocks that are already big gainers and could break above a key resistance level equal to a 52-week high.
Here is what the screener box would look like: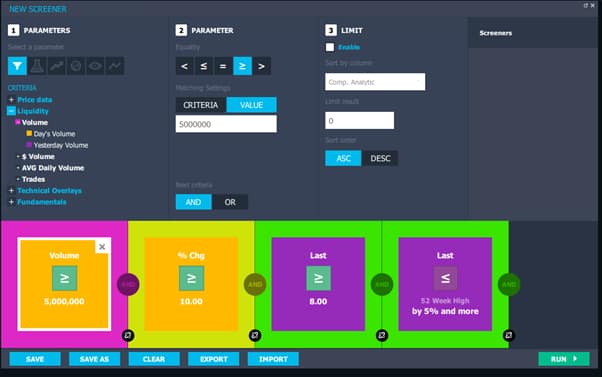 As expected, the results are limited but this is exactly what we want. STT offers the ability to scan tens of thousands of stocks to find the very select few that fit very specific parameters.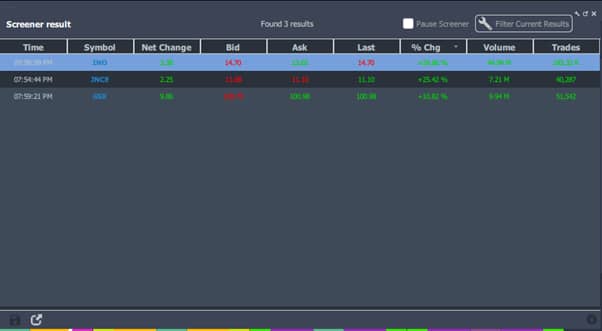 My favorite part of the STT platform is charts. I like how easy it is to create my standard go-to chart is built on a two-day time period and a five-minute timeframe. Others prefer a one minute or two-minute timeframe — but to each their own.
I prefer my main chart to be as clean as possible with minimal select technical indicators. Volume weighted average price (VWAP) is a must, along with a moving average convergence divergence (MACD).
Here are all of the technical tools that can be added on: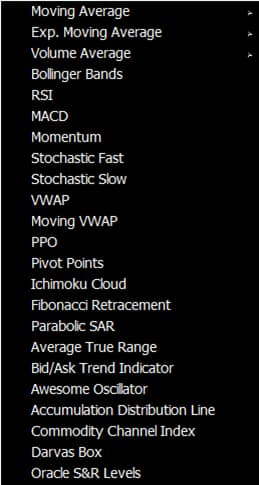 Finally, the News Screener aggregates hundreds of news sources to give me the news that matters most. Today's hot topic remains the race to market a vaccine against the coronavirus and many publicly traded names have seen monster moves on news reports alone.
The STT News Screener not only lets me search for keywords but I can filter results to narrow the list. In my case, I want to find stocks that are up at least 3% on the day and release some form of news that mentions "Covid."

Extra options
The last section of this review will focus on the previously mentioned value-added services that cost extra. Level 2 quotes are a must for all traders although this may already be paid for with the broker.
TipRanks Sentiment offers traders insight into how Street analysts and hedge funds approach a stock. The extra feature breaks down by percentage the ratio of Buy, Hold, or Sell recommendations in the past three months. The Hedge Fund Rating includes a "sentiment' based on hedge fund buying and selling activity in the last quarter.
Here is an example of what the data looks like for Microsoft.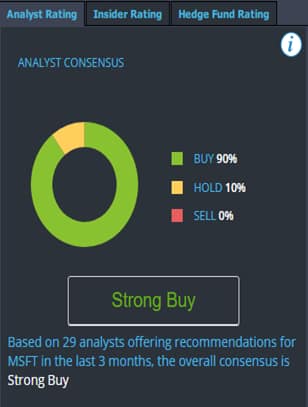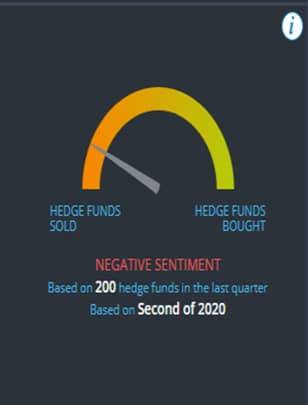 And finally, we have STT's Oracle Daily Direction Alert, an independent service that doesn't require a subscription to the core STT platform. Oracle is an artificial intelligence tool that generates 15 trading ideas with suggested entry and exit points.
The daily alert includes commentary from STT's in-house trading experts and is delivered daily via e-mail before 10 AM.
A nearly identical service called Small Cap Rockets requires a subscription to STT's core platform. As the name suggests, traders are alerted to commentary on specific trades and suggested entry and exit points on low-priced stocks.
Bottom line: A great product for a great price
STT might seem like an expensive proposition, especially for new traders. But in reality, the monthly or yearly membership price tag is an investment that can pay for itself in one day if used properly.
The software is stable and loads quickly. I have seen no indication of any bugs that would cause it to crash at the worst possible time.
The company has been around since 2009 and has built itself a strong reputation for offering value to customers and timely support. It is difficult to find any fault with the platform because it excels at what it promises to do. For the vast majority of traders, this is good enough reason to stay a loyal customer.
The above information does not constitute any form of advice or recommendation by London Loves Business and is not intended to be relied upon by users in making (or refraining from making) any investment decisions. Appropriate independent advice should be obtained before making any such decision.