Looks like too many Londoners have been good this year as Father Christmas had to put his skates on to make his rounds before Christmas eve.
Close to 500 skating Santa avatars painted the town red on Saturday to mark "SantaSkate", the biggest costumed street skate of the year. We caught up with them at half time in Trafalgar Square.
First run in December 2004, the SantaSkate is organized by street skating communities LondonSkate and London Friday Night Skate (LFNS) and the Sunday Stroll.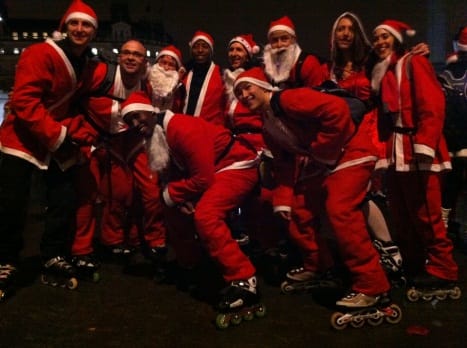 The merry making began with the distribution of Santa suits at the Victoria Public House,Strathearn Place. The Santas began a 2 hour street skate around the roads of Central London covering  a distance of 9-10 miles. Amused onlookers hummed Christmas tunes played by musical sleigh sound systems, the LondonSkate BassFrieght and ASBOxes.
With full support from City of London and Metropolitan Police, the skating Santas were looked after by Santa's very experienced little helpers, the Marshals.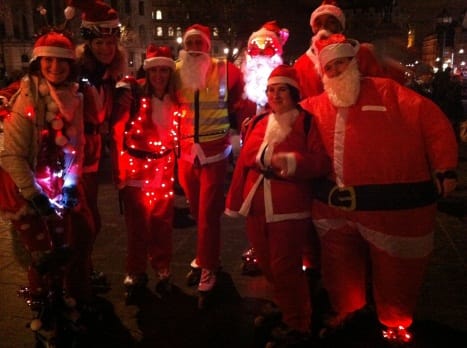 Speaking about what it's like to be skating Santa, Ash said, "I love being a skating Santa, it gets my adrenaline pumping and I can't think of a better way to welcome Christmas.
"What's really endearing is how people on the road cheer for us and are so excited to see us."