On average, over the last 20 years, the stock market has had negative returns in September. It is one of the worst months of the year, along with January and June.
The "stock market" refers to major stock indices such as the S&P 500, Nasdaq 100, and NYSE Composite, all of which have negative returns in September.
The NYSE Composite includes all stocks listed on the New York Stock Exchange, making it a very broad measure of how stocks perform, including companies that are small, large, and from a wide range of industries.
Cory Mitchell, an analyst with the educational trading website Trading.biz, has researched how the NYSE Composite (and other indices) have performed in various months. Those findings are provided here.
The NYSE Composite has moved up in September 11 times in the last 20 years (55%), yet the average return is -0.4%. Losses in the nine losing years have been bigger than the gains in the other 11.
January and June have slightly worse performance, only increasing 45% of the time and losing, on average, -0.5%.
The S&P 500 has similar results. It has moved higher in September 12 times out of the last 20 years (60%) yet lost an average of -0.4%.
The Nasdaq 100 has lost -0.3% in September on average, over the last 20 years, and moved higher in only 10 of those years (50%).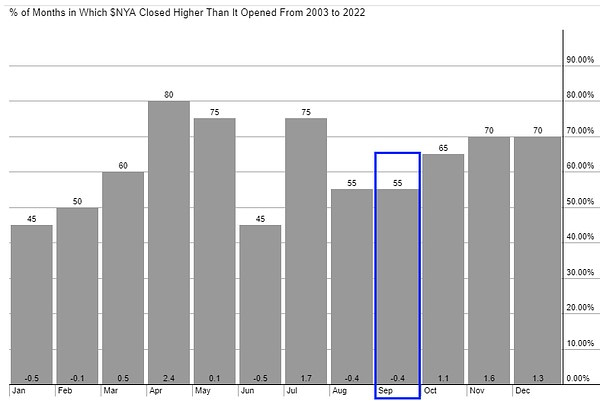 Chart from StockCharts
Managing a portfolio in September
For buy-and-hold investors, September is just a short-term hiccup. A month-long period that has tended to produce unfavorable returns. But there is little reason to change strategies simply because of a weaker month.
September is followed by relatively strong performance in October and November which investors will want to take part in. Buy-and-hold investors should stay the course, maintaining positions through September (assuming the investment strategy dictates to do so).
Active traders can exercise more caution around September, or use the seasonally weak period as a potential entry point for the historically stronger October and November months.
Stocks with strong fundamentals that drop in September may provide a good entry point, as these stocks are likely to recover especially since some of the strongest months of the year follow in October and November. Swing traders may opt to take fewer long trades in September, or take more time off from the markets.
What is seasonality?
Seasonality is the study of how various assets perform at different times of the year.
Seasonality is an average, based on history, and doesn't necessarily reflect what will happen this year, or this September.
For example, the NYSE Composite is essentially a coin flip as to whether it will go up or down in September, but on average it has produced negative returns.
About half the time it goes up, and half the time it goes down. Thus making money on long positions has a lower probability than buying stocks in April, for example, which has seen the index increase 80% of the time and rally 2.4%.