Wide spread revulsion has been caused after a Ukrainian prisoner of war (POW) had his head chopped off by Russian troops and placed on sticks with his hands either side, which has been likened to something out of Lord of the Rings movie.
The location of where the severed head was found was at an abandoned sanatorium in Pryvillia, near the city of Lysychansk, Glasnost Gone wrote on Twitter, "One, or possibly 3 badly decomposed heads on spikes.
"Also lower part of a body wearing military trousers & boots attached.
"This is Putin's liberation. This is Russia's sadistic genocide in Ukraine."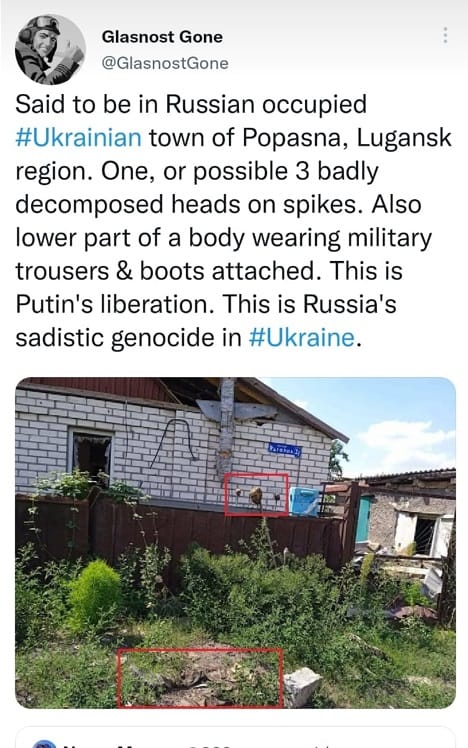 In early July Russian forces took control of the area around 25 miles north of Popasna which is near to the Siverskyi Donets River.
Videos and photos have emerged on social media of the heads situated in the captured city of Popasna which shows how barbaric Russians are.
The Ukrainian governor of Luhansk province, Serhiy Haidai posted the image, he said, "They really are orcs.
"Twenty-first century, occupied Popasna, human skull on the fence.
"There is nothing human about the Russians. We are at war with non-humans."
Mikhail Khodorkovsky, who is a former oligarch jailed by Vladimir Putin and now lives in exile in London, said the photo is an example of Russky Mir, or "Russian world."
He tweeted, "Will Russia be able to recover from this & come back to the community of civilised nations?
"For now, it brings the darkness of the middle ages to its neighbours & peoples around the globe #russianworld arrived to the occupied Popasna in Donbas."