WARNING: THIS ARTICLE CONTAINS GRAPHIC CONTENT OF WAR CRIMES

Russian soldiers have been accused of raping a 3-year-old girl in Ukraine and then throwing her lifeless body on top of her dead 17-year-old sister.
The Ukrainian ambassador to Estonia Mariana Betsa said in a horrific tweet that shocking images have emerged of dead girls, many civilians executed and there are serious calls for Vladimir Putin and his Generals to be arrested for war crimes.
Read more on Russia-Ukraine war:
In another tweet by Ukrainian MP Lesia Vasylenko she wrote that 10-year-old girls have been found dead "with vaginal and rectal tears" and dead women's corpses have "swastika shaped burns."
Vasylenko tweet is further evidence of the brutality that Russian soldiers have and are committing war crimes never seen before.
She also slammed the "United Nations and NATO" for not doing enough "because the West chose to watch" and they have chosen to "ignore" the Ukraine for help after "children were found with their hands tied and shot dead."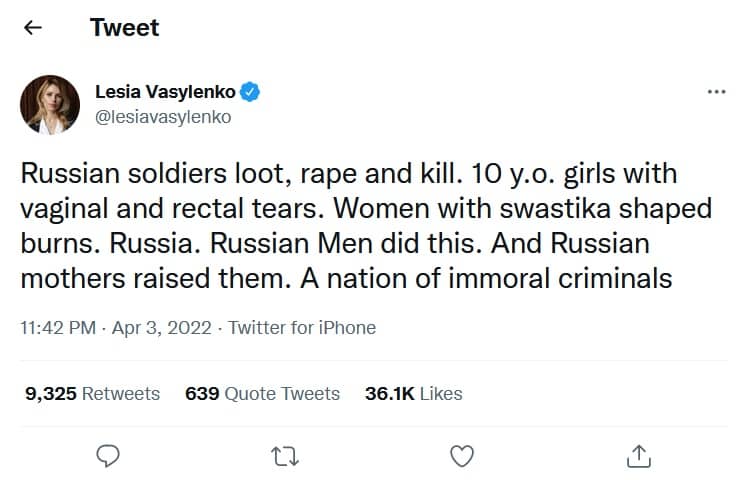 The Ukrainian MP wrote on Twitter, "Russian soldiers loot, rape and kill.
"10 y.o. girls with vaginal and rectal tears.
"Women with swastika shaped burns."
"Russia. Russian Men did this.
"And Russian mothers raised them.
"A nation of immoral criminals."
Former boxing heavyweight champion Wladimir Klitschko wrote, "There are no words for these crimes."
The Ukrainian ambassador to Estonia also wrote on Twitter, "Russian invaders killed families. First foto [photo] – Bucha.
"They burned the bodies.
"Second foto – Mykolayiv.
"A 3-year old Arina (with signs of rape) on top of her 17-years old sister Veronica.
"Russia should be accountable for the genocide of Ukrainians."
"But there are those responsible for these crimes."
Vasylenko said in another post that she is "speechless"after seeing a dead woman who was "tortured" "raped" and then killed.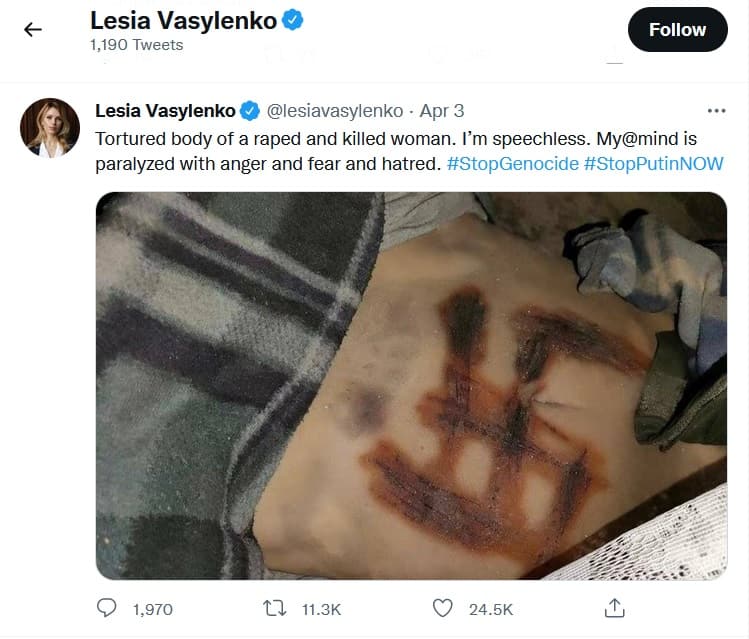 Ukrainian President Volodymyr Zelensky spoke of his own sorrow over the gruesome find in the town of Bucha, he told the world, "You stand here today and see what happened.
"We know thousands of people have been killed and tortured with extremities cut off; women raped, children killed."
Zelensky has grimly warned that hundreds more civilians are feared dead in other recaptured towns in Ukraine which could be far worse than what was seen in the Bucha massacre.
He said that Russian soldiers have committed war crimes that was not seen "even during the Nazi occupation 80 years ago" as at least 410 executed civilians have now been found in Bucha.