Here's why
Drivers up and down the country have revealed some of their biggest worries when faced with driving in a new city.
The research conducted by vehicle inspection specialists, HPI Check, asked UK drivers what they are most concerned about when driving around new cities. The results were then broken down by city level to see how these varied across different locations in the UK.
From the results, it appears that one-way systems are the biggest cause of stress for drivers in the UK, with 63 per cent of people stating this as their main concern. This was followed by Bus/Taxi Lanes (39 per cent) and the dreaded road closures (37 per cent).
Surprisingly, speed cameras came in 4th place with only 33 per cent of the public finding sticking to the speed limit their biggest problem. On the other hand, it appears that drivers are less worried about pot holes, with this everyday road annoyance coming out last on the list.
The results revealed that the UK public are most concerned about:
One Way Systems: 63 per cent
Bus/Taxi Lanes: 39 per cent
Road Closures: 37 per cent
Speed Cameras: 33 per cent
Roundabouts: 27 per cent
Cyclists: 25 per cent
Potholes: 17 per cent
However, when delving into the findings a little further and breaking them down by city level, the results show that the UKs major cities all have individual problems that cause drivers trouble.
In Newcastle, one in five motorists (108,000) were caught out for using bus and taxi lanes during 2016. With these fines totalling an eye watering £2.8m, it goes without saying that these were the biggest worry for the Geordies.
Mancunians on the other hand appeared to be much more uptight about road closures, and with 19 of these occurring during August 2017 alone we can see why this might have ruffled a few feathers!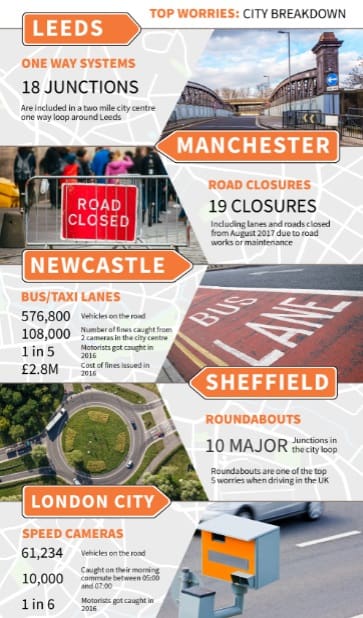 Source: HPI Check
Other city level highlights include:
Fernando Garcia, consumer marketing director at HPI Check said: "We all know how difficult driving in the UK can be at times, especially with the recent additions of bus and taxi lanes in some of the city centres, but what's most interesting to see, is the particular issues that different drivers face and how these appear to correlate to some of the bigger city centre concerns in those locations.
"A good example of this is the ring road in Leeds, which has 18 junctions.
"Not only did the research look into broader issues in the cities, but we also used Reddit to ask the UK public what roads they hate driving on the most. Reddit revealed some interesting things, and highlighted how frustrating road closures are to the public, with the users on the platform echoing this".