What are blue plaques? A blue plaque is a permanent sign that is installed in a public space and commemorates the link between a location and a famous person, event, or building. Great for the local community as well as tourists visiting the area. Did you know that London has almost one thousand memorial plaques throughout the city according to English Heritage? Here, we take a look to see which borough came out with the most plaques!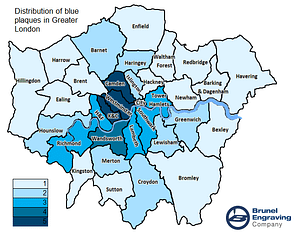 Wandsworth has the most plaques outside Central London
Whilst looking at the data, it was revealed that Wandsworth is the borough outside of Central London with the most official blue plaques at 188. Central London boasted the most unsurprisingly with just over three-quarters of the blue plaques within the city being located centrally.
The City of Westminster emerged as the 'winner' with 320 blue plaques in total followed by Kensington/Chelsea and Camden.
This will mean visitors to these boroughs will be exposed to the history of the location as they discover the plaques.
Which boroughs have the least amount of blue plaques?
In terms of the boroughs with the least blue plaques, City of London, Barking and Dagenham and Sutton each have only 1 plaque, whilst Havering and Hillingdon both have none. The trend shows a lot of blue plaques concentrated centrally with a lot of areas towards outer London having few or in some cases no recognition of their historical figures. Not only will noteworthy figures be missed in these areas, but the lack of blue plaques will lead to locals not knowing their borough's past.
These interesting results ask a crucial question, should more be done to find and uncover noteworthy figures of the past in these areas? This would also help to raise awareness surrounding blue plaques and how they can celebrate local areas.
A more even plaque distribution across all boroughs in London will help to learn more about the history associated with those areas, from events to famous people. More plaques in particular should be added in Havering and Hillingdon, who currently have none.
Some potential plaques for the borough of Hillingdon could include:
Stuart Olof Agrell (who has been involved in the Apollo program, and was born in Hillingdon.
Alexander Flemming (who is the biologist and Nobel prize winner for the discovery of penicillin).
Some potential plaques for the borough of Havering could include:
Franklin Roy Bruno (who is a British former professional boxer)
James I of England and VI of Scotland (who was the King of Scotland and England at different times, and used Havering Palace as a hunting lodge)
How can blue plaques be submitted?
Blue plaques are growing by the year but the ones managed by English Heritage must fill certain criteria. The most important criteria include one plaque being erected per person, and at least 20 years passed since a candidate's death. Some of the other criteria can include:
At least one building associated with the figure must survive within Greater London (but outside the City of London, which has its own scheme).
Buildings with many personal associations, such as churches, schools and theatres, are not normally considered for plaques.
No more than two plaques are allowed on one building.
Nominations to commemorate buildings that have historical significance for an event, or a group of individuals, will be considered as resources allow.
Brunel Engraving now offers blue plaques!
Whilst the official English Heritage Blue Plaques in London can only be attained through a fairly intense process, we are excited to announce that they are able to take orders for blue plaques online for those looking to commemorate their own local historical figures and locations. Perfect for your local town or village! Get in touch with us via email to find out more [email protected]