Founders Stelio and Alexander Tzonis on scaling their social expression platform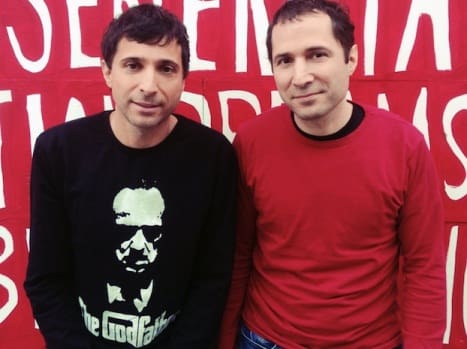 When celebrities like Alicia Keys, David Bowie, One Direction, Green Day and Ellie Goulding become fans of your indie app, you know you're onto something big.
That's probably why social networking tool Urturn managed to raise $13.4m (£8.85m) last week. The company raised $10.7m (£7.1m) from Betfair and Lovefilm backers Balderton Capital and $2.7m (£1.78m) from the private equity arm of Debiopharm Group.
Launched this January, Urturn (pronounced "your turn") is a social platform where users can edit photos by adding doodles speech bubbles, stickers and songs.
Brains behind the app are Swiss brothers Stelio and Alexander Tzonis who run the company out of the Silicon Roundabout.
But what are they going to do with the funding? We speak to the Co-founders Tzonis brothers:
Q. Congrats on the funding! What are you planning to do it?
Stelio: We plan to use the funding to continue to grow and develop the business. We want to open the platform to let anyone create new ways of expressing themselves. We have exciting stuff for the future.
Q. How did you come up with the idea of setting up Urturn? Where did you get the initial  funding from?
Alexander: We kept finding ourselves in situations where we wanted to play around with the content we were sharing but always had to use different apps, or even create new ones ourselves.  We realised that social media platforms had all focused on connecting people or letting them share information and ideas, rather than focusing on the way people communicate.  We knew that technology could provide much richer ways for people to express themselves – so we decided to create a platform that was dedicated to expression.
The initial funding came from friends and family.
Q. So is Urturn is the next natural step for social media?
Stelio: While social media has enabled people to create, share and exchange information and ideas online, services like Facebook, Twitter, Tumblr and Pinterest all provide finite ways for people to interact. We believe that you should be able to choose how you interact online. So rather than focusing on sharing or connecting, our platform focuses on the way people communicate and provides an ever-growing variety of expressions to choose from. We want to leave it to the community to find fun and creative new ways to interact online.
It's your turn to choose how you express yourself. It's Urturn.
Q. We see you have a lot of celebrity fans already. Can you name a few and what do you think has made the platform so popular?
Alexander: One Direction, Rita Ora, David Bowie, Union J, The Gossip and Snoop Lion are among some celebs who've used Urturn. Today, it is the fans that are building stars – they are the asset of the artists.
Urturn enables the fans to engage with their celebrities in a new expressive way. With the Urturn social action, they can creatively unite and be part of the celebrity's story.
Q. Is Urturn monitised? If not, how do you plan to monitise it?
Stelio: By merging brands with people, Urturn opens up a whole raft of new opportunities for monetisation.  It also enjoys superior levels of engagement thanks to the richness of the content on the platform and the innovative interactive features.  However, at the moment we are focusing on creating a fun and compelling user experience.
Q. Where are you biggest markets? Would you like to mention the number of downloads/users it has?
Alexander: The most active topics on Facebook and Twitter are celebs, music and lifestyle – that's our current target markets.
As we just recently launched, we can not currently disclose any numbers.
Q. What have your biggest challenges been?
Stelio: Today, to be highly expressive while remaining simple and spontaneous is the biggest challenge, and it is what we achieved with Urturn.
Q. How's it being based out of Old Street? How many employees do you have?
Stelio: This is a great place with great startups and cool street art! We share an office with SoundCloud which has brought very creative ideas to our small team of 10 people.
Q. What do you think of London's tech scene? What do we need to produce the next Facebook or Google?
Alexander: London's scene is great for a service like ours, it is Silicon Valley (with Facebook, Google, Twitter, etc.) meets New York (with music, lifestlye and media).
It is important to think global! The tech community today is concentrated first in the US, then in the UK followed by Latin America. SoundCloud, Spotify and Skype are good examples of european companies with a worldwide focus and a large audience in the US.