Can ex-Goldman broker Ivan Retzignac's website MedicAnimal become a "billion dollar business"?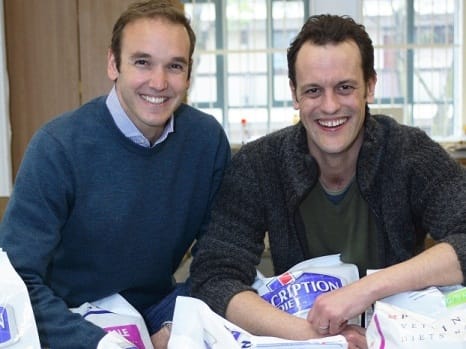 We are a nation of pet lovers who love splashing the cash on our pets, be it Gucci dog collars or Swarovski-studded cat flaps. But you'd be barking mad to think the UK's pet industry is just about pampering our four-legged friends – it's a serious business that is worth £2bn to the economy. Yes, you read that right, a whopping £2bn.
Marking the pet territory in London is Willesden-based MedicAnimal.com, an online veterinary retailer that sells everything from pet nibbles to grooming products.
Launched in 2007 by ex-Goldman Sachs broker Ivan Retzignac and vet Andrew Bucher, the company increased its turnover from £16m in 2011 to £47m last year.  This year, it's expecting to make £80m.
VC firms Iris Capital and Balderton Capital (which also invests in Wonga and Betfair) invested £10m in MedicAnimal last year in a Series C round. MedicAnimal then acquired rival Petmeds for reported 'single figure millions'.
MedicAnimal also used the funding to make the website available in five languages, including Spanish, French, German and Dutch, and to employ native speakers to offer veterinary advice.
But what else can you do to scale an online business, and when is it time to cash out? Founder Ivan Retzignac thinks that the business has the potential to become a "billion dollar company". How? I ask him for answers:
Q. You were a stock broker with Goldman Sachs. How did you end up getting into the pet business?
Before working at Goldman Sachs, I spent some time working with an American venture fund which invested in an online pet business called 1800PetMeds. The two things that struck me as inefficient in their business model were that they alienated vets and didn't partner with drugs manufacturers.
Since then, the idea of starting a pet business stuck in my head. So after getting an MBA degree from Columbia Business School and a stint with Goldman Sachs, I decided to venture into the pet industry. Then I happened to meet Andrew who was a practising vet at the time. He told me how he had to put down a lot of animals because of improper healthcare facilities available. So we pooled funds and decided to launch MedicAnimal.com, a site where all the products that people needed to take care of their pets were available.
Q. What's your business model?
Our business model is that customers place their orders with us and we source products from our suppliers. We are able to provide a cheaper price than a veterinary practice because vets generally take the list of products and mark them up indiscriminately across the board. What we did was a little more analysis about what products pet owners want and how much they are willing to pay.
Also, we buy directly from the wholesaler and get volume discounts. This helps us to offer customers a cheaper price while making a healthy margin. More than 75% of customers come back to buy products from us. So even if we lose money on the first order, as customers tend to come back with greater baskets and more frequently we are able to make money.
Q. How have you managed to scale the business?
We boot-strapped the business until October 2010 but realised that we needed funding for the next level of business. Then in 2010, Iris Capital pumped in £5m which helped us in our European expansion. The funding helped us to rapidly consolidate our UK business as there were small companies who couldn't scale so we were able to acquire a lot of competitors. We acquired BestPet.co.uk in April 2011 and petsupermarket.co.uk in summer 2011 – both companies have a very loyal customer base and we have ensured they maintain their individual positions in the market.
Q. You then raised £10m funding, led by Balderton Capital, in 2012. What did you do with that funding?
What's interesting about e-commerce is that it's very cheap and easy to launch a website, but to actually gain scale and to offer all services is tough. So we used the funding from Balderton Capital to support our growth and build out our operations. We're now doing roughly 10,000 orders across the UK and Europe and we do all the customer service ourselves in native languages and with local numbers.
We also used the funding to acquire Petmeds.co.uk, which we saw as a thriving pet business competing with us. We were in talks with founder Ricky Thomas, who was bootstrapping the business for a long time. It worked out very well for us as the entire Petmeds team joined the MedicAnimal office, and Ricky's come on board as head of IT. It was difficult for Ricky to let go of his business but he later realised that joining a big business would make the output even better.
Q. So what is the equity split of the company?
I wouldn't like to say how much I personally own, but 40% of the company is owned by the management team. We operate a lot like the John Lewis Partnership – everyone in our company gets equity when they join, be it the person who's joined to pack boxes to customer services to our COO.
Q. You've acquired competitors and sales figures look good. But at the end of the day, you're a website. How far can you scale this business?
I think we can scale this business to several hundred million pounds at least in the UK. This is potentially a billion-pound company that's in its infancy. We've put the brakes on the growth because we do all operations on our own; just managing the business has been challenging enough.
In terms of scale, this is a massive market.
Q. What are the future plans of the business?
We will be a profitable company by the end of this year and expanding into the rest of Europe. We've gone through big rounds of investing, now profitability and expansion are crucial. We are expecting around £80m turnover.
Great, thanks for your time Ivan!