The September 2023 Ipsos Issues Index shows public concern about immigration rising three points to 26%, the highest level of concern about this topic since September 2017.
Immigration is now seen as one of the top four biggest issues facing the country, only just behind the NHS, while inflation and the economy remain as the top two. This is almost three times the level of concern about immigration recorded in September last year (when it was mentioned by 9%).
Concern about this topic remains uneven across the country: it is the top issue for people aged 65 and over (47% mention it) as well as Conservative Party supporters (47%, sharing top place with the economy at 45%) and those in social grades C2 (36%).
By contrast, just 13% of those aged 18-34 and 18% of Labour Party supporters name immigration as a major concern for the country.
The most mentioned concerns in the Issues Index this month are the economy, inflation and the NHS. However, this month sees a significant drop in concern about inflation although it is still in second place overall: 30% mention this as an issue, down seven points since last month (though it is the joint top issue for 18-34 year olds at 35%).
By contrast, concern about the economy remains at the same level as August (37%) and 28% mention the NHS (up 3 pts since August).
The proportion mentioning climate change, pollution and the environment as a big concern has also fallen significantly from August's score: 18% mention this as a big issue for Britain, down seven points. However, August itself was a peak in concern, and it remains higher than earlier this year and the fifth-biggest concern facing the country.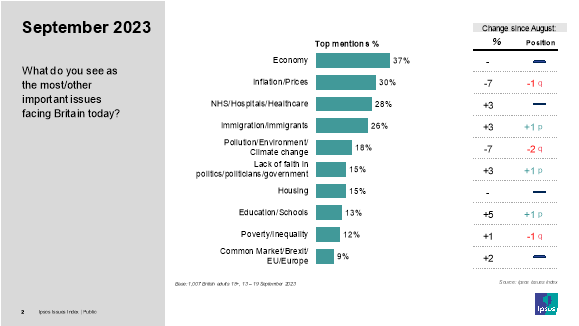 Mike Clemence, a researcher at Ipsos, said, "Immigration is becoming a bigger concern for the country, with the proportion mentioning it almost doubling since the start of the year.
This increase is driven by rising concern among older people and Conservative Party supporters in particular. Overall, however, the public are still just as, if not more, worried about the economy, inflation and the NHS.
"Worry about inflation is beginning to show signs of ebbing, with three in ten mentioning rising prices as a big concern this month.
"Although it remains the second largest issue for the country, this is the lowest score we have recorded since March 2022, early into the Russian invasion of Ukraine"