The May 2023 Ipsos Issues Index shows economic concerns continue to be seen as the most important issues facing Britain.
Thirty-eight per cent say inflation and prices are one of the biggest issues facing Britain today, close to the level recorded in April (40%). Concern about the economy similarly remains relatively unchanged at thirty-five per cent, a small increase of two percentage points since last month.
The proportion mentioning the NHS has fallen by three percentage points since April but it remains the third-biggest concern for the country, with 26% mentioning it as an issue.
Just under one in five (17%) name immigration as one of the most important issues facing Britain, down three percentage points since last month. However there are strong gradients in concern, with Conservative party supporters (32%, for whom it is their equal second biggest issue along with inflation) and older Britons (27% of those aged 55+) significantly more likely to mention it as a concern.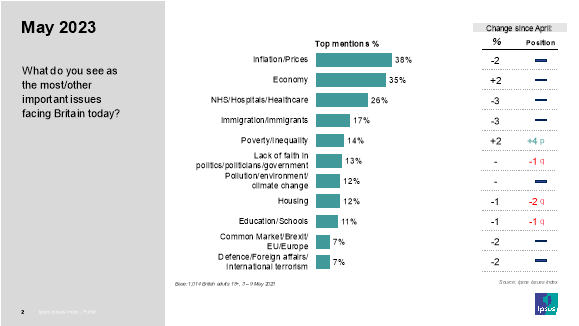 Mike Clemence, a researcher at Ipsos, said, "With interest rates rising further this month, limited economic growth and food inflation remaining high, it is perhaps no surprise that Britons' biggest concerns remain firmly economic in nature.
Inflation and the wider economy are seen as a big issue by similar proportions of the public, suggesting there is continued concern for both personal and national economic security. Meanwhile, the NHS and immigration also stay as the third and fourth biggest issues, with immigration a particular worry for Conservative supporters."