SnapLogic research finds…
SnapLogic, the leader in self-service application and data integration, today announced the results of its latest study into disconnected data, which uncovered that 90 per cent of employees are being burdened with boring and repetitive tasks which could be easily automated.
In fact, these tasks – which include searching for data, data entry, data processing and analysis, and combining data from multiple sources – are costing businesses 19 working days per year per employee, on average. This is putting a big dent in the productivity of the business, as a shocking nine in ten business users are spending time on these boring automatable tasks rather than value-added activities.
This productivity hit is frustrating workers. A quarter (25 per cent) believe that disconnected data is causing the development of new products or services to lag, leaving them trailing behind competitors. Over six in ten (61 per cent) are finding projects being constantly delayed by slow data integration efforts.
With 44 per cent of respondents stating that there is a lack of collaboration between departments, and 57 per cent admitting that their organisation struggles with data silos, it is likely that employees from different parts of the business could be working with similar data but in different systems – leaving the data itself open to interpretation by the individuals dealing with it or in some cases even missing altogether.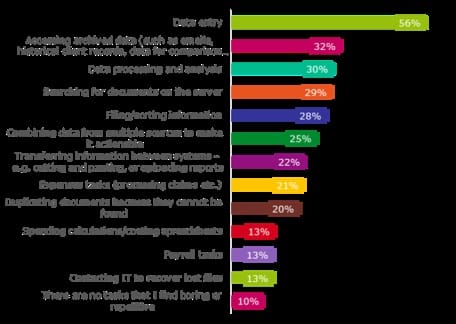 Source: SnapLogic
In fact, the study, conducted by independent research firm Vanson Bourne, found that nearly two thirds (64 per cent) of respondents in companies with over 500 employees agreed that data gaps in their organisation are negatively affecting their productivity.
Gaurav Dhillon, founder and CEO of SnapLogic said: "Digital transformation projects are designed to increase the speed and agility of businesses and create happier, more productive workforces. But we continue to see the problem of siloed data causing workers to spend far too much time on rote, repetitive tasks, which is crippling organisational productivity. This is particularly problematic in larger companies like those included in this research, where there are likely more systems, more departments and bigger projects than in smaller enterprises."
With virtually all respondents (98 per cent) stating that their organisation deploys projects that require company data to be accessed from multiple systems, the burden on productivity caused by data gaps is significant. The research revealed that individuals in large organizations use, on average, seven different business applications and systems regularly, with those in IT using more than business users (eight compared to five). Financial services companies are the most heavily-laden with different systems, using nine apps, on average.
However, respondents are mindful of the issues and the need to solve them. The overwhelming majority (91 per cent) of those using multiple apps or systems see connecting data, applications and systems as a beneficial thing for their organisation to do, with 37 per cent deeming it an essential action. In fact, on average, respondents speculated that they could see a 28 v boost in efficiency through a greater focus on automation of data processes.
Dhillon concluded: "As the productivity costs of disconnected data become more apparent to businesses, we're beginning to see a shift in attitudes towards the need for smarter, faster integration of data. Having highly-skilled employees spending large chunks of time on boring automatable tasks, rather than on value-add activities is not only a waste of time and money but has a negative impact on morale, as employees become bored and frustrated with repetition of efforts. With modern organisations now relying on multiple applications to drive the business forward, it's more important than ever that disconnected data be resigned to the past."
About the research
The research was conducted by independent research house Vanson Bourne in April and May 2017. 500 interviews were conducted in total, comprised of 250 IT decision makers and 250 business users of cloud-based or externally hosted applications. Survey respondents were from large organizations with more than 500 employees in the US and UK.
About Vanson Bourne
Vanson Bourne is an independent specialist in market research for the technology sector. Our reputation for robust and credible research-based analysis is founded upon rigorous research principles and our ability to seek the opinions of senior decision makers across technical and business functions, in all business sectors and all major markets. For more information, visitwww.vansonbourne.com
About SnapLogic
SnapLogic is the global leader in self-service integration. The company's Enterprise Integration Cloud makes it fast and easy to connect applications, data, and devices with no coding. Hundreds of customers across the Global 2000 – including Adobe, AstraZeneca, Box, Capital One, GameStop, Verizon, and Wendy's – rely on SnapLogic to automate business processes, accelerate analytics and drive digital transformation. SnapLogic was founded by data industry veteran Gaurav Dhillon and is backed by blue-chip investors including Andreessen Horowitz, Capital One, Ignition Partners, Microsoft, Triangle Peak Partners, and Vitruvian Partners. Learn more at snaplogic.com.