The betting markets had anticipated a win for Johnson in yesterday's no-confidence vote, with the odds moving from 55% when Sir Graham Brady confirmed it was happening, to 85% by the time Tory MPs started voting.
Despite the Prime Minister's win, the odds on the Smarkets betting exchange still suggest there is a 42% chance that he will be forced from office at some point in 2022.
The latest odds imply an 80% chance that the Tories will lose both the Wakefield and Tiverton & Honiton by-elections later this month.
Jeremy Hunt is still the favourite to become Johnson's eventual successor with a 17%A chance. Penny Mordaunt is now second at 12%, with Liz Truss (10%), Tom Tugendhat (10%) and Rishi Sunak (8%) behind her.
The most likely result of the next general election is a Labour minority government (42% chance).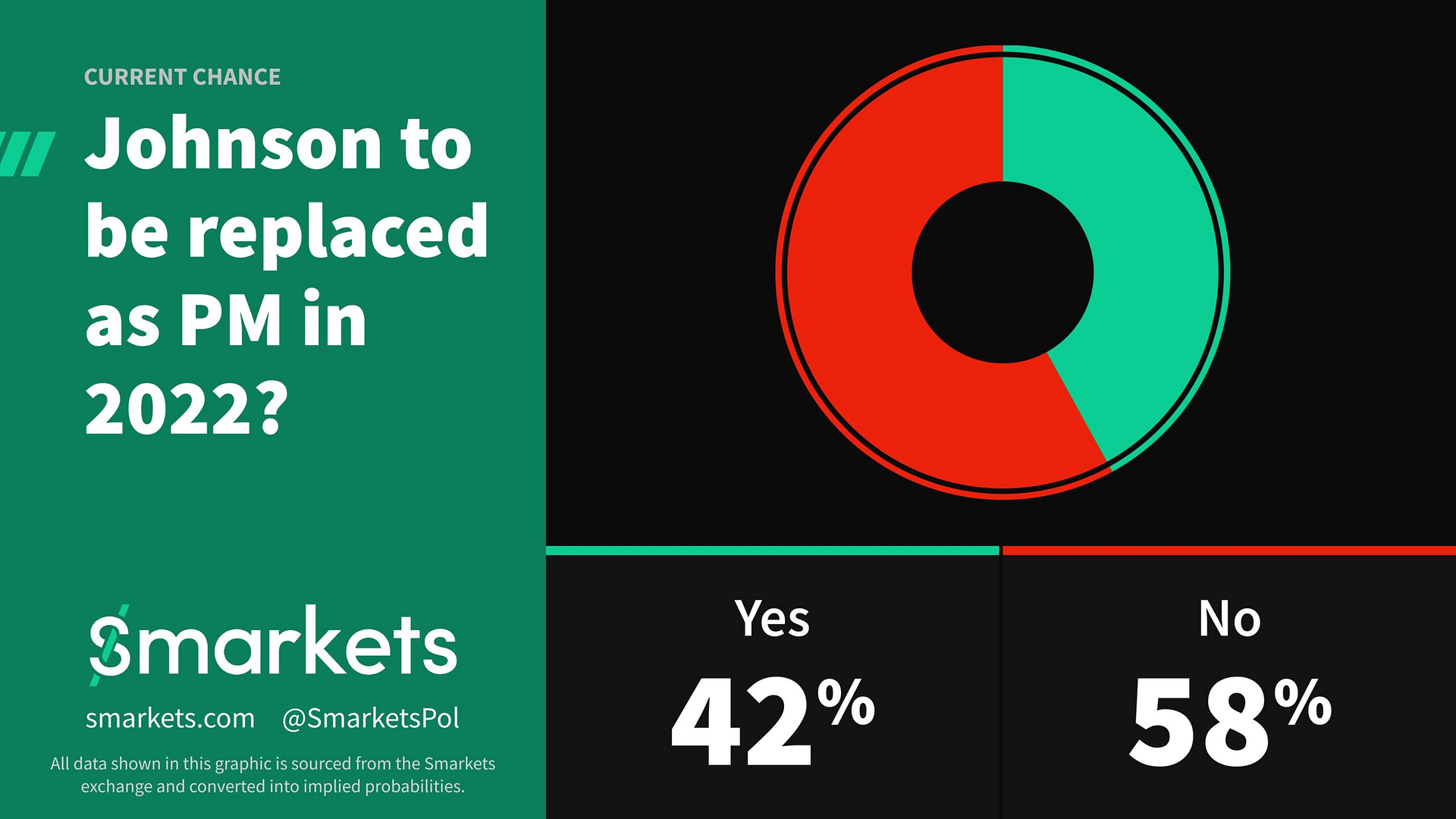 Matthew Shaddick, Smarkets Head of Political Markets said, "The betting markets became increasingly confident throughout the day that Johnson would hold on, possibly suggesting that the rebels would have been better waiting until after the 23 June by-elections.
"The implied midpoint estimate from Smarkets' betting data of 142 votes against the Prime Minister proved to be very close to the final tally of 148.
"Despite Johnson's win, political bettors do not believe he is safe. With two likely by-election losses on the horizon, the latest odds still indicate there is a 42% chance that the PM will be removed from office at some point this year.
"The betting on Johnson's eventual successor remains wide open, with Jeremy Hunt the 17% favourite. Penny Mordaunt has been the big mover over the last 24 hours, moving into second place at 12%. Close behind remain Liz Truss (10%), Tom Tugendhat (10%) and Rishi Sunak (8%)."