CEO Nick Bortot tells us why we should be keeping an eye on this "casual trading" app
Three reasons you should be watching BUX
1.       Its co-founder previously helped set up BlinckBank, a company with a market capitalization in 2013 of €574m
2.       It's trying to make stock market trading "as easy as going to the pub and as safe as driving a Volvo"
3.       It's a new addition to London's superhot fintech scene – it just launched here
VITAL STATISTICS
Company: BUX
What it does: BUX is a casual trading app that allows everyone to experience the magic of the stock exchange from their smartphone
Founded: July 2013, Amsterdam
Founders: Nick Bortot, Robbert Bos, Joost van de Wijgerd and Egbert Pronk
Size of team: 18 people across Amsterdam and London offices. Development team based in Amsterdam, other BUXsters travel between Amsterdam and London
Nick Bortot, CEO, gives us the need-to-know on BUX…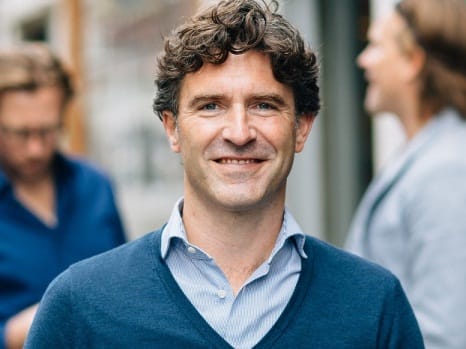 LondonlovesBusiness.com: What problem are you trying to solve?
Nick Bortot: In years gone by, investing was seen as something that your dad did, putting his money into listed companies you'd never heard of. It was a world where incomprehensible jargon ruled the roost and you needed an advanced degree in maths to understand what was going on.
For most people, the stock market is still a complete mystery but nowadays we're seeing far more people interested in big businesses. Tech giants like Google, Facebook, GoPro or Netflix have a huge impact on people's daily lives.
We created BUX to let everyone learn about that world through trading and having fun.  We want to make the big-bucks world of stock trading available to everyone. With BUX, you can trade stocks like Apple, Tesla or Adidas, commodities like gold or oil, and currencies, but crucially you don't need a stack of cash or tons of financial experience to play.
You can start trading for free with funBUX, our funny money version, before moving onto real-money trading (seriousBUX). Users can also lock horns in BUX battles: intense, timed contests to see who can generate the best returns.
Most trading apps are way too complicated and require a serious investment of time. We want to simplify the whole experience. We call BUX a 'casual' trading app because it combines elements of casual gaming apps like Angry Birds or Candy Crush. We want you to play BUX while you're riding the bus or waiting in line for lunch. This is borne out from our download figures. Over half of BUX users had zero trading experience before downloading the app.
How big is the market – and how much of it do you think you can own?
We think that the retail trading market is far bigger than previously thought.
The current active investor population in the EU is currently €1.5bn (or just under £1.2bn). BUX thinks the market size of the EU potential investor and trader population is about €7.5bn (£5.9bn). We see this as the target casual gaming market size.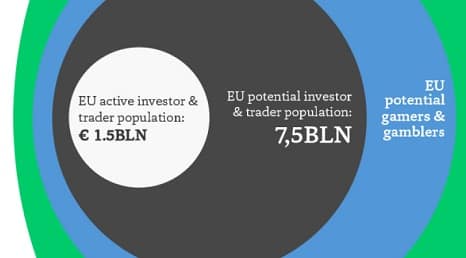 How do you make money?
Trading with funBUX is completely free. The only revenue stream is from charging a small fee per transaction for seriousBUX (i.e. real money) users.
When you're trading with real money, you can start with just £50 and our trading fees are lower than anywhere else. Our minimum transaction fee is 35p which compares pretty favourably to online brokers which charge several pounds as a minimum fee.
Who's on your team that makes you think you can do this?
Prior to BUX, I was one of the leading players behind BinckBank, the largest online discount broker in the Netherlands, so I know a fair bit about trading. BinckBank currently employs over 500 people and is ranked in the top five online brokers in Europe, with a market capitalization in 2013 of €574m.
Unusually for a trading app, however, I am one of the few people in the company with a finance background. We've deliberately hired people from diverse backgrounds such as gaming and social media so that our product feels very different from traditional trading apps.
Who's bankrolling you?
We're funded by Orange Growth Capital, who have invested in other exciting FinTech firms
like Zopa and Knip.
What advice would you give other entrepreneurs trying to secure that kind of finance?
Start by building a great team. Your team is more important than the idea you have: great teams can make a successful product out of a lousy idea. Bad teams however can screw up a great idea by failing in the execution.
Great teams are often made up of a hipster, a hacker and a hustler: a creative person, a good dev and someone who can sell your product.  Once you have a great team and a good idea, securing funding will be less of a challenge.
What do you believe the key to growing this business is?
Much of the key to our success will be convincing an audience that has probably never considered trading that the world of investing doesn't have to be boring, complicated and expensive! Our job is to tell a much broader and younger demographic that trading with BUX is fun, simple and doesn't cost a packet.
To try and achieve this, we've incorporate light-hearted articles into the app to help users make decision on what to trade. Because, let's be honest, most financial news is pretty dull. We've tried to change that by making it fun.
What metrics do you look at every day?
Naturally, we keep a close eye on how many downloads we get each day! We've managed to hit 10,000 downloads in just one month in the UK. Overall, we've hit 35,000 downloads in the Netherlands and UK combined in two months. This makes us more popular than the next most popular trading app in the whole of Europe.
What's been the most unexpectedly valuable lesson you've learnt so far?
We put a lot of effort into social media as our marketing budget is very limited. When we started, the impact was close to zero. We kept on proceeding however and after a certain number of followers suddenly there was this tipping point. Now a significant part of our users knows us from Facebook and Twitter (@BUX).
Key in being successful on social is to engage with your audience. Don't just broadcast your message, but try to get into a conversation. That is where your first ambassadors are born.
What's been your biggest mistake so far?
I believe being successful is all about focus. Focus means making choices. When we started BUX we were not completely comfortable with being mobile only and spent a lot of time on developing a website. When we launched our app two months ago, literally no one asked for a website. Not having to build this site would have saved us quite some time and money.
What do you think is on the horizon for your industry in the year ahead?
We believe that the financial markets are becoming cool. Soon hipsters in coffee houses in Shoreditch will not be discussing fixies and moustaches, but will talking about what's happening with their Netflix and GoPro stocks!
Which London start-up are you watching, and why?
Moni (www.moni.to) is one of my favourite start-ups. Like we are disrupting the world of t
rading, they are putting the world of remittance (sending money to your family abroad) upside down. The remittance business has always been dominated by a few large expensive companies. Remitting money with Moni is way easier, cheaper and… more fun.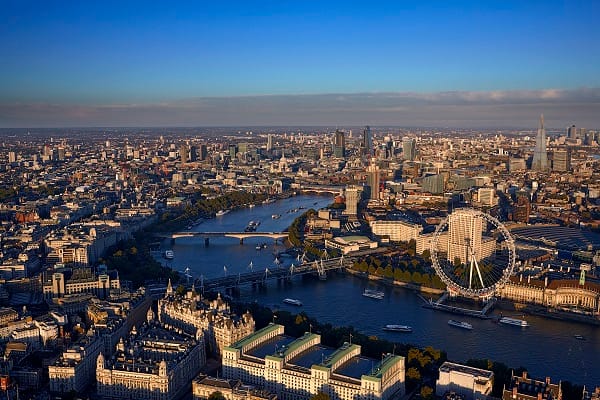 We visited the Brompton Bicycle factory to witness the building of a global brand
We chat to New Call Telecom CEO Nigel Eastwood