After a sharp decline since the beginning of Tuesday's trading, crude oil prices have stabilised near strong support levels around $78 per barrel.
The withdrawal of oil inventories being larger than expected in major economies such as the United States and China could mitigate the risks of oil price decline, aligning with end-of-year projections set at $86 per barrel of Brent crude, as announced by Goldman Sachs.
The primary reason for oil's outperformance is that the oil market continues to price in a significant supply deficit. Despite the larger-than-expected voluntary production cuts by the OPEC+ alliance, the increase in strategic inventories has curbed the risks of supply shortage that were previously anticipated, thus preventing prices from descending towards support levels around $78 per barrel.
Last month, markets anticipated an increase in oil prices, as high oil demand coupled with decreased supply was expected to result in a substantial market deficit in the second half of the current year, amounting to approximately two million barrels per day in the third quarter, coinciding with expectations of reaching all-time high demand levels.
The International Energy Agency also mentioned in its August monthly report that global oil inventories decreased by 17.3 million barrels in June, driven by recent OPEC production reduction decisions. Oil inventories fell for the third consecutive month in July, with US oil inventories now being lower by over 100 million barrels on average over the past five years.
We believe that oil prices will experience further increases in the last quarter of the current year, particularly as Saudi Arabia and Russia extend their supply-cut agreement until at least September. If the OPEC+ alliance maintains current production and export levels, oil inventories could decrease by 2.2 million barrels per day in the third quarter and 1.2 million barrels per day in the fourth quarter, heightening the risk of prices surging toward record levels.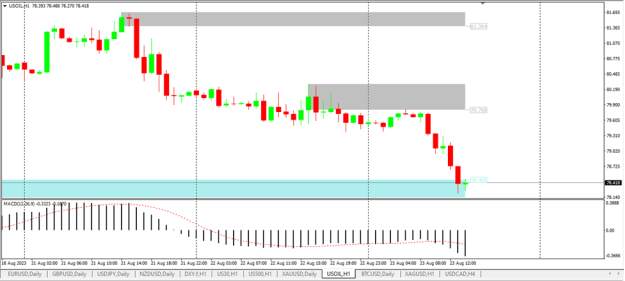 The crude oil price chart on the MT4 platform by XS.com
From a technical standpoint, crude oil prices are currently within a strong support zone between levels of $78.16 and $78.46 per barrel.
This aligns with technical momentum indicators entering an overbought zone, increasing the likelihood of an upward rebound towards potential targets at $79.80, $80, and $85 per barrel sequentially. Conversely, if the oil price breaks downwards through the support area and settles below $78.10 per barrel on the four-hour chart, the probability of a descent towards the next support around $76.50 increases.
This is the weaker scenario, especially considering the market's anticipation of the release of US oil inventory data later today, Wednesday. An expected result of approximately -2.299 million barrels is anticipated. If the increase in crude oil inventories is greater than expected, it implies weakened demand, leading to a decline in crude oil prices, and vice versa.